Galatta Review Board
Review By :

Galatta Review Panel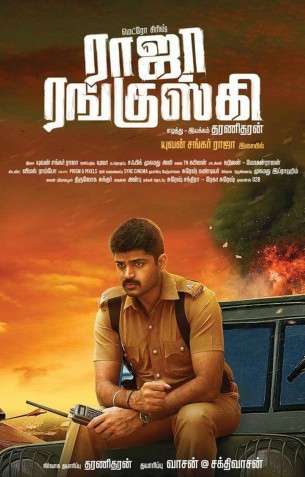 Raja Ranguski Movie Cast & Crew
Cast :
Chandini Tamilarasan,Metro Shirish
Production :
Vasan Productions,Burma Talkies
Music Director :
Yuvan Shankar Raja
Raja Ranguski is a Tamil film directed by Dharani Dharan and stars Shrish and Chandini Tamilarasan in lead roles.
'Metro' Shirish as Raja is a Police Constable, who is in love with Ranguski played by Chandini. An innocent woman in Chandini 's neighborhood is murdered and the modest hero is framed by the real killer for this crime and what happens after this incident forms the crux of the story.
It was quite refreshing to see the protagonist playing in the role of a simple Police Constable for which Shirish is fit, but fails in being expressive in his performce despite the huge scope for performance with his subtle reactions turning out to be a let down in a few story-driven scenes. Initially, there was no consistency with respect to Chandini's looks despite having ample importance in the script to impress, which she could have utilized it in a better way. Midway into the story, the investigating officer who is introduced has done a convincing job and few of his scenes are actually quite interesting.
Director Dharanidharan's script had the potential to be an intense crime drama, but he misses the opportunity to deliver the appropriate context. The presentation could have been more realistic as many needless commercial elements are induced in the flow. The screenplay is quite loosely packed as the film manages to engage us only at specific moments. Dialogues also seem to resonate into being fake during few important sequences. To be more specific, they have been delivered by the hero without any variations.
Yuvan's songs in the film fall a bit short and the local 'Kuthu' number which is shown right after the interval seems monotonous. Cinematography is adequate, but at few junctures the shots do not help the story much to move forward with the aerial camera work lacking quality. Two hours is a reasonable runtime, but the content demanded a lesser duration considering the film has been stretched over time by adding unwanted additional romantic scenes.
Writing could have been better for the final showdown portions. The execution was amateurish during the investigation sequences. Though as an idea, the narration style used to explain the events transpired at the crime-scene was appreciable, they could have been conveyed with more power. The logic loopholes do exist at some places. The climax twist was convincing, but it fails to make any big impact.
5
1
2.25
Verdict :With finer performances and execution, 'Raja Ranguski' would have been a compelling thriller.
Galatta Rating: ( 2.25 /5.0 )
Public/Audience Rating