Paper Rocket Movie Review
(2022)
Kiruthiga Udhayanidhi's Paper Rocket Web Series Review
Release Date :
29-07-2022
Movie Run Time :
3:40 Hrs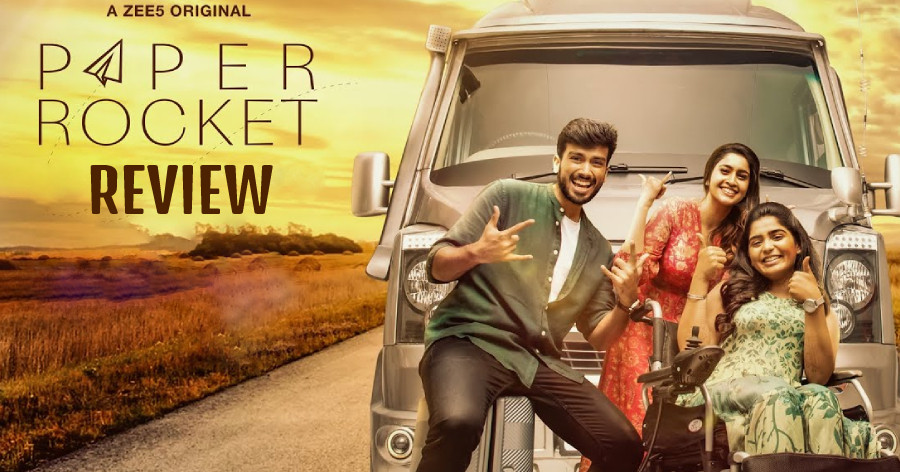 Paper Rocket Movie Cast & Crew
Production :
Rise East Entertainment
Kiruthiga Udhayanidhi's latest directorial venture, Paper Rocket, has released on the Zee 5 streaming platform and here's our review on this newest web series in Tamil. Paper Rocket stars Kalidas Jayaram, Tanya Ravichandran, Gouri G Kishan, Karunakaran, Renuka, and others in the lead roles. 
STORY: 
Paper Rocket is a series that explores the beauty and complications of life through various characters. Certain situations make Jeeva   (Kalidas Jayaram) take 5 people on a trip to make them heal from their personal problems and depression. Each person has an unfulfilled desire and Jeeva decides to make their life look complete, thereby making himself heal from the grief of losing his father. How did the trip change the lives of the six people is what Paper Rocket is all about. 
SCREENPLAY, DIALOGUES & DIRECTION: 
Filmmakers usually prefer to tell crime stories or intense mystery dramas when they create content for OTT platforms, but Kiruthiga Udhayanidhi takes the path that is less travelled. She takes up a premise that has life in it and deals with multiple human emotions. The best part about Paper Rocket is that it delves into various emotions - guilt, trauma, grief, uncertainty, depression, sadness, etc and it also touches upon several topics like sexual abuse, life after trauma or injuries, the aftereffects of the death of a loved one, and more.
Kiruthiga explores these zones quite effectively with her writing. The episode that deals with the story of Karunakaran has a good level of exploration about the purpose of life and due credits to the execution as well. Kiruthiga takes a breezy approach and handles the plot with good sensibilities and she has also bettered her craft as a filmmaker compared to her previous ventures. She gets most of the emotions right with only a few ones missing the right landing. On the flip side, Paper Rocket has pacing issues and there are places where the scenes fall short on engagement. The writing and treatment of Renuka's backstory (wealth issues) and its solution looked cliched and had staging issues, in an otherwise likeable series.
The series could've easily turned melodramatic if the emotions had gone overboard, but Kiruthiga makes sure that the line is drawn. 
 
CAST: 
Kalidas Jayaram delivers a highly impressive performance and he brings to the table a great level of charm. He is natural and fits the bill perfectly. Tanya Ravichandran as the independent woman with anger issues portrays her part neatly and her chemistry with Kalidas works in the favour of the series. Karunakaran as Tiger is strikingly good and he makes sure to bring both comic and emotional sides of him quite convincingly. Renuka, Nirmal Palazhi, Gouri G Kishan, Chinni Jayanth, Poornima Bhagyaraj, Kaali Venkat, and the rest of the cast do their respective parts neatly without much ado. 
TECHNICAL: 
Usually films or visual contents that deal with human emotions tend to take the help of music to elevate the emotions. Paper Rocket has a mix of some extremely well done scores and some that fall in the okay zone. However, the songs are impressively done. Richard M Nathan's cinematography is enriching and beautiful and the visuals act as a pleasant feast to the eyes. The close up shots are also wisely used. The edit pattern is neat and ensures the smooth flow of the content. 
SO? 
Summing up, one can confidently say that Paper Rocket is a heartwarming series that gets most of its emotions right!
Verdict: A breezy feel-good drama that explores life with good writing! Deserves a watch! 
Galatta Rating: (
4

/5.0 )
User Review