Release Date :
01-04-2022
Movie Run Time :
2.06 Hrs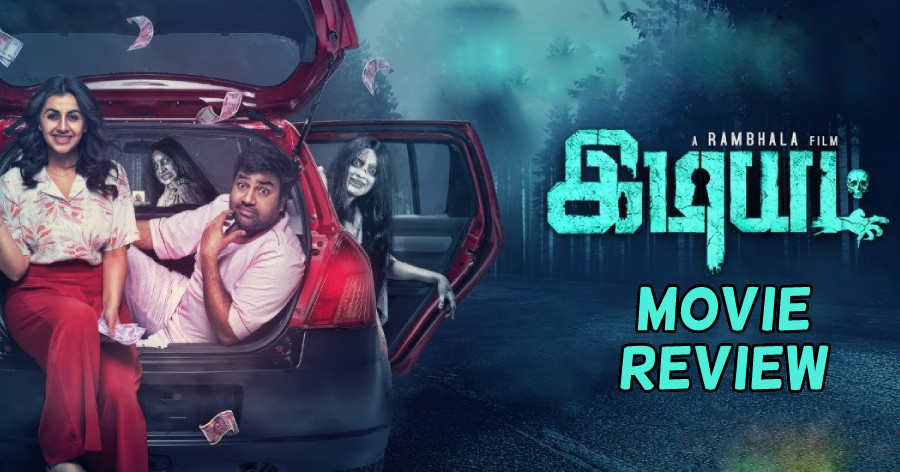 Idiot Movie Cast & Crew
Production :
Screen Scene Media Entertainment
Mirchi Shiva, who is known for his quality comedy entertainers, is back after a hiatus with Idiot which has released in theatres today. The film is directed by Rambhala of Dhilluku Dhuddu and Lollu Sabha fame. This horror-comedy features Nikki Galrani as the female lead, alongside Redin Kingsley, Anandaraj, Urvashi, Ravi Mariya, RNR Manohar, Akshara Gowda in supporting roles.

STORY:
Smitha (Nikki Galrani), a psychiatrist doctor, is kidnapped into a haunted bungalow and Chinrasu (aka) Paandi (Mirchi Shiva), her patient, is off to her rescue. There's also a gang of four goons who are inside the bungalow, along with a few ghosts. Was Smitha rescued safely from the evil forces is what Idiot is about.


SCREENPLAY, DIALOGUES, & DIRECTION:
Barring a few hilarious moments of Mirchi Shiva and Redin Kingsley inside the haunted bungalow, the rest of Idiot is a complete misfire. The film moves in a clueless manner throughout, mostly filled with silly counters that never bring any laughs. Rambhala has tried to play with the words, but the humour doesn't click. The film never treats itself seriously and because of that, along with some artificial staging, you never strike a connection with the characters. 
The writing is also ultimately bad. Rambhala is known for his humorous writing and we've seen it many times in the past, but with Idiot, the magic is missing. Not even a single character in the film makes any sense and you're just taken through a series of mindless scenes that just makes you yawn. When we say mindless, it obviously tells you that the film has zero logic and clumsy writing. It looks like the film has been titled Idiot because the film is filled with idiotic characters that make no sense. Idiot did have the potential to work as a solid comedy entertainer, as the idea of mentally-challenged people meeting ghosts is interesting, but the uninspired writing and bad execution make it a flat film.
 Idiot desperately tries to make you laugh with its dialogues and there is no space for silence in the film. Towards the end of the film, Mirchi Shiva says, "Ivlo Neram Namma uyira eduthadhu ivaru dhan" and the camera then pans across to director Ram Bhala, and we couldn't agree more.

CAST:
Mirchi Shiva is quite good in a role that is a cakewalk for him. Redin Kingsley helps with a few laughs here and there. Anandaraj is comparatively better among the other supporting cast. Nikki Galrani, Urvashi, Ravi Mariya, Mayilsamy, and others are okay in their respective roles.

TECHNICAL:
Idiot is a weak film on the technical side, as well. Vikram Selva's music is unsatisfactory, while the cinematography (by Raja Bhattacharjee) is shoddy in many places. The cuts also lack finesse.

SO?
Mirchi Shiva tries his best to save the film, but fails, because of a lacklustre execution!
Verdict: Idiot is nothing but a comedy of errors - a total misfire!
Galatta Rating: (
2

/5.0 )
User Review
Latest Tamil Movie Reviews