Release Date :
11-11-2022
Movie Run Time :
1:55 Hrs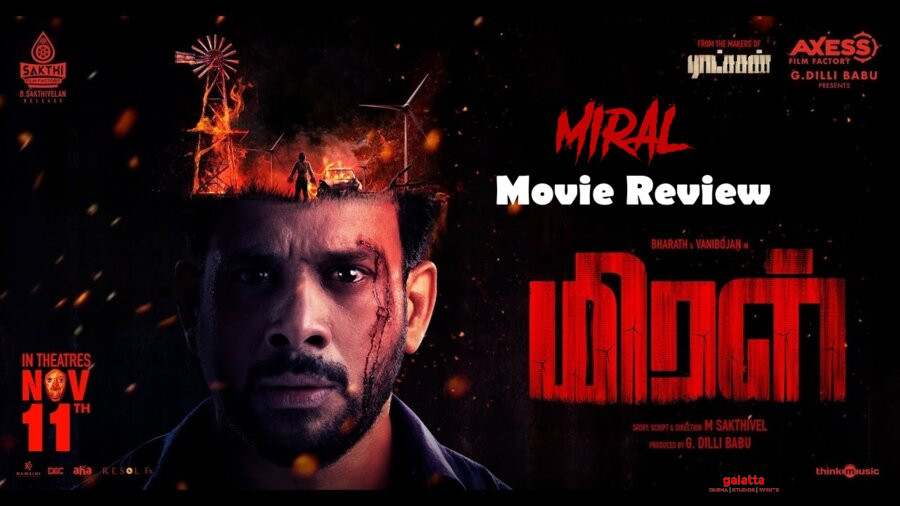 Miral Movie Cast & Crew
Production :
Axess Film Factory
Director M. Sakthivel's Miral produced under the Axess Film Factory stars Bharath and Vani Bhojan in the lead roles and has been released in theatres today. Miral is a slasher thriller and had an intense, dark, and gritty trailer released sometime back, which was well-received by fans. Has the film lived up to the expectations? Well, here we go.
STORY
When Rama (Vani Bhojan) starts having a mental breakdown after having some dreams, her husband Hari (Bharath) decides to take her to their family temple hoping to make things better. But, can they survive the series of mysterious encounters on their own? 
SCREENPLAY, DIALOGUES, AND DIRECTION
The screenplay of Miral written by M. Sakthivel is a riveting thriller that will keep the audience hooked to their seats with its elements. It has been a long time since such a film has been written and when finally made, it hits the mark. It is carefully thought out and framed in order to bring the maximum amount of potential out of it. It definitely is not perfect (which movie is?) but that isn't something that will make the audience want to rip the hair right off of their heads. 
Since dialogues come under screenplay, it contributes to what was written. The dialogue in Miral helps move the story forward as there is not much that is unnecessary that will make the audience scratch their heads. Almost everything that is being conveyed is for the audience to understand what is going on and to keep up with all the mystery that takes place on the screen.
 
With M. Sakthivel making his debut as a director with Miral, he knew exactly what he needed to do given the fact that he wrote the film. He knew what the end result had to look like and it definitely appears as if he gave it his all to achieve that. He executed the screenplay in a direction as well as he could and it shows. Miral certainly does not look like a movie made by a debutant director and kudos to him for that. 
CAST
Bharath has done a great job in this thriller and it is something one cannot look past. It is promising, intense, and very convincing which adds to his ability as an actor. He does not disappoint and completely sells his performance with the script that he has got and the material he has at his disposal to work with.
Vani Bhojan, just like Bharath, gives it her all. She is not just another character in a film that is just there as a necessity of a female element. She plays a crucial role and is definitely a character that helps the story move forward - so when it comes to that, she nailed it. Her performance seems natural and one may even be able to connect with it. That is how well she has done. 
TECHNICAL
The cinematography is on point. Suresh Bala was able to capture the essence required and was able to project that on the screen wonderfully. Being a thriller, it is usually easy to create suspense in a closed space. But, Bala showed off his capabilities as a cinematographer by creating room for eerie uneasiness even in vast open spaces with his framing and use of lighting. This is something that can surely not be ignored as almost every frame is carefully orchestrated. 
Music composer Prasad S N did a magnificent job with the background score. It keeps the audience hooked and on their feet, and his captivating BGMs only add to the mystery and thrilling ride of the film. It is used carefully in order to heighten the suspense, intensify the emotions that are being felt, and capture the weight of the moment.
SO?
Miral is an edge-of-the-seat thriller that embarks on a wonderful journey to give the audience an experience that is fresh and respective of the genre with no unnecessary detours.
Verdict: A racy, heart-pounding thriller that is bound to have the audience hooked right from the very beginning.
Galatta Rating: (
2.75

/5.0 )
User Review