Radhe Shyam Movie Review
(2022)
Prabhas Pooja Hegde starrer Radhe Shyam Movie Review
Release Date :
11-03-2022
Movie Run Time :
2:19 Hrs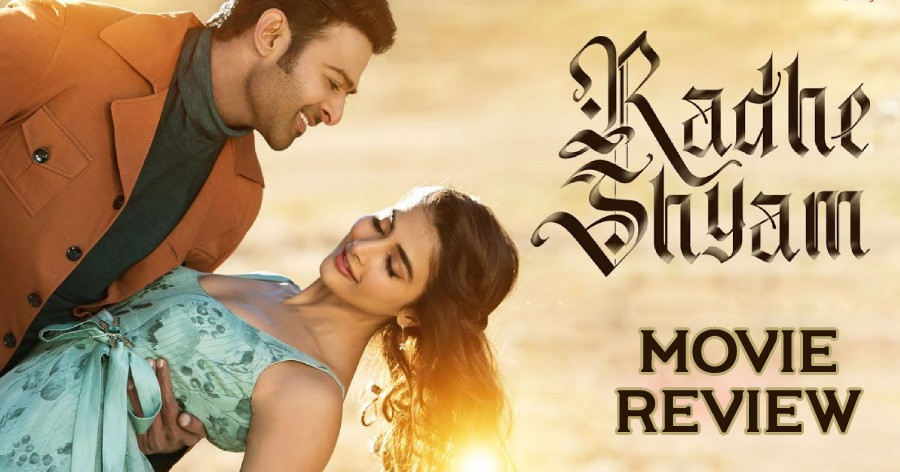 Radhe Shyam Movie Cast & Crew
Production :
UV Creations
Prabhas and Pooja Hegde's Radhe Shyam, the romantic drama, directed by Radha Krishna Kumar is out in theatres after a patient wait of more than 2 years. Being shot on a grand scale, the film has songs composed by Justin Prabhakaran, with the background score done by Thaman. 
STORY:
Vikram Aditya (Prabhas) is a world-renowned palmist who can predict the destiny of people and his predictions have never gone wrong. He doesn't need a relationship as he doesn't have love lines and instead wants a flirtationship, a commitment without love. However, Prerana (Pooja Hegde) helplessly falls in love with Vikram Aditya and so does he. Vikram predicts the destinies of him and Prerna and comes to the conclusion that they are not meant for each other. In this battle between love and destiny, which triumphs over the other forms the rest of the plot.
SCREENPLAY, DIALOGUES, & DIRECTION:
Radhe Shyam has been written and executed in an ambitious manner and that is evident right from the beginning. The premise is quite impressive as the battle between love and destiny is interestingly etched out. The drama between both the leads keeps you glued to your screens, especially the pre-climax portions. The dialogues in Tamil are brilliantly written by Madhan Karky and one of the best lines in the film would be, "Kai illadhavangaluku future irukkadha?". The place where this dialogue is spoken makes it even more powerful. Despite being a regular love story, what makes the film stand out from the rest is its 'destiny' angle.  The moments where Prabhas reality hits Prabhas are effectively shot.
While these are the positives of the film, Radhe Shyam has its own set of worries as well. The film falls short on engagement heavily as a result of which you tend to get bored. A major chunk of the first half moves in an uninteresting fashion, while the initial portions of the latter half also have the same issue. The screenplay is not consistent enough to keep you completely hooked and it is mostly dull and flat. If the film had enough moments and high points to hold our attention, it would've triumphed as a truly epic love story. The staging of the romantic scenes is artificial and lacks an emotional depth.
A lot of work has gone into the climax ship sequence and it can be witnessed in the visuals. But even then, the sequence does not leave a bang-on impact on you, as Titanic did. With a better engaging screenplay and impressive narration, Radhe Shyam could have been a winner.  
 
CAST: 
Prabhas seems to have tried his potential best, but he looks tired and uneasy in a lot of scenes and this automatically leaves you disconnected from the character. However, the star actor must be applauded for boldly picking a script like this, an out and out romantic saga. Pooja Hegde is cuteness personified. The young actress looks adorable and puts out a lovable performance that holds your attention. In a love story of this grand scale, the chemistry between the lead pair is what will make the film appeal much better, but Radhe Shyam doesn't score full marks on that aspect.
The duo looks good together, but they do not manage to strike the chemistry one would hope. The soul is missing. Veterans like Sathyaraj and Jayaram are fine with their respective performances. The need for Jagapathi Babu's character is questionable as it doesn't have any major influence in the core proceedings. 
TECHNICAL: 
Radhe Shyam is a technically sound film. Manoj Paramahamsa's cinematography is actually the main hero of the film. Radhe Shyam is a visual poetry that is aesthetic, grand, and enriching. The cinematography is well-aided by some great music - credits: Thaman, whose background score upholds the movie to a greater extent. Justin's songs are also likeable. Kotagiri Venkateswara Rao's edit is functional, but a film of this style needed much more effectiveness. 
SO? 
This Prabhas - Pooja Hegde starrer scores high points with its visuals, but turns out to be a middling affair on the whole. 
Verdict Radhe Shyam is visually appealing, but falls short on emotions and engagement!
Galatta Rating: (
2.5

/5.0 )
User Review
Latest Tamil Movie Reviews