Maamanithan Movie Review
(2022)
Vijay Sethupathi's Maamanithan Movie Review - film directed by Seenu Ramasamy
Release Date :
24-06-2022
Movie Run Time :
2:02 Hrs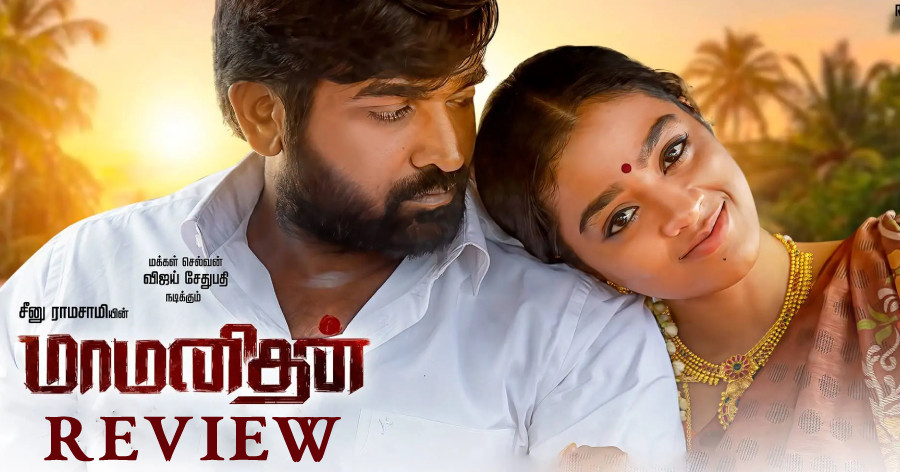 Maamanithan Movie Cast & Crew
After facing several financial hurdles, Makkal Selvan Vijay Sethupathi's Maamanithan has finally hit the screens today, and here is our review of the film. Maamanithan is helmed by Seenu Ramasamy, who is known for his emotional family dramas like Thenmerku Paruvakaatru, Dharmadurai, and more. Produced by YSR Films, the film features Vijay Sethupathi and Gayathrie in the lead roles, with music composed by Isaignani Ilaiyaraaja and Yuvan Shankar Raja. 
STORY:  
Radhakrishnan (Vijay Sethupathi) is a middle-aged family man leading a happy life along with his wife Savithri (Gayathrie) and two children. An auto driver by profession, Radhakrishnan wishes to make his two kids study in a private school, and in order to do so, he strikes a deal with a real estate developer, Madhavan (Shaji Chen). Little does he know that he would be trapped in this issue and end up running away from his family and village. Radhakrishnan's arc of redemption and the people he meets from different walks of life in this journey form the rest of the plot of Maamanithan. 
SCREENPLAY, DIALOGUES & DIRECTION: 
Seenu Ramasamy's protagonists are usually known for their kind-hearted nature and Radhakrishnan from Maamanithan is no exception. Seenu has written the character in an organic fashion and the character arc is well established. The film has quite a handful of sweet and heartwarming moments that leave you smiling. The first half is filled with many such moments and it has been effectively executed. The simple treatment helps the film and it will be a welcoming changeover for the audience after being used to seeing mass action masala films of late.
However, the problem arises in the second half when the film falls into the melodramatic zone. Maamanithan has traces of Kamal Haasan's yesteryear classic, Mahanadhi, with regards to the main characters and the core conflict. One of the issues that Maamanithan has is in its writing. Over a point, the screenplay becomes generic and predictable, and you seem to get a hold of where the film is going. The ending will seem a bit hurried and abrupt and Seenu Ramasamy could have made the pay-off scenes in a more convincing and appealing manner.
There aren't any major concerns as such in the first half, but post the mid-point, the letdowns begin to come to the fore in the second half. Radhakrishnan's journey of redemption could have been etched out in a more engaging fashion and that would have made the film appeal much better. 
CAST: 
Vijay Sethupathi has delivered one of his best-ever performances and this character looked tailor-made for the talented actor. Vijay Sethupathi is in a zone where he can experiment with such roles and he aces them with conviction. He manages to make the audience empathize with him through his performance. Gayathrie continues her form from Vikram with this film as well and she holds our attention with her emotional act. Guru Somasundaram lends support with his fine performance as Ismail. The rest of the cast provides quality work, thereby making the film look complete, in terms of casting and performances. 
TECHNICAL: 
'Isaignani' Ilaiyaraaja and Yuvan Shankar Raja's highly-anticipated musical score falls short of expectations as we kind of miss feeling their magic. M. Sukumar's cinematography is neat and follows a good level of consistency. The edit has a smooth flow ensuring the cohesiveness of the film. 
SO? 
Summing up together, one can say that Maamanithan is a likeable and heartwarming tale about an ordinary man that can be watched.
Verdict: Vijay Sethupathi shines with a solid performance in this simple and realistic drama!
Galatta Rating: (
2.75

/5.0 )
Review By:
Galatta Review Board
User Review