Release Date :
23-09-2022
Movie Run Time :
2:18 Hrs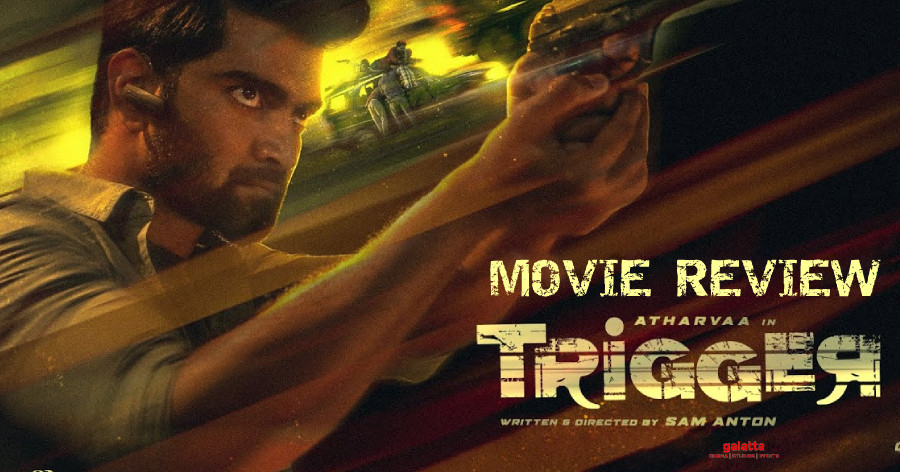 Trigger Movie Cast & Crew
Production :
Pramod Films
Atharvaa's Trigger is the latest release in Tamil cinema and the film is directed by Sam Anton of 100 and Darling fame. Trigger is an action thriller that features Atharvaa as a cop and this one had some sleek and stylish promos that piqued our curiosity before release. Has the film lived up to its promise? Here we go! 
STORY: 
Around 20 children in Chennai are kidnapped by a gang of men at the same time and Prabha (Atharvaa), an undercover cop, is at the helm to rescue the children from the antagonists. Also, he has a personal connection with the case that drives him forward despite the risks involved. Did Prabha manage to save the kids and did his personal motive yield him the needed result is what Trigger is all about. 
SCREENPLAY, DIALOGUES & DIRECTION: 
Trigger starts off on a lowkey note, but manages to hold on our attention as the sequences start playing out. The screenplay has some really interesting stretches that make us sit through - for example, the interval fight sequence, the hospital sequence, and Chinni Jeyanth's rescue scene. The film has been presented in a stylish fashion and the action sequences have been choreographed in a very intriguing manner. The stylish presentation is what makes Trigger quite different from regular action dramas. One of the good things about Trigger is that it doesn't waste time on unnecessary romance which would have affected the film's flow big time.
The father-son core emotion which plays as an underlying theme is well thought out, but the translation on-screen lacks completeness. The father-son sentiment being the core emotion, there could have been more scenes that established their rapport to make us feel the emotion. Their rapport looks generic on-screen and a better staging could have made it appeal better. The first half is quite promisingly done and it ends with a good cliffhanger, but the scenes that follow suit in the latter half don't really engage you. The scenes are predictable and you kinda see certain situations coming.
The antagonist's character is introduced as a very deadly and evil personality, but as the film progresses, he becomes the usual cliched villain that you have seen in all these years. The cat and mouse game between Prabha and Michael could have been worked out better and that in turn, would have helped the film with the engagement factor. The problem with Trigger is that it has interesting ideas and thoughtful backstories, but none of them is explored in detail. Everything is written on a surface level. 
CAST:  
Atharvaa delivers a solid performance as a cop and he scores full marks with action. Atharvaa is now one of those few heroes who can convincingly pull off action episodes with style and charisma. He has also showcased the emotional side of him at a fair level. The actor who played the antagonist character - Michael, has done his part convincingly.
Among the supporting cast, Chinni Jeyanth and Arun Pandian score well, with especially the former impressing us the most. Munishkanth, Aranthangi Nisha, and Anbu Thasan are fine in their respective roles. Tanya Ravichandran, as the female lead, gets very limited screen time and she is okay. 
TECHNICAL: 
Krishnan Vasant's visuals have a stylish appeal and his skilful work definitely uplifts the quality of the film. Due credits to the DoP team for their excellent work in the interval fight sequence and the climax road chase sequence. Ghibran's background score acts as an undercurrent wire that keeps the power flowing. With regard to the editing, there are certain jump cuts that don't land well. Dhilip Subbarayan's stunt choreography is one of the saving factors of Trigger and it has been executed on a very intriguing note. 
SO? 
Trigger might not offer anything new in terms of writing or execution, but it has moments that makes it a passable action film.
Verdict: Atharvaa's performance and stylish stunts make Trigger a watchable drama! 
Galatta Rating: (
2.5

/5.0 )
User Review