Agent Kannayiram Movie Review
(2022)
Santhanam's Agent Kannayiram Tamil Movie Review by Galatta - directed by Manoj Beedha
Release Date :
25-11-2022
Movie Run Time :
2:10 Hrs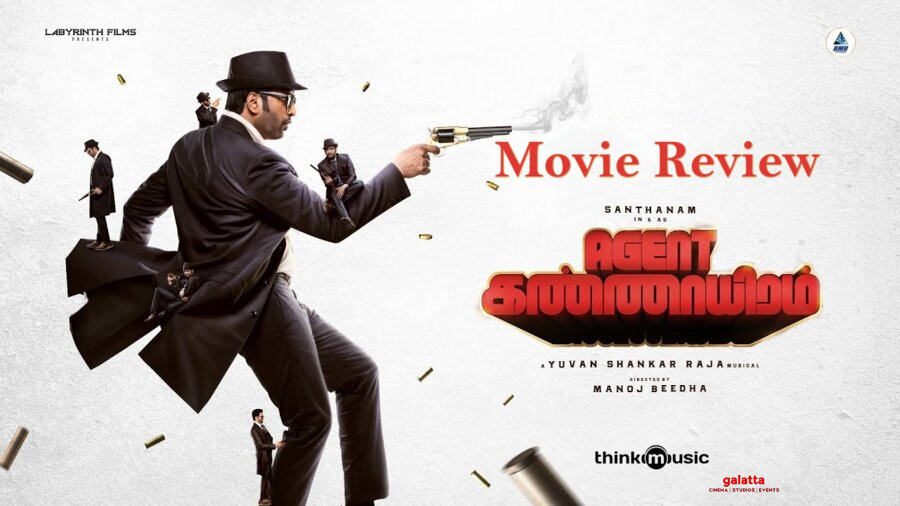 Agent Kannayiram Movie Cast & Crew
Production :
Labyrinth Films
Director Manoj Beedha's Agent Kannayiram produced under the Labyrinth Films banner stars Santhanam and Riya Suman in the lead roles and has been released in theatres today. Agent Kannayiram is a comedy mystery thriller that attempts to take us for a thrill ride and had an interesting trailer released sometime back. Did the film live up to its expectations? Let's have a look!
STORY
Agent Kannayiram (Santhanam) is a private detective, who is eager to showcase his caliber and prove the police department wrong by using his skills. After getting petty cases like finding out if a man is good enough to marry someone's daughter or to locate a missing cat, he finally finds himself in the middle of a big and challenging case. The maze, which he has to go through in order to get to the end of the case, forms the crux of the story. Agent Kannayiram is a remake of the 2019 Telugu film Agent Sai Srinivasa Athreya.  
SCREENPLAY, DIALOGUES, AND DIRECTION
The screenplay from Manoj Beedha and Ramesh Marabu is mediocre at its best. The film only does justice to mystery, half of the thriller, and misses out on the comedy. The screenplay of Agent Kannayiram is written in such a way that it takes a long time to reach the crucial part of the film and the journey to get there is somewhat enjoyable but could have been better since there's quite a lot of promise. 
The dialogues in Agent Kannayiram are alright. It is very clear where comedy has been attempted and it sometimes gets out a few giggles, rarely big laughs, but by the end of it, delivers comedic relief partially. We have seen Santhanam do comedy in the past and kind of start missing his unique play with words and feel the humor could have measured up to be better. But keeping that aside, the dialogue required to move the plot forward is on point as it always keeps the audience well-informed about what is going on. Agent Kannayiram does not waver off-topic all that much; even when it does, it takes the audience along, which keeps us in the loop. 
The direction under the care of Manoj Beedha hit some notes while missing some. He was able to execute his vision, but the only thing that stood in its way was the pacing of Agent Kannayiram and the performances of some actors. He was able to establish what was needed very clearly, but kind of missed a step in its execution, leading him to fall face-first to the ground in that aspect.
CAST
Santhanam takes the center stage in this flick and he is whom we follow throughout. He has done a great job in his role as the fun and aloof Agent Kannayiram who shows off his skills of deduction that every detective must possess when needed. He is able to encapsulate the character and bring him to life with ease. It is because of this that makes the character of Kannayiram a  fun-loving one. It is also great to see his caliber as an actor given the fact that he was once a comedian. With this film, one can say he definitely has the capability to be a fine actor. 
Riya Suman is a core character and plays a pivotal role in the film, despite not showing her best acting potential. She plays a key part in helping the film move forward and could have done a tad bit better in order for the audience to truly connect with her.
TECHNICAL
The music composed by Yuvan Shankar Raja is definitely one you will instantly notice as it is bound to mesmerize the audience. He has given yet another great background score arrangement that perfectly syncs with the scenes and the narrative. The song that plays in the opening credits of the movie is aesthetically pleasing and sets the tempo for the rest of the film.
'Theni' Eashwar and Saravanan Ramasamy's cinematography was 50-50. They had some interestingly framed shots and a few others taken at lower frames, as well as some stylized ones, which all contribute to Agent Kannayiram looking like an aesthetic art film. But then, we get taken out of that feeling time after time after some questionable cinematography. But since it is 50-50, all is forgiven.
SO?
Agent Kannayiram starts off all fun and interesting but loses traction eventually with its mild-slow pace.
Verdict: A one-time watch that is written well and could have been executed in a better manner.
Galatta Rating: (
2.25

/5.0 )
Review By:
Galatta Review Board
User Review
Agent Kannayiram Movie News