Release Date :
01-07-2022
Movie Run Time :
2:36 Hrs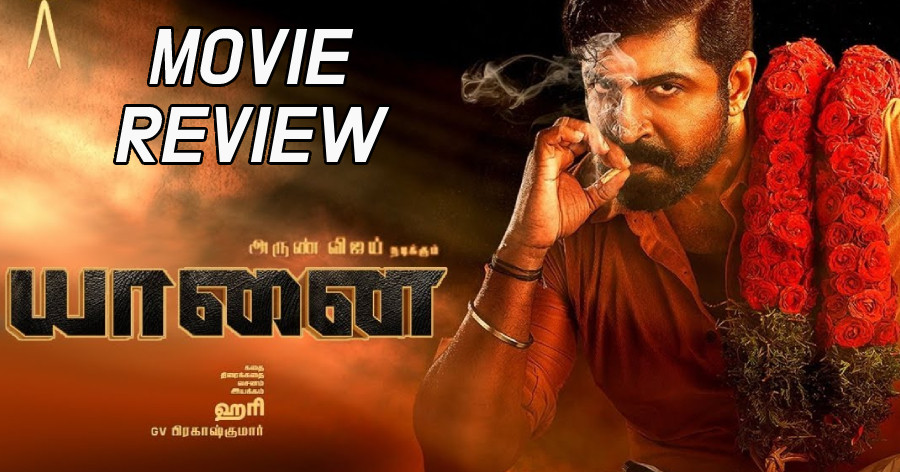 Yaanai Movie Cast & Crew
Production :
Drumsticks Productions
After 2.5 years, Arun Vijay is back on the big screens with Yaanai which has hit the screens today. The film is directed by Hari and has music composed by GV Prakash. Priya Bhavani Shankar plays the female lead in this film that has Ramachandra Raju, Radikaa Sarathkumar, Samuthirakani, Ammu Abhirami, and others in important roles. Here is what we feel about the film! 
STORY: 
Yaanai deals with the rivalry story between two families - PRV (Arun Vijay & family) and Samuthiram (Ramachandra Raju & family). What was the final outcome of the rivalry and what other issues did Ravi and his family face amidst the chaos forms the premise of Yaanai.
SCREENPLAY, DIALOGUES & DIRECTION: 
Director Hari is usually known for his fast paced movies that have racy cuts and rapid shifts between multiple locations, but he has stayed away from the usual pattern and has attempted something new with Yaanai. We see Yaanai having more single take shots, something that we never or very rarely see in Hari's movies The writing is fairly impressive, especially the core women characters. Be it Priya Bhavani Shankar, Ammu Abhirami, or Radikaa Sarathkumar, all three of them had at least one scene to prove their mettle and showcase their characteristic.
Initially, you seem to look at Priya Bhavani Shankar's character as a yet another 'Lusu Heroine' in Tamil cinema, but no.. Eventually, Hari builds the character with a purpose and sense. Likewise, Ammu Abhirami and Radikaa's characters have also got similar qualities where they don't just sit behind men in the house. The dialogues are to the point and are probably one of the highlight aspects of the film. The dialogues are effectively written, especially the ones that condemn and take a dig on the regressive thoughts of the men in the society, in the name of caste. The family emotions have worked out really well and it will definitely strike a chord with the masses. The interval was surely a pleasant surprise, indeed.
Yaanai was touted to be a mass action masala and when you know it is a Hari film, you tend to expect a massy action block in the interval, but what you get is something really interesting. Hari has tried to blend the elements from two of his earlier movies - Kovil and Poojai. Some of his actions have paid off well while some have not.
The film is inconsistently paced and the screenplay could have been constructed in a much more engaging and gripping fashion. There is no proper detailing or establishment about the conflict between the two rival families and because of that, you don't seem to connect well with their characters. The emotional core of the film needed much more intense sequences to make us root for the characters. The villain character is weakly sketched and there is not even a single percentage of threat posed by him. Had the villain been more stronger, the face-off between the good and bad would have been exciting to watch.
We are in 2022 and it is time that we write comedies that come along with the story and not as separate tracks. The Yogi Babu - Pugazh comedy tracks are a complete yawn as they bring no laughter and removing those sequences will only make the film look much better. 
CAST:
Arun Vijay delivers a quality performance and he has played the character of Ravi with conviction. You can sense the changes that he has made to make him suit the milieu of this movie. With Yaanai, Arun Vijay makes us firmly believe that he can definitely pull of such rural-centric roles with great charm and energy. 
Priya Bhavani Shankar is impressive in a character that serves a purpose with the proceedings. She manages to showcase the emotions through her eyes, fitting the bill convincingly. Yogi Babu scores full points with his emotional act, telling us that he is capable of much more than just a comedian. Some of his one-liners are also highly enjoyable. Ramachandra Raju comes off as a yet another templated villain who leaves no big impact. Ammu Abhirami fulfills her part quite well. Radikaa Sarathkumar and Samuthirakani take up characters that are a cakewalk for them, delivering neat performances. 
TECHNICAL:  
GV Prakash's songs don't really pack a punch, but he compensates with the score that adds more power to the scenes. Gopinath's cinematography is impressive and it gives us a different outlook of a Hari film. The long single-take action sequences have been executed well and due credits to the team. The edit pattern and cuts stick to the old-school, without affecting the film (positively or negatively). 
SO? 
Yes, there are a few misses and lags, but Yaanai passes the test with the emotions serving its purpose rightfully.
Verdict: Arun Vijay's power-packed performance and Hari's strong family emotions make Yaanai a fine watch! 
Galatta Rating: (
2.75

/5.0 )
User Review