Manmadha Leelai Movie Review
(2022)
Venkat Prabhu's Manmatha Leelai Movie Review - film starring Ashok Selvan
Release Date :
01-04-2022
Movie Run Time :
1.51 Hrs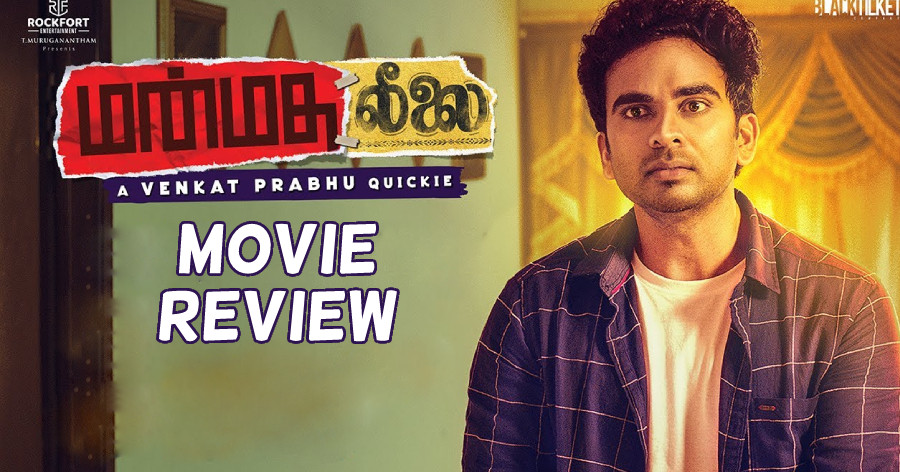 Manmadha Leelai Movie Cast & Crew
Production :
T.Muruganantham
Following the highly successful Maanaadu, Venkat Prabhu is back in action with his next - Manmatha Leelai, an adult comedy entertainer. Manmatha Leelai stars Ashok Selvan, Samyuktha Hegde, Smruthi Venkat, Riya Suman in the lead roles and has music composed by Premgi Amaren. 
STORY: 
The story of Manmatha Leelai happens in two different timelines (2010 & 2020), showcasing Sathya's (Ashok Selvan) two main episodes of lust. Both the episodes have unexpected outcomes. How did Sathya, the womanizer react to those situations, forms the premise of Manmatha Leelai. 
SCREENPLAY, DIALOGUES, & DIRECTION: 
Manivannan Balasubramaniam and Venkat Prabhu have contributed to the writing department and the duo strike a good equation. They have attempted to go full-on with fun that caters to the youth. Manmatha Leelai has an equal share of positives and negatives. Venkat Prabhu is known for his fresh presentation and Manmatha Leelai has also been packaged in an interesting fashion. The film travels simultaneously in two different timelines and the edit pattern that has been followed is impressive. Manmatha Leelai takes its own sweet time to get into its premise and you need to wait for the proceedings to begin. Manmatha Leelai is an 'A' certified film, but we don't see Venkat Prabhu exploiting the tag by showing vulgar or sleazy shots. The film has elements of lust and it has been handled with sensitivity. Another interesting aspect is that Venkat Prabhu manages to maintain the suspense, keeping us invested in the film. Some of the unexpected reveals in the latter half definitely holds your attention and takes you by pleasant surprise. Manmatha Leelai is an adult film not just for the sake of it. It has a story with some interesting connect the dots moments. Manmatha Leelai is more than just an adult comedy and you will have to witness it on screen to know why we say that. On the flipside, some of the comedies might have looked good on paper, but they don't really land well on screen. The film also suffers from inconsistency (at places) in terms of engagement.
CAST: 
Ashok Selvan pulls off a charming performance that looks delightful and lively. With his enjoyable mannerisms and body language, he strikes a chord with the youth audience. Among the three female leads, Samyuktha Hegde gets a character that lasts for a longer time and she does her best. Smruthi Venkat and Riya Suman look beautiful on screen and they bring a good level of freshness to the film. Jayaprakash, in a short role, helps in bringing a few laughs. 
TECHNICAL: 
Premgi Amaren lends a fairly supportive background score that uplifts the fun quotient of the film. The score manages to add more emotion to the scenes, rightfully serving it's purpose. Thamizh A Azhagan's cinematography is neat and the shot divisions are rightly done. Venkat Raajen's cuts ensure the fun mood of the film throughout without too many lags. 
So?
Manmatha Leelai has both hits and misses, but the hits are on the upper side! 
 
Verdict: A fun film that fairly engages you with some laudable twists!
Galatta Rating: (
2.75

/5.0 )
User Review
Manmadha Leelai Movie News
Latest Tamil Movie Reviews