Etharkkum Thunindhavan Movie Review
(2022)
Suriya's Etharkkum Thunindhavan Movie Review - film directed by Pandiraj
Release Date :
10-03-2022
Movie Run Time :
2:29 Hrs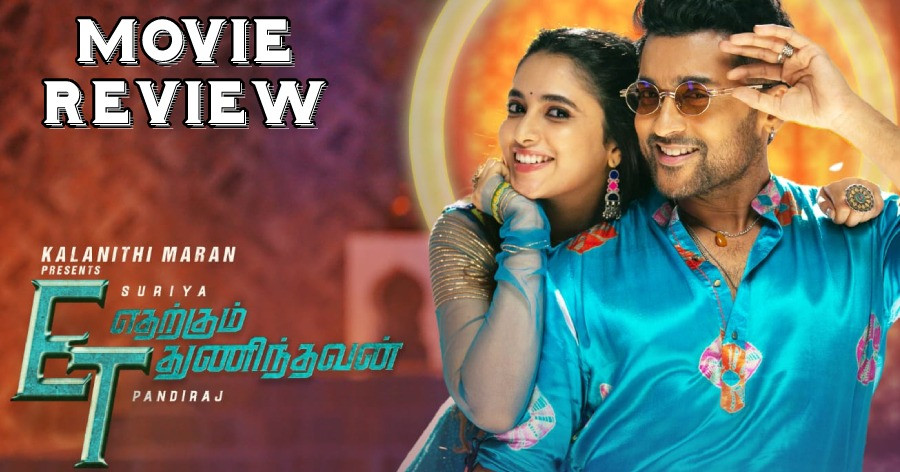 Etharkkum Thunindhavan Movie Cast & Crew
Production :
Sun pictures
Suriya has finally gotten a theatrical release, following a 2.5 years wait, with Etharkkum Thunindhavan, which has hit the screens today. The film is directed by Pandiraj and has Doctor fame, Priyanka Mohan, playing the female lead. Produced by Sun Pictures, the movie has music composed by D Imman. 
STORY:
Kannabiran (Suriya), a lawyer by profession, has to serve as the savior for the women of his town, including his own family women, as their private videos are taken by Inba (Vinay) and his gang. To what extent does Kannabiran go to nab the evil forces and save the women is what ET is all about. 
SCREENPLAY, DIALOGUES, & DIRECTION: 
Director Pandiraj is known for his packaging skills and he manages to succeed in that aspect to a fair extent with Etharkkum Thunindhavan. The family moments in the first half don't completely hold you and it takes quite some time to get into its core conflict. However, once it does, there's no looking back. Pandiraj takes the commercial route and uses it to its fullest potential. The initial minutes of both the halves are filled with some family moments, while the other segment is loaded with its core content. The aspect, which works in favor of ET, is its core emotional quotient.
Pandiraj manages to mix the family emotions and actions in the right proportion, understanding the pulse of the masses. The screenplay is constructed in such a way that there are high moments in regular intervals. The scene where Suriya and Priyanka Mohan talk about leaked private videos stands out with some thoughtfully written dialogues. It was also great to see Suriya taking the backseat in the climax and allowing other characters to take the space. ET is a film that holds a solid message and it is effectively told by the makers in a likable commercial manner.
Like any other commercial movie, ET also has a weakly written villain, who poses no strong fight to the protagonist. Excluding some of the uninteresting family moments (initial first half portions) and weak villain aspect, ET ticks the other boxes in bright colors. Though ET might be a point lesser than Kadaikutty Singam or Namma Veettu Pillai, in terms of writing and packaging, it still is an engaging film with some important takeaways. The film is sure to connect well with the family audiences, especially the women. 
CAST: 
Suriya delivers an energetic performance as Kannabiran, a role that offers ample scope for him to bring to the table varied emotions. ET is the perfect star vehicle movie for the actor and he makes complete use of it. He is a delight to watch. Priyanka Mohan seems to have bettered her game compared to Doctor with a considerably good act. Vinay as Inba, the classy antagonist delivers commendable performance and his bass voice gives an additional boost to the character. Sathyaraj and Saranya Ponvannan bring their experience into play and do their respective parts with ease. Seasoned actors like MS Bhaskar, Soori, Devadarshini, Ilavarasu do not have much to do with the proceedings. 
TECHNICAL:
Though Imman's songs are not up to the mark, he compensates with his pulsating background score that uplifts the movie. R Rathnavelu's cinematography gives the film a stylish outlook and the slo-mo shots are effectively used to elevate the stardom factor of Suriya and it is a celebration for the fans. Ruben's cuts aid Pandiraj's vision neatly, but at some places, the cuts do look a bit hurried. 
 
SO? 
Despite minor setbacks, Etharkkum Thunindhavan is a winner with Suriya's powerful performance backed with the right mix of commercial elements and a strong message.
 
Verdict ET is a solid commercial entertainer that addresses an important topic effectively! Deserves a watch! 
Galatta Rating: (
3

/5.0 )
User Review
Etharkkum Thunindhavan Movie News
Latest Tamil Movie Reviews