Podaa Podi Movie Review

(2012)
Review By :
Galatta Review Panel|
Release Date :
2012-11-13 |
Movie Run Time :
|
Censor Rating :
| Publish Date :
2012-11-12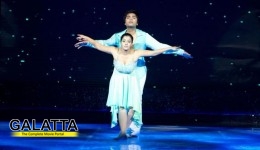 Podaa Podi Movie Cast & Crew

Cast : STR,Varalakshmi Sarathkumar,Dharan
Production : Gemini Film Circuit | Director : | Story Writer : | Screenplay : | Music Director :
Movie Review
They say love stories never fail in Indian cinema... and that is the reason why many top stars and directors consider it as a safe bet, even today. So for this festive season, here comes yet another rom-com, this time from heartthrob STR. The film is directed by debutant Vignesh Shivan and Gemini Film Circuit is the producer. Podaa Podi is also special for one more thing; it marks the debut of Sarath Kumar's daughter Varalaxmi... Dharan Kumar's song, 'Love Pannalama Vennama' is already topping the charts so lets take a look at how the film is...

The Plot

The film is set in London! Arjun (STR), an animation expert (they say so! but he was never shown working), falls in love with the happy-go-lucky Salsa dancer Nisha (Varalaxmi). Arjun is a responsible guy who believes and think in the Indian way whereas Nisha, a hardcore party freak, believes in living for the moment. Her life revolves around her dance and the upcoming dance competition, which is the biggest dancing event in UK. But Arjun hates Nisha's passion for Salsa, as he feels that the intimacy between Nisha and her dancing partner (Mojo) is too much.. besides the hiccups, things move on and they get married (infact a conditional marriage, you have to watch the film to know more on it); but despite everything Nisha continues dancing which irks Arjun. After sometime, Nisha gets pregnant and gives birth to a baby boy... When Nisha finds out the Arjun's plans (in the plan) against her passion for dance, she gets annoyed. Due to the possessive attitude of Arjun, life take a turn for the young couple and the disaster begins... To know anything more you will have to watch the film, only on big screens!

The Techniques

Podaa Podi is a feel good romantic entertainer by debutant Vignesh Shivan. STR has given his best while Varalaxmi Sarathkumar dancing ability is a visual surprise. Dharan's songs are already topping the charts but the background score could have been better. The climax dance sequence is definitely a visual treat, though the situation lacks logic (where Arjun and Nisha performs 'Kuthu ' number at a London dance competition), director Vignesh Shivan had handled it well. The screenplay could have been tweaked a little to increase the pace in the second half. Duncan Fletcher's cinematography is top notch and Antony's cuts are perfect. Shobana and VTV Ganesh have played their part perfectly. The film is a safe bet for producer, Gemini Film Circuit, as a rom-com is always an interesting watch!

Overall, Podaa Podi is a feel good entertainer!
User Reviews
Rating
Review Rani joins Review...
STR's Podaa Podi...
Podaa Podi review on...
Podaa Podi gets U certificate!
STR's nephew in Podaa...
Podaa Podi making video on...
Podaa Podi

Movie videos