Kathanayagan Movie Review
(2017)
Katha Nayagan directed by Muruganandham the cast Vishnu, Catherine Tresa and Others. Read more about the Katha Nayagan movie and audience ratings.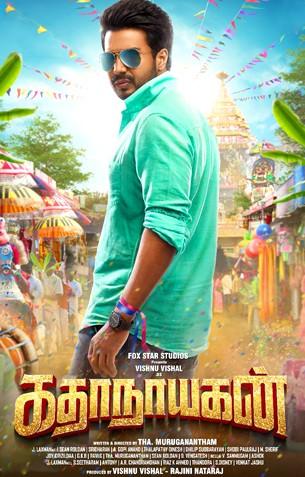 Movie Review
After the last super hit movie Velainu Vanthuta Velaikkaran, Vishnu Vishal is now extremely confident that the comedy genre with a light hearted feel should work big time. With Kathanayagan, the formula does work out but only to a limited extent.
Movies off late have becomes extremely lightweight and you don't have to think much or question the logic to watch them. There's always the usual songs, the usual Soori, the repetitively annoying appearance of Motta Rajendran even though it's not his mistake and a glamor doll heroine.
Kathanayagan directed by Muruganantham ticks every box and the film runs at its own pace as a mixture of multiple one liner scenes knotted into a single movie. If you watch the climax directly, you will still be able to assume the whole film (*sarcasm) which is not a compliment but something to complain about. The director and his producer who happens to be Vishnu Vishal wanted a very safe bet without any experimentation.
The movie follows the story of a guy who is scared of fights but doesn't mind thrashing the baddies when he is drunk. And, there's a branched out story where the same guy is diagnosed with a deadly disease and is also responsible to make sure his sister gets Rs. 50 lakhs to get married in time!
If you have assumed that the plotline looks promising and very engaging, you are all wrong! A major share of Kathanayagan is spent annoying you than making you laugh, except for the few occasional chuckles. The climax portion is highly irritating and so does the lengthy first half. Vijay Sethupathi's cameo is a welcome relief though! Vishnu Vishal breezes through the familiar role and Catherine Teresa look graceful but it's better if directors don't ask her to imitate Madras movie lines over and over again.
The film is an average outing saved some cameos and a lot of borrowed tracks from popular films including all Thala, Thalapthy hits. Bad luck for Sean Roldan who is known for his background score that hardly shines in Kathanayagan, a movie that's comical in the least number of scenes and pointless for the majority of its run time.
Thumbs Up
Vishnu Vishal easily settles in the story and his character.
Supporting cast is a strong point for most scenes.
Simple plotline that most viewers could relate with.
Thumbs Down
Soori's comedy is highly repetitive.
You don't get any prizes for guessing the next scene or dialogue
A bunch of comedy scenes woven together does not a movie make.
Verdict – An average comedy flick with lots of predictable and lengthy scenes
Verdict
Verdict – An average comedy flick with lots of predictable and lengthy scenes
Galatta Rating: ( 2.9 /5.0 )
Public/Audience Rating
TAGS : Katha Nayagan Review, Katha Nayagan Movie Review, Katha Nayagan Ratings, Katha Nayagan story, Katha Nayagan Review Galatta, Katha Nayagan Film Review