Chekka Chivantha Vaanam Movie Review
(2018)
Chekka Chivantha Vaanam (aka) CCV Review - Chekka Chivantha Vaanam is a Tamil crime thriller film directed by Mani Ratnam. Chekka Chivantha Vaanam features Arvind Swami, Vijay Sethupathi, Jyothika, Silambarasan, Arun Vijay, Aishwarya Rajesh, Aditi Rao Hydari and Dayana Erappa.
Review By :
Galatta Review Panel|
Release Date :
27-09-2018 |
Movie Run Time :
2:23 |
Censor Rating :
U/A
| Publish Date :
2018-09-24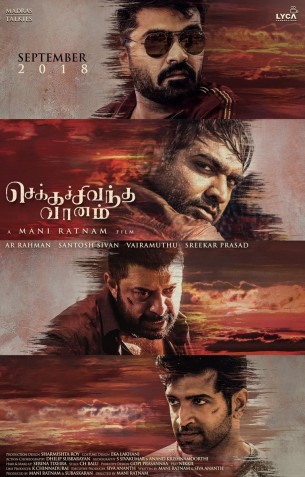 Chekka Chivantha Vaanam Movie Cast & Crew

Cast : Prakash Raj,Aishwarya Rajesh,Arvind Swami,Aditi Rao Hydari,Jyothika,STR,Vijay Sethupathi,Arun Vijay
Production : Lyca Productions,Madras Talkies | Director : Mani Ratnam | Cinematography : Santhosh Sivan | Story Writer : Mani Ratnam | Music Director : A.R.Rahman
Movie Review
Chekka Chivantha Vaanam (aka) CCV is a Tamil crime thriller multi-starrer film directed by Mani Ratnam.
Prakash Raj as Senapathy is a big shot who is involved in many criminal activities. What happens after he goes to deathbed forms the crux of the story in Chekka Chivantha Vaanam.
STR as Ethi has an ample scope for performing and he has fulfilled the audience by playing his character naturally. Vijay Sethupathi as Rasool plays a cop role, his character has been so realistically sketched and he has acted very well too. Arvind Swami as Varadhan has sincerely acted in his role that takes the center-stage beautifully as the flow progresses. Arun Vijay as Thyagu arrives as a complete surprise with a superlative presence, his scores are in high level as a rough young man. Prakash Raj is highly impressive as he is so into his character and its attitude. Thiagarajan has neatly played a supporting role in CCV.
Jyothika is sweet as a responsible wife and she has handled her character in a balanced manner. Aishwarya Rajesh is top-notch in her 'Sri Lankan Tamil', but her role falls short to create a strong impression. Aditi Rao Hydari is beautiful and easily catches the eye in every frame she appears, but there is no purpose for her presence till the very end of the movie. Debutante Dayana Erappa appears just for few scenes and she has got only minimal importance in this script in CCV. Jeyasudha has done a proper mother character, she creates a good impact in both the halves with decent emotional moments.
Director Mani Ratnam 's direction was perfect as usual, he has conveyed exactly what the scenes require without overdoing anything. His script has in-depth detailing and it was heartwarming to see his writing in a full-fledged serious flick after a long time. The way he has sculptured the lead characters of this film Chekka Chivantha Vaanam is exceptional and the fact proves his experience in this profession. The narration is crystal clear, the conflict has a splendid staging followed by intense action-packed sequences. There are no distractions for commercial purposes, the content is visible from the very first scene. The screenplay is solid with plenty of overwhelming scenes that makes the experience a wholesome one. The dialogues are to the point with no exaggerations.
Music director A. R. Rahman 's songs for Chekka Chivantha Vaanam have already reached the top spots, all the numbers are montages and there is no space for any lags in the flow via songs. His background music was truly mind-blowing as the showcasing had a lot of variety, the re-recording is relevant for every single scene and effortlessly elevates heroism at the same time. Cinematographer Santhosh Sivan leaves the viewers spellbound with his spectacular camera work, this passionate technician and team have rocked with the angles, covering up the theme of a situation and justifying the title by choosing apt colors. Editor Sreekar Prasad 's work is razor-sharp here, with so many characters and stuff, he has presented the film in just 140 minutes with a clear-cut vision.
Dhilip Subbarayan 's stunt choreography is an added bonus to the movie's intensity, the action scenes have been made with so much sincerity as the fights look practical and pack the punch as well. Costume designer Eka Lakhani 's costumes are so rich and also truthful to the nature of the characters at the same time. Art department's job has been made simple by the director and cameraman as most of the portions have been shot in live locations. The make-up team has to be praised for their accurate work done regarding the bloodshed parts where the looks of the artists were flawless.
Initially, the film takes a comfortable time to set things up as the script demands it. The beginning of the second half could have been better and the pace dropped around 15 minutes after the interval. Few dull moments appears rarely through the progression just to calm down the grip. Cinematic liberty shines at few spots when certain dots are revealed in the later part of the movie to tap the surprise factor of the audience. The grey shade in Arvind Swami 's character that is revealed at the second half is easily predictable at the early stages of the movie itself. Director Mani Ratnam has smartly found the balance of delivering a realistic action drama that covers the commercial aspect too. The climax twists are sensible, practical and provide the much-needed impact as well.
Verdict
Director Mani Ratnam is back with an intense gangster drama that is gripping till its very end.
Galatta Rating: ( 3 /5.0 )
Public/Audience Rating
TAGS : Prakash Raj,Aishwarya Rajesh,Arvind Swami,Aditi Rao Hydari,Jyothika,STR,Vijay Sethupathi,Arun Vijay