Bangalore Days Movie Review

(2014)
There are some people who bring out the worst in you; there are some people who bring out the best in you.But then the ones you really have to hold on to are the ones you bring out the child in you.They are the ones who know everything about you.
News | Review | Wiki | Gallery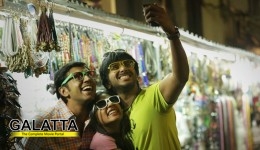 Bangalore Days Movie Cast & Crew

Cast : Nazriya Nazim,Dulquer Salmaan,Nivin Pauly,Nithya Menon,Fahad Fazil,Parvathi Menon,Isha Sharwani,Gopi Sunder
Production : | Director : | Music Director :
Movie Review
There are some people who bring out the worst in you; there are some people who bring out the best in you. But then the ones you really have to hold on to are the ones you bring out the child in you. They are the ones who know everything about you. They know even the little things like the way your nose crinkles when you smile to the big things like your ideal man and career. This is what you will realize when you watch 'Bangalore Days'. It will reach for the inner child in you and make you hold on tight to those who adore you no matter what.
Produced by Anwar Rasheed and Sophia Paul, 'Bangalore Days' is written and directed by Anjali Menon. This film stars Dulquer Salmaan, Fahadh Faasil, Nivin Pauly, Nazriya Nazim, Parvathy Menon, Isha Talwar and Nithya Menen in lead roles. Dulquer Salmaan plays Arjun aka Aju a carefree rebel who loves racing and the freedom that comes with it. Nivin Pauly plays Krishnan P P aka Kuttan, a traditional and uptight youngster who prefers his hometown and carries his country style innocence with him wherever he goes. Nazriya Nazim plays Divya Prakash aka Kunju, an innocent and fun loving girl who makes her life interesting and grows constantly though she thinks she is stuck in a slowly fading marriage. She manages to bring life to her marriage at her own pace. Fahadh Faasil plays Shiva Das (Divya's Husband) a serious and workaholic young man who prefers to keep to himself and get things done his own way while he keeps another side of himself locked up. Parvathy Menon (Aju's love interest) plays Sarah an RJ who brightens up every Banglorean's morning with her positivity and motivational talk in her show. Nithya Menen (Shiva's ex girlfriend) plays Natasha a highly energetic and freedom loving girl.
This film revolves around three inseparable cousins Aju, Kuttan and Kunju and the twists and turns that they face in life when they move out of Kerala and move to Bangalore. When they move from one state to another they not only grow out of their old ways but they also have experiences that change their lives forever. They are each other's confidant and they've got each other's backs come what may. Their little gang of three slowly expands into a gang of six as they encounter life's twists and turns one at a time.
Anjali Menon gives us one more film that we will treasure forever. After her warm 'Ustad Hotel' with its endearing characters she gives us 'Bangalore Days' the kind of film that we will hold close to our heart forever. You will not only watch the film but you will feel it. When you introduce more characters in a film there is obviously a chance for more hassle as we always play favourites with one character and expect to see and know more about their journey. But she leaves us wanting more and keeps it hassle free. There is no possible way that we would love one character more than the other. She weaves their live together so beautifully that we almost stop feeling like an onlooker and start feeling like one among them. She has connected each of their lives perfectly and there is simply nothing that could've gone wrong. One of the main reasons we connect so much to Anjali's films is because her casting is flawless and her crew are perfectly in sync with each other.
The actors have done a wonderful job. All of them bring colours to the film. Dulquer and Parvathy''s chemistry give us some heartwarming moments especially in the scene where he tells her he wants to walk beside her and not behind her.Dulquer has definitely grown to be a very versatile actor. This is surely one of Nivin Pauly's best performances. He shows us that he cannot be type caste to a particular category because he can play an uptight youngster as well as a chocolate boy with the same charm. Nazriya brings a smile on our face by emoting so well that you wish everything was happening for real.
The cinematography and music add more magic to the film. The breezy and light songs go perfectly with visuals that bring out shades of grey when necessary and not forgetting to add colours when needed. The song 'Mangalyam' leaves us feeling warm while 'Ethu Kari Raavilum' reminds us of the hour before the sunset and 'Ente Kannil Ninakkai' gives us the freshness of rain showers.
Overall 'Bangalore Days' is the kind of film that will easily become anyone's happy film. It will show you the importance of nurturing relationships and respecting individuality. Don't miss it! This one's definitely a keeper.
Public/Audience Rating