Man tells Oviya that he just finished masturbating! Know what Oviya replied?
Galatta |

09/07/2020 12:48 PM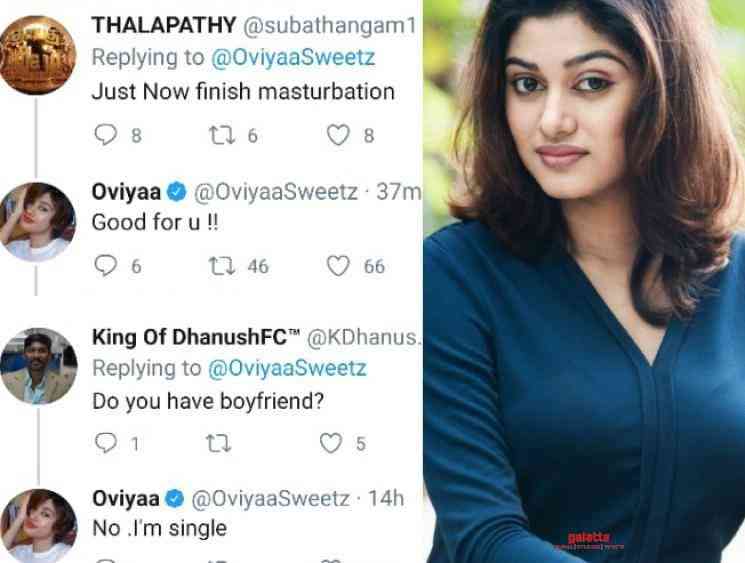 Oviya became a sensation and earned a huge fan base after her participation in the first season of Bigg Boss and she was one of the first actors to get armies (fan pages) on social media. After making an impressive debut in Tamil cinema with the sleeper hit, Kalavaani, Oviya went on to act in films like Manmadan Ambu, Muthukku Muthaaga, Marina, Kalakalappu, Sillunu Oru Sandhippu, Moodar Koodam, Madha Yaanai Koottam, Yaamirukka Bayamey, 144, etc. Post the Bigg Boss storm, she acted in films like Kanchana 3, Kalavani 2 and 90 ML.
Among the three, 90 ML garnered a lot of attention because of its adult content and it was also Oviya's first film as a solo protagonist. Oviya usually interacts with her fans and followers on social media whenever she feels like and one such interaction happened yesterday (July 8). As like every other celebrity interaction, this session also had a few inappropriate and indecent questions posed by the netizens, but Oviya surprised everyone by replying to those.
When one of her followers told her that he had just finished masturbation, she replied saying, "Good for u!!" and this reply has got a lot of attention. During the interaction, Oviya revealed that she will be acting in a couple of web series in the coming months. Here is the compilation of some of Oviya's interesting answers to various questions:
* Tweet questions and answers are not spell-checked
Q - How do you keep your fans even not present in industry
A - I'm not a narcissist to fool ppl by the name of fans! If u like me u like me if u hate me u hate me. Its dat simple !
Q - Your favourite biggboss contestant in tamil overall ?
A - Oviya
Q - Long time no tweets Oviya. Will you raise your voice on social issues going forward?
A - No .. unless I get some power to screw the real culprits.. I dnt do drama in real life !
Q - Wjy you are not following anyone in twitter?
A - Not interested in others life
Q - Hii what about ur next movie
A - Couple of series
Q - ma'am we know that this moment is being difficult. but could you indicate something that we can do to take care of our mental health in this quarantine?
A - Noone can understand wat u feelin unless they go through it ! Deal with it by urself ! Noone gonna come n rescue!its ur life. Do watecrf u wanna do with it.all in ur hands!stay strong !!
Q - Do you have boyfriend?
A - No .I'm single
Q - Thought you were dead
A - U can't kill me honey!!
Q - Next release movie or marriage?
A - Marriage not in the list
Q - Y u r not active in twitter nowadays??
A - I'm so unpredictable

Q - Do u hv any ideas abt entering into politics????
A - If its needed.. 
Good for u !!

— Oviyaa (@OviyaaSweetz) July 8, 2020