Vanitha Vijayakumar's new video goes viral - joins shooting for this TV program!
Galatta |

28/07/2020 06:37 PM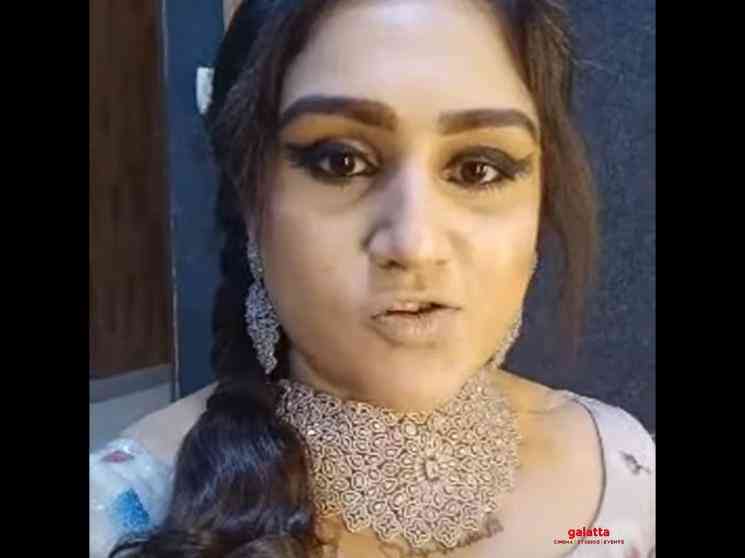 Vanitha Vijayakumar's name has been on the headlines for the past few days because of her wedding with Peter Paul which turned out to be controversial. The entire social media has been abuzz about it for the past few days. After some chaos and controversies in her personal life, it is now time for Vanitha to shift focus towards the professional front. Yes! The former Bigg Boss 3 contestant has joined the sets of Kalakka Povadhu Yaaru (KPY) today (July 28) and the shooting has resumed with precautionary measures.
Vanitha posted a small live video on her YouTube channel and the video has garnered attention of the netizens. Vanitha was seen positive, happy and vibrant in this video. She sounded completely excited about resuming shoot and said she feels good about this new development. Talking in the video, Vanitha said, "After a gap of more than 100 days, I am back to a set. March 19 was the last date when I had shooting and after 4 long months, I am now back for the shooting of Kalakka Povadhu Yaaru. It is good to be back at work.
Of course, I was doing YouTube cooking videos, but that was for my passion and personal interest. Coming back to real professional work makes me feel happy and positive. I am fortunate that I'm one of the very few people to have got to resume shooting because the majority of the artists are still at home because of the pandemic. More than 1000 people are working in the television industry and this commencement of shooting will now be a relief for their livelihood.
After the Indian 2 accident issue, EVP Film City has now reopened and we are back here for shoot. I will definitely go into the set and take pictures. Thank you everyone for your love and care. I don't give a damn about any negativity. There are evil and negative people out there, but let us not take their words seriously. They would keep blabbering and not stop at all. Do not worry about it. I have decided to not allow any kind of negativity or bad vibes to enter my life. So, do not worry. I am alright and very happy.
It feels immensely happy to be back at the sets and I wanted to share this with you. That is why, I thought of coming on a short live video. I will try to come back with more photographs and videos soon. Thank you for all your love and support. Love you all." You can check out Vanitha's official video below: