Vanitha Vijayakumar's latest kissing picture with her husband goes viral! Check Out!
Galatta |

03/07/2020 12:27 PM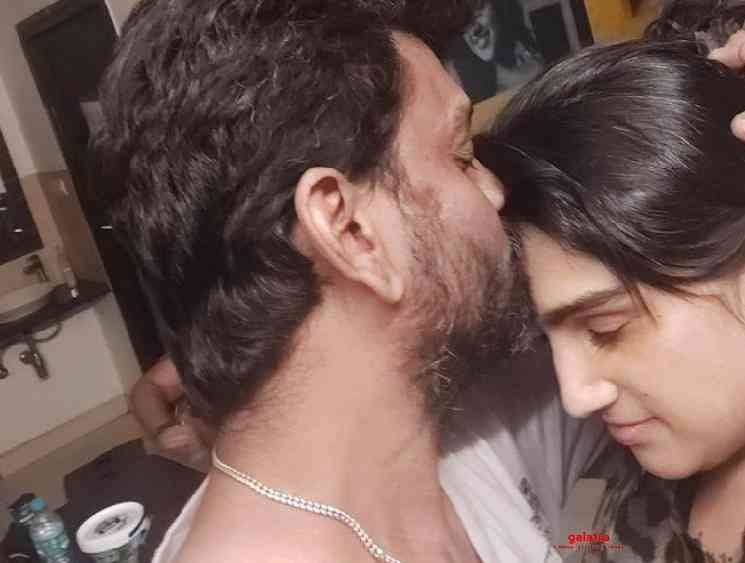 Vanitha Vijayakumar and controversies go hand in hand and we have seen many instances before where she hit the headlines for controversial incidents. However, the actress got her breakthrough after her participation in the third season of Bigg Boss which broke the image that she earlier had. As we all know, she got married to Peter Paul recently (on June 27) at her residence in Chennai and it created a huge buzz on social media. The romantic pictures and the videos from the wedding went viral among the netizens.
However, in an unexpected turn of events, the wedding turned out to be controversial after Peter Paul's first wife, Elizabeth Helen came out and demanded justice for her. She filed a police complaint against Peter Paul and it created a huge discussion on social media. She questioned Peter Paul on how he could marry someone else when he is yet to be legally separated from her. However, Vanitha stated that she and Peter Paul are in no mood to accept any negativity into their new phase of life and added that Peter would approach this case legally with lawyers.
While Elizabeth and her son have accused Peter Paul of his behaviour and actions, Vanitha has got a completely different perspective, saying that he is a gem of a person. The argument and differences of opinion between Peter's first wife and Vanitha has been one of the hot topics on social media. Having said that, Vanitha has now posted a new picture with Peter Paul and this picture has already garnered a lot of attention.
In this picture, we see Peter kissing Vanitha on her forehead. Vanitha shared the picture and quoted the famous line from the 'Aanandha Yaazhai' song (penned by Na Muthukumar) as her caption. She wrote, "Magalgalai Petra Appaakkalukku Mattum Thaan Theriyum Mutham Kaamathil Serndhadhu Illai Endru…". The fans are in opinion that this picture is an indirect reply from Vanitha to Elizabeth Helen. More developments regarding the case is expected to be known in the coming days.
Peter Paul met Vanitha Vijayakumar in December 2019 to ask her if she would be interested in acting as the antagonist in his debut directorial film. The meeting transformed into a friendship which eventually led them to get married. Peter is a VFX Supervisor and Director who runs a post-production studio in Chennai. For now, check out Vanitha Vijayakumar's viral kissing picture below:
Magalgalai Petra Appaakkalukku Mattum Thaan Theriyum
Mutham Kaamathil Serndhadhu Illai Endru...🤗 pic.twitter.com/3QqUu41Ecv

— Vanitha Vijaykumar (@vanithavijayku1) July 2, 2020