Release Date :
21-10-2022
Movie Run Time :
2:02 Hrs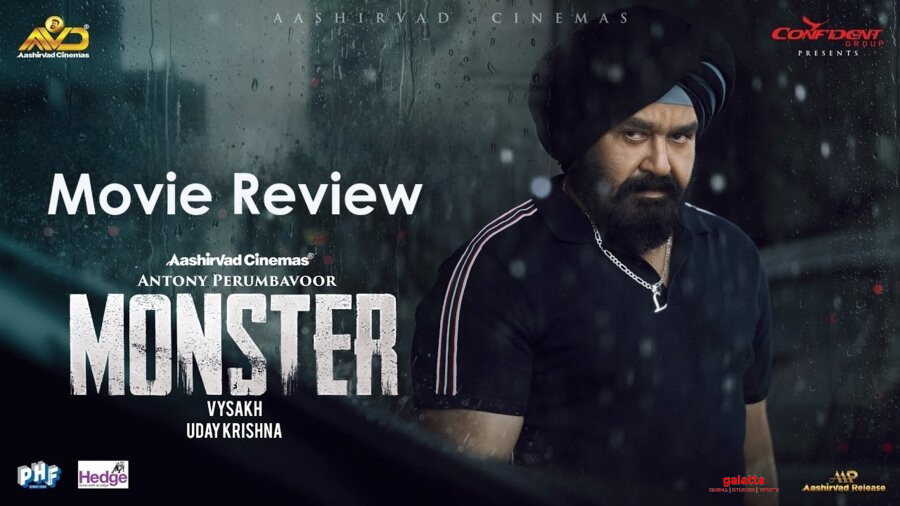 Monster Movie Cast & Crew
Production :
Aashirvad Cinemas
I laughed at the outrageous plot turns, but I must admit I was also gripped. 'Monster' is utterly unpredictable for the most part.
I'll begin by saying that Vysakh's Monster is not a "tasteful" film. It's a film for those with an appetite for trashy pulp fiction, where you keep turning the pages feverishly in order to find out who the bad guy is. Mohanlal plays a turbaned man named Lucky Singh, a Malayali settled in Punjab, and the minute he says "soni kudi", you know this is not something you take seriously. Short of shaking his shoulders to shouts of balle balle, Mohanlal plays not a character but a caricature. This, I think, is intentional. The man is a total pile-on, a total pest. We are irritated with his mannerisms. We are unable to bear his larger-than-life way of sucking up all the air in the room. And this mirrors the state of mind Bhamini finds herself in. In short, when Lucky Singh hops into Bhamini's cab and spends the day with her, we find ourselves completely empathising with her annoyance and discomfort.
Honey Rose gives a fantastic performance as Bhamini – and this is something you may realise only after the film. It is her first wedding anniversary and she wants to be home, but Lucky Singh latches on to her like a leech. Watch every single emotion on Honey Rose's face, and then recall them after the climax – you will see how cleverly her character is written and how well the actor performs. Monster opens with Bhamini and her husband (Sudev Nair) who has lost his job. They have a little daughter, and their financial situation is dire. They live on the kindness of others, like the nanny played by Lakshmi Manchu. This nanny continues to work despite not having been paid for months. The only wage-earner in the family is Bhamini, who works for a cab company called She-Taxi. The significance of this name will, again, register later.
The writer, Udaykrishna, keeps building the screenplay with small details. One, Bhamini is an orphan. Two, she is not much of a socialiser – she likes to be with her small family and cherish every small moment. So on and so forth. All of this adds to the character in ways we don't expect – and then, the film begins to pile on the twists. There's a murder. The security guard says he never saw Lucky Singh, so are we in a ghost story? Is all of this happening in Bhamini's head, due to her difficult situation? I laughed at the outrageous plot turns, but I must admit I was also gripped. Monster is utterly unpredictable for the most part. At one point, Mohanlal's body language changes. At another point, Honey Rose's body language changes. We realise a lot of this is being done to fool us, the audience, but I was game for the ride. I love shamelessly pulpy stuff (and this film is exactly that), and I needed to get to the bottom of it all.
But when the explanations begin to arrive, the air leaks out of the narrative. Some of the planning to catch the culprit is really far-fetched – but that part is still okay, it's still part of how pulp works. It's the big fight at the end and the hurried depiction of a relationship that leaves a really bad taste as you walk out of the theatre. In principle, I am not against people being portrayed in a certain way. We are inside fiction, and we have to understand that the sensitivity we have in real life might be sacrificed for the sake of thrills. But this last section is so sudden and so out of a Chinese martial arts movie that you lose any sympathy the film is trying to create in order to justify the murders. The characters become caricatures, very much like Lucky Singh. If that had been addressed, this enjoyable film might have become a moving film as well.
About Author
Baradwaj Rangan
National Award-winning film critic Baradwaj Rangan, former deputy editor of The Hindu and senior editor of Film Companion, has carved a niche for himself over the years as a powerful voice in cinema, especially the Tamil film industry, with his reviews of films. While he was pursuing his chemical engineering degree, he was fascinated with the writing and analysis of world cinema by American critics. Baradwaj completed his Master's degree in Advertising and Public Relations through scholarship. His first review was for the Hindi film Dum, published on January 30, 2003, in the Madras Plus supplement of The Economic Times. He then started critiquing Tamil films in 2014 and did a review on the film Subramaniapuram, while also debuting as a writer in the unreleased rom-com Kadhal 2 Kalyanam. Furthermore, Baradwaj has authored two books - Conversations with Mani Ratnam, 2012, and A Journey Through Indian Cinema, 2014. In 2017, he joined Film Companion South and continued to show his prowess in critiquing for the next five years garnering a wide viewership and a fan following of his own before announcing to be a part of Galatta Media in March 2022.
User Review