Vendhu Thanindhathu Kaadu Movie Review
(2022)
Gautham Vasudev Menon's 'Vendhu Thanindhathu Kaadu', with a terrific Silambarasan, is a fine addition to Tamil films about gangsters
Release Date :
15-09-2022
Movie Run Time :
2:45 Hrs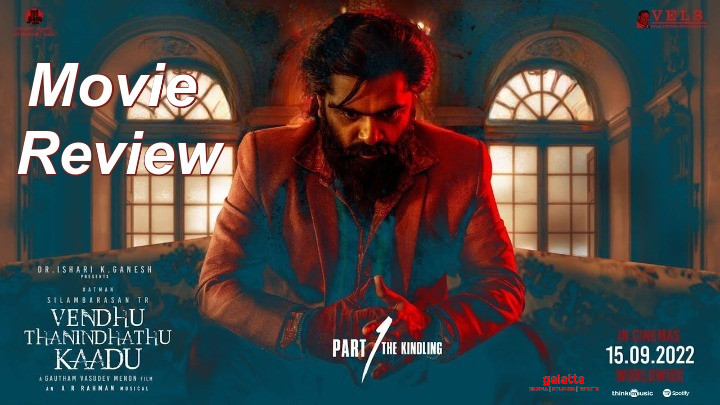 Vendhu Thanindhathu Kaadu Movie Cast & Crew
Production :
Vels Film International
This is Jeyamohan's finest work as a screenwriter (the screenplay is credited to him and Gautham), and the writing takes us through the protagonist's journey in small, incremental, incredibly detailed steps.
When I reviewed Gautham Vasudev Menon's last feature film, the imperfect but also very underrated Enai Noki Paayum Thota, I called it a fine romance that slides into a generic action-thriller. It's the reverse in Vendhu Thanindhathu Kaadu. Despite a nice bit about consent, the romance track is  among Gautham's weakest, mainly because Siddhi Idnani, who plays Paavai, is little more than a pretty face. Not a single line reading or facial expression is convincing, and you need conviction when you are making a decision about a man who's about to tell you whether or not he has killed people. You need conviction to play a girl who's literally on the ledge, thanks to a dysfunctional family. None of that inner pain comes through. Thankfully, she's the only inauthentic aspect in a gangster drama that feels authentic to the core.
The title comes from a Subrahmanya Bharathi poem, Agni kunjondru kanden, which has metaphorical meanings but let's stick to the literal meaning of agni kunju: a small spark. At the beginning of the film, Muthu (Silambarasan) is literally that: a small spark in the middle of a small village in Tamil Nadu. The narrative traces his transformation into a big, blazing fire – but not in the conventional way. Vendhu Thanindhathu Kaadu is, refreshingly, not a plot-driven film but one that's character-driven. This is Jeyamohan's finest work as a screenwriter (the screenplay is credited to him and Gautham), and the writing takes us through Muthu's journey in small, incremental, incredibly detailed steps. They could have easily had a scene in the village that establishes Muthu needs money and – CUT TO Muthu landing up in Mumbai. But Muthu goes to a relative and through the events that occur there, he finds himself in a parotta place in Mumbai, and it takes a while to get employed there, and by living there he finds out what's going on, and then he thinks he should leave, and then he decides not to leave, and then he's taken to kill someone, and then there's an act of retaliation, and THEN we get Muthu firing his first shot.
We see what a character means when he says people like Muthu are small cogs in a giant machine. ("We kill because we are asked to.") Muthu works for his boss, who works for his boss, who works for his boss, and so forth. Usually, in our mainstream films, the conflict is between the big guys: the hero and the villain. Here, our hero is a mere cog in a mere sub-gang that works for a villain, who's a Tamilian. And the opposition is a sub-gang composed of Malayalis. (Familiar faces like Siddique and Neeraj Madhav fill out a couple of parts.) Even the superb action sequences are choreographed accordingly. They do not "hero"-ise Muthu. The camera is a blur, capturing movements in real time instead of showing us stylised slo-mo kicks and punches. If there's anything flashy, or "glamorous", it's only in the moves of the contract killer played by Jaffer Sadiq.
Gautham and his excellent cinematographer Siddhartha Nuni keep pushing the form, holding shots and single takes for a long time with just the slightest hint of a shake. When Muthu tells his mother (Radhika Sarathkumar) that he has made up his mind to go to Bombay, we stay in that frame for a while, registering the aftermath of that statement, without a single word being uttered. In a song sequence, again, we stay in the frame for an entire stanza, without quick cutaways. The payoff is a kiss, and the static (well, almost static) frame makes us wait for it. And that's when the cut happens. Another fantastic number is staged within a single room, filled with moving bodies, and it leads to an unexpected development involving a gun. AR Rahman and Thamarai are strong allies, as always, and the film also has one of Rahman's most vibrant and tonally diverse background scores in a while, whether it's the heavy percussion during the opening credits or a solo clarinet mourning away somewhere else.
Each scene, whether it's a dialogue stretch or a song or an action sequence, is used to build Muthu. And in his most internalised performance after Vinnai Thaandi Varuvaaya, Simbu makes you feel every bit of Muthu. There's an early scene where Muthu walks awkwardly, because his undies are still wet. That awkwardness is the character in a nutshell. Muthu is never calm or composed. And Simbu keeps fidgeting with his shirt or wiping his cheek with his collar, or touching the back of his head – this awkwardness comes from a boy trying to fit into his new skin. (Muthu cannot believe this is what life had in store for him.) There's the same awkwardness in the way Muthu courts Paavai. Even after rising through the ranks – whether in the parotta shop, or in a gang – you sense his awkwardness, his hesitation. Simbu makes us see that Muthu is not a trained assassin. He is, for the most part, winging it. At least, until the fan-pleasing final portions.
The layers are fascinating. We see why these men do what they do: for survival. It's not just the fights, which they have to survive. (That's another reason for the non-heroic action choreography.) It's also the fact that they have families that depend on them for survival. They are all from places like Muthu's hometown and they are here to send home money. Even at the beginning, in Muthu's small village, a postman says he had to bribe his way to get his job, and this establishes the subtext that money is everything. And to get that money, most men end up doing anything. Even women. At one point, we see Paavai agreeing to something just because she needs to keep her job. At one point, we see a friend's betrayal, again for money. The film keeps reminding you of Michael Corleone's line from Godfather III: "Just when I thought I was out, they pull me back in!"
And the film's philosophical subtext is that once you touch a gun, it will never leave you – it will possess you like a ghost. In a fantastic scene, Muthu's boss asks Muthu to shoot him. The dialogue exchange that happens is both flavourful and utterly practical. Towards the end, there's a small tribute to Nayakan. It made me smile, even if I thought it was a needless addition – it yanked me out of the world of this film. But I recalled Kamal's line, when his daughter screams at him and says why not leave all this to the courts. He replies that she's speaking from a point of a privileged upbringing, which he did not have. "Naalu kaasu sambaadhikkanum-na saavanum." To earn money, you have to nearly kill youself. Or, I guess, kill others. Vendhu Thanindhathu Kaadu is a fine addition to Tamil films about gangsters, and its most impressive aspect is that it's about the cogs in the wheel. Part 2 promises to be more heroic, more hero-centric, more "mass", but Part 1, called The Kindling, is about how the mere glimpse of a gun can change an innocent life forever.
About Author
Baradwaj Rangan
National Award-winning film critic Baradwaj Rangan, former deputy editor of The Hindu and senior editor of Film Companion, has carved a niche for himself over the years as a powerful voice in cinema, especially the Tamil film industry, with his reviews of films. While he was pursuing his chemical engineering degree, he was fascinated with the writing and analysis of world cinema by American critics. Baradwaj completed his Master's degree in Advertising and Public Relations through scholarship. His first review was for the Hindi film Dum, published on January 30, 2003, in the Madras Plus supplement of The Economic Times. He then started critiquing Tamil films in 2014 and did a review on the film Subramaniapuram, while also debuting as a writer in the unreleased rom-com Kadhal 2 Kalyanam. Furthermore, Baradwaj has authored two books - Conversations with Mani Ratnam, 2012, and A Journey Through Indian Cinema, 2014. In 2017, he joined Film Companion South and continued to show his prowess in critiquing for the next five years garnering a wide viewership and a fan following of his own before announcing to be a part of Galatta Media in March 2022.
User Review
Vendhu Thanindhathu Kaadu Movie News