Release Date :
09-09-2022
Movie Run Time :
2:40 Hrs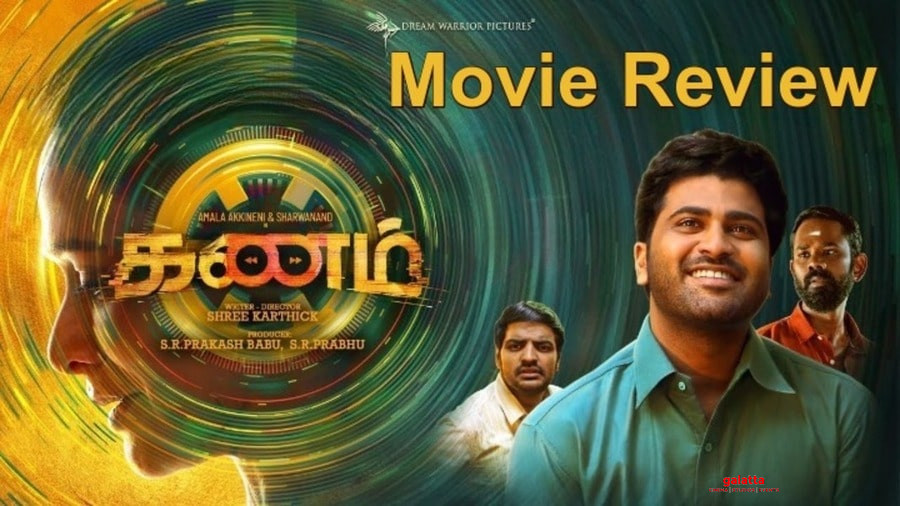 Kanam Movie Cast & Crew
Production :
Dream Warrior Pictures
The focus is on emotions, rather than on twists or frantic time machine adventures. But with this premise, I could have used a few more emotional highs.
Shree Karthick's time-travel drama is interestingly titled. In Telugu, it is called Oke Oka Jeevitham, which can be extrapolated to mean we have only one life, this life, to live. In Tamil, the film is called Kanam, which means moment, as in: this present moment is all we have. The theme in other words, is time, and what better way to understand how time affects us than through a time machine, which allows us to revisit the past… or see the future. Like the Dhanush character in Thiruchitrambalam, Aadhi (Sharwanand) is someone who wants to go back to a time before his mother's death changed his life forever. But he cannot – at least, not until he gets access to that time machine. So he sits around with his friends with a perennially mopey face. These friends are also his roomies. They are played by Vennela Kishore and Priyadarshi in the Telugu version, and by Sathish and Ramesh Thilak in Tamil.
The most impressive aspect of this film is the writing. Shree Karthick dots every i, crosses every t. Take the instance of how the time machine inventor, played by Nasser, comes into the picture. One of Aadhi's roomies is a broker, and we get enough instances of his life as a broker – including his feelings about the job – before he gets a call from this scientist. An entire career is established in quick strokes. Or take Aadhi's girlfriend, played by Ritu Varma. She is concerned that his musical career isn't taking off, but more importantly, we get to see a maternal side to her in a scene where she tends to three children. The "mother" Aadhi misses and yearns for is probably right in front of him. Or take the way Aadhi's relationship with his father in the later stages plays out without any dialogue. Because none is needed.
Why isn't Aadhi's musical career taking off? The reason is connected to his mother, and it could also be seen as a metaphor for his inability to move on. He was this way as a boy; he remains that way as a man. The two roomies aren't just random friends who crack jokes to liven up the narrative because the protagonist is so serious. Like Aadhi, both of them have unresolved issues – issues that may be solved through that time machine. And the character of Amala Akkineni, who plays Aadhi's mother, is written as the kind of loving mother who is very physical with her affection – so it makes all the more sense how much Aadhi misses her. A late scene where Amala understands, in a flash, something that would have taken pages of exposition, is a real beauty.
Shree Karthick stages scenes nicely, with minimum fuss – and he takes his time. But while this approach works on a scene by scene basis, the film, as a whole, seems to take its time. And this becomes a small issue, because – with the exception of a misguided and tonally-off chase scene involving cops – this is a mostly eventless movie. The focus is on emotions, rather than on twists or frantic time-travel adventures. There's a certain coolness, a sense of detachment that happens when a film is too "classy" for its own good. With this premise, I could have used a few more emotional highs – a missing-child incident, for example, goes on and on, but with the same beats being repeated. But these are minor complaints in such a warm-hearted story, filled with warm and knowing performances, especially by the three children. Best of all is the understated – actually, unstated – message. Time changes us, and the only thing we can do is be grateful for the present. 
About Author
Baradwaj Rangan
National Award-winning film critic Baradwaj Rangan, former deputy editor of The Hindu and senior editor of Film Companion, has carved a niche for himself over the years as a powerful voice in cinema, especially the Tamil film industry, with his reviews of films. While he was pursuing his chemical engineering degree, he was fascinated with the writing and analysis of world cinema by American critics. Baradwaj completed his Master's degree in Advertising and Public Relations through scholarship. His first review was for the Hindi film Dum, published on January 30, 2003, in the Madras Plus supplement of The Economic Times. He then started critiquing Tamil films in 2014 and did a review on the film Subramaniapuram, while also debuting as a writer in the unreleased rom-com Kadhal 2 Kalyanam. Furthermore, Baradwaj has authored two books - Conversations with Mani Ratnam, 2012, and A Journey Through Indian Cinema, 2014. In 2017, he joined Film Companion South and continued to show his prowess in critiquing for the next five years garnering a wide viewership and a fan following of his own before announcing to be a part of Galatta Media in March 2022.
User Review