Dikkiloona Movie Review
(2021)
Santhanam starrer Dikkiloona Movie Review film directed by Karthik Yogi
https://www.galatta.com/assets/review/1631211582Dikkiloona_Review_OG.jpg
10-09-2021
Karthik Yogi
Release Date :
10-09-2021
Movie Run Time :
2:32 Hrs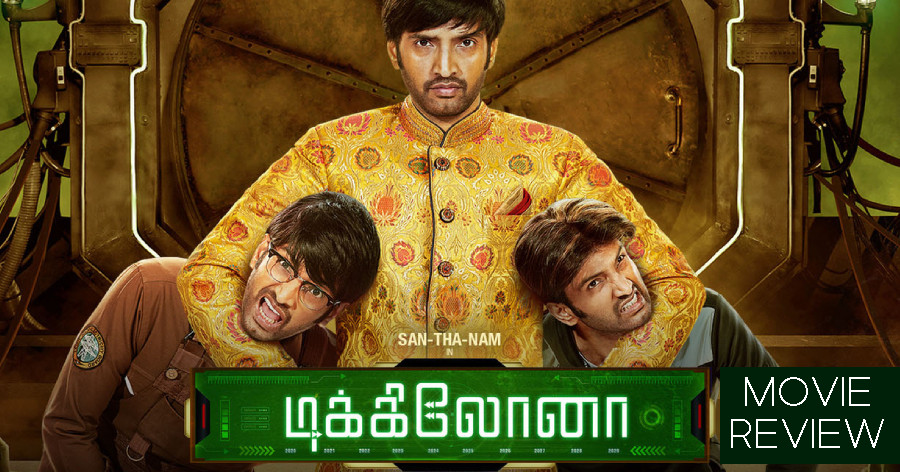 Dikkiloona Movie Cast & Crew
Santhanam's Dikkiloona features the actor playing three roles for the very first time and it is a film that has excited the fans since the announcement. Amidst a good buzz, this Karthik Yogi directorial has released and here is what we think about the movie. 
STORY: 
Mani (Santhanam), a frustrated youth who is estranged from his wife, Priya (Anagha) after seven years of marriage life, encounters a time travel machine. He decides to make use of the time machine to go back to the past and stop his wedding with Priya, expecting that it would change his life, for good. From 2027, Mani travels to 2020 and stops the wedding, but… Several other complications arise in various forms making Mani undergo unexpected situations. What were those situations and how did Mani tackle them is what Dikkiloona is all about.  
SCREENPLAY, DIALOGUES, DIRECTION: 
Dikkiloona has an interesting premise in hand and it gives immense scope for fun and laughter. But, did Karthik Yogi explore that in full? Well, maybe not. Dikkiloona is funny at several places, but there is an equal number of misses as well. It is definitely not funny to see the 'Tik Tok' jokes and boy bestie jokes that look exaggerated, thereby not appealing well. Dikkiloona has Santhanam, Yogi Babu, Anandaraj, Munishkanth, Motta Rajendran, and many other talented actors who can deliver comedy at its best, but despite all of them being there, the film doesn't hit the right bar. Santhanam's trademark counters are enjoyable and his fans are surely going to enjoy the lines.
A handful of comedy sequences that really worked well hold the film to an extent. For example, the entire mental hospital sequence in the pre-climax has plenty of laughter-worthy moments and it has been executed neatly. Also, the sequences featuring Anandaraj and Munishkanth work fairly well. One could just wish that this handful of comedy scenes were present throughout the movie and that would've made Dikkiloona an enjoyable ride. Director Karthik Yogi needs to be appreciated for the interesting idea of making Nizhalgal Ravi narrate the course of events, spoofing the blockbuster hit, KGF (he was the narrator of the Tamil version).
The emotional part of Dikkiloona doesn't strike a connection and that could probably be due to the artificial staging. In a way, Dikkiloona is quite similar to Oh My Kadavule, in terms of the idea and the core conflict.    
CAST: 
Santhanam is in his usual form with Dikkiloona, having fun with counters in regular intervals. He could've been more expressive in the emotional scenes as the impact of the emotional sequences doesn't land right. As far as the fun part is concerned, Santhanam does it well. Among the two heroines, Anagha is impressive, getting a fair share of screentime. Shirin Kanchwala looks pretty, but she gets to play a templated rich girl character that has nothing new to offer. As already said, Anandaraj and Munishkanth uplift the film to a good extent with their foolish, yet funny acts.
Special mention to 'Lollu Sabha' Maran and the lean old guy with the whistle who leave the audience in splits. Harbhajan Singh has been wasted in a role that doesn't need an iconic figure like him. Casting any other supporting actor would have been enough for that particular role. 
TECHNICAL DEPARTMENTS: 
For the renowned tag that he holds, Yuvan Shankar Raja's background score in this film is quite ordinary (for his standards). Except for the remix of the 'Per Vechaalum' song, the other tracks are forgettable. Arvi's cinematography is functional. 
SO?
Dikkiloona had solid scope to offer fun and excitement with its sci-fi concept and seasoned comedy actors in the star cast, but instead, it settles for a one-time passable watch. 
DIKKILOONA STREAMS ON ZEE 5 PLATFORM! 
Verdict Dikkiloona has fun and entertainment, but only in places!
Galatta Rating: (
2.5

/5.0 )
User Review
Latest Tamil Movie

Reviews