Kasada Tabara Movie Review
(2021)
Kasadatabara Tamil Movie Review by Galatta
https://www.galatta.com/assets/review/1630000250gregre__2_.jpg
27-08-2021
Chimbu Deven
Release Date :
27-08-2021
Movie Run Time :
2:17 Hrs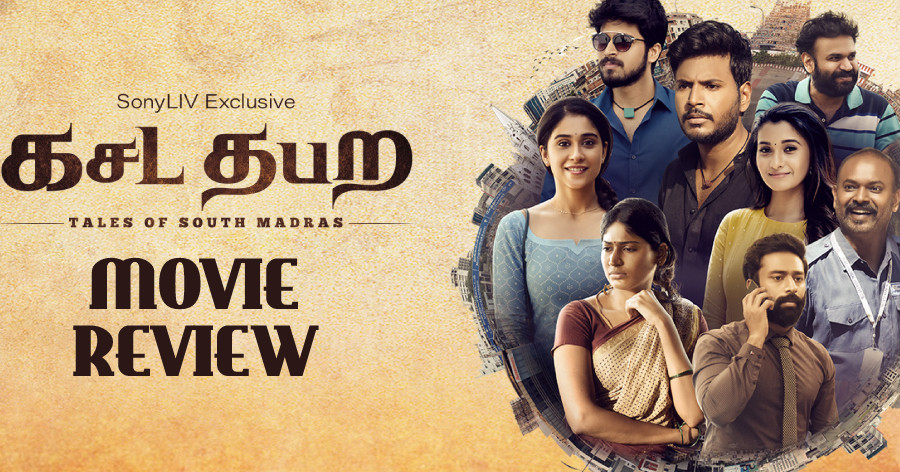 Kasada Tabara Movie Cast & Crew
Production :
Black Ticket,Trident Arts
Director Chimbu Deven, who is known for making interesting films like Imsai Arasan 23am Pulikesi and Arai En 305il Kadavul, is back with his latest outing, Kasadatabara, which is also a film that has a novel idea. Does the film manage to strike a chord with the audience? Here is what you need to know! 
STORY:
Kasadatabara is a hyperlink film that is also an amalgamation of two concepts - vantage point theory and the butterfly effect. Vantage point is nothing but an individual's point-of-view towards an incident and when that meets with the butterfly effect - an action that in turn leads to another action, what is the final outcome? Director Chimbu Deven interestingly combines these two theories with the help of six short stories that have a connection with each other. The fate of one character in a story is influenced by another character from a different story and all the stories conclude at one point.
CAST:
The casting equation is quite fresh and has a lot of prominent young actors on the list. Among the lot, Vijayalakshmi, Venkat Prabhu, and Harish Kalyan stand out with their solid performances. Vijayalakshmi has anchored a character that demands a lot and she has done complete justice to it. Venkat Prabhu, as a performer, earns empathy, as the innocent Samyukthan and he has given an earnest performance. Having seen only the fun and vibrant side of him so far, this one brings to light a different facet. Harish Kalyan's stylish screen presence and swag help in elevating his character.
There are many other talented names including Regina Cassandra, Sundeep Kishan, Priya Bhavani Shankar, Premgi Amaren, Shanthnu, Sampath Raj, and they deliver fine performances. Special mention to Sangili Murugan, who despite appearing for just one scene, leaves a heartwarming impression.  
SCREENPLAY, DIALOGUES, and DIRECTION:
Chimbu Deven is back in form with his impressive writing that keeps us invested in the film for the most part. The way the dots are connected is so neatly done, thereby doing complete justice to the butterfly effect. The connecting points of the characters are the major highlight and USP of the film and it takes you by surprise every now and then. Chimbu Deven has constructed a screenplay that demands expertise and knowledge and he has both in him. It is his ideology and writing that wins at the end. Because of the variety that all these stories offer, Kasadatabara happens to be a unique ride. Chimbu Deven also addresses many socially relevant topics in each story, and it has been done in a short and sweet manner.
On the contrary, the film also has its own minor share of problems. A few low points in the screenplay makes Kasadatabara a less compelling watch. Among the six short stories, the story featuring Shanthnu and Sampath Raj falls a little less on engagement and substance. However, when you finish watching the film, you get to feel a sense of completeness, as the film has its heart in the right place.
 
TECHNICAL: 
Kasadatabara has six music directors, six cinematographers, six editors, and all of them are well-known and experienced technicians in the industry. The seasoned technicians try to strike a balance and they succeed to a good extent. In a few places, the film looks inconsistent, in terms of the colour tone and packaging. Also, there is no clarity as to the reason behind opting for a different aspect ratio for two stories. Santhosh Narayanan's musical score in Akkara (Care) story adds vital strength and garners attention among others. 
SO?: 
Kasadatabara offers a unique movie-watching experience that is emotional and heartwarming.
KASADATABARA streams on SONY LIV OTT platform from Aug 27
Verdict Chimbu Deven delivers a quality Avant-Garde film in Tamil cinema! Do Watch it!
Galatta Rating: (
3

/5.0 )
User Review
Latest Tamil Movie

Reviews