Khushbu Sundar resigns from Congress party, submits resignation to Sonia Gandhi
Galatta |

12/10/2020 10:37 AM
Congress spokesperson Khushbu Sundar submitted her resignation on Monday to the party president Smt. Sonia Gandhi amid reports that she is likely to join the Bharatiya Janata Party (BJP). Khushbu had joined the Congress in 2014 after having earlier been a member of the DMK from 2010. In her statement, the actor-politician stated that she is being "suppressed" by a "few elements seated at higher levels within the party", while also stating "people who have no connectivity with the ground reality or public recognition are dictating terms". 
In a statement thanking the Congress President Sonia Gandhi, Khushbu said, "Thank you very much for providing me the opportunity to serve my nation as a National Spokesperson and a Primary member of Indian National Congress. I have always taken great pride to represent the Party on different platforms in most trying situations. I came into the fold of INC at the time when it was at its lowest, being defeated in the 2014 Lok Sabha elections, I did not walk into the Party for any monetary gains, name or fame."
She further stated, "Few elements seated at higher level within the party, people who have no connectivity with the ground reality or public recognition are dictating terms and people like me who wanted to work for the party sincerely, are being pushed and suppressed." Check out the full statement below: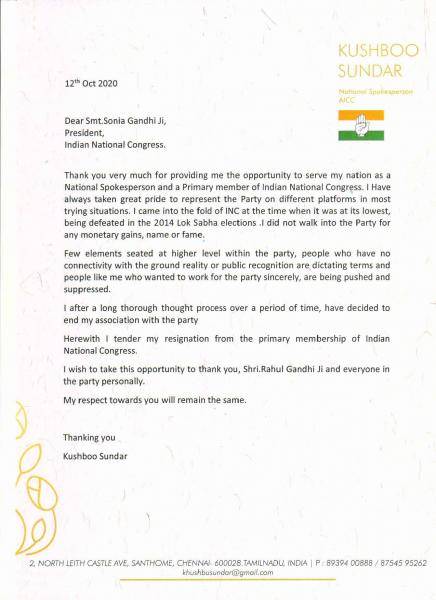 Khushbu Sundar, who had been with the Congress for nearly six years, is in Delhi today and is expected to participate in a meeting with the BJP's central team, in view of the Tamil Nadu Assembly elections that are slated to be held next year. Rumors of a rift between Khusbu and the Congress first emerged in July after she extended her support to the Centre's new National Education Policy (NEP). She had also issued an apology to party leader Rahul Gandhi on Twitter for her differing views. 
Speculations of Khushbu's departure from the Congress became larger after she tweeted on Saturday saying, "change is inevitable." She stated , "Many see a change in me. Well as you age, you evolve n grow, learn n unlearn, perceptions change, likes n dislikes too, thoughts n ideas take a new shape, dreams are new, you understand the difference between like n love, between right n wrong. Change is inevitable. Happy eve."