Ka Pae Ranasingam producer's statement to Blue Sattai Maaran for his negative review
Galatta |

03/10/2020 02:00 PM
A film that was long-awaited by 'Makkal Selvan' Vijay Sethupathi's fans, Ka Pae Ranasingam was released on October 2 on the occasion of Gandhi Jayanthi on the newly-launched Zee Plex OTT streaming network on a pay-per-view basis. Directed by debutant P. Virumandi, the social drama featured Aishwarya Rajesh in the lead role with Vijay Sethupathi in an extended cameo and has been produced by Kotapadi J Rajesh under his KJR Studios banner. The film also included G. V. Prakash Kumar's sister Bhavani Sre making her acting debut as Vijay Sethupathi's sister, with Rangaraj Pandey cast in a vital supporting role as a District Collector, while featuring music composed by Ghibran. 
With Ka Pae Ranasingam now out on Zee Plex, positive reviews for the film have been pouring to a large extent. However, popular YouTube reviewer Blue Sattai Maran's review on the film has yet again landed him in a controversy, with KJR Studios now issuing a statement on their Twitter page. KJR sarcastically wrote in their tweet: "@tamiltalkies we apologize for not making a film that matches the intelligence and taste of bright people like you. We will try to do it better in our next attempt. Tamil cinema industry is waiting keenly for your entry into cinema. Please do come, we will see." 
. @tamiltalkies உங்களை போன்ற அதிமேதாவிகளுக்கு புரியும்படியும், பிடிக்கும்படியும் படம் எடுக்க தவறியதுக்கு வருந்துகிறோம் 🙏 அடுத்த முறை முயற்சி செய்கிறோம் 🥺

உங்கள் திரைப்பட வருகைக்கு தமிழ் சினிமாவே வழி மேல் விழி வைத்துக் காத்திருக்கிறது அய்யா! வாங்க, பாப்போம்🤗#KaPaeRanasingam https://t.co/cgpxXXU3c8

— KJR Studios (@kjr_studios) October 3, 2020
The statement was a retweet response to Ka Pae Ranasingam's dialogue writer Shanmugam Muthusamy's tweet in which he wrote, "If Blue Sattai Maaran fails to take back his words on Ka Pae Ranasingam, which have been made solely to seek attention, we will not be held responsible for the side effects that will come your way". He also attached a detailed statement in his tweet which reads as follows: "We feel bad that you have not been able to understand the screenplay despite understanding the story. You have not understood the relationship and love between a husband and his wife and you have not recognized why the hero is working in water streams. You failed to notice our explanation on people leaving India to foreign nations because of lack of jobs in the country. You fell asleep when we tried to make you understand. To your claim that I have written a story that is against my own screenplay, I have to say that it is natural for people as they age to lose track of what they are speaking and blabber without any logic. We hope to learn from you in the future to make films and match our standards with those that are top class in the world. If you have the time, we are ready to debate on Ka Pae Ranasingam live and in person."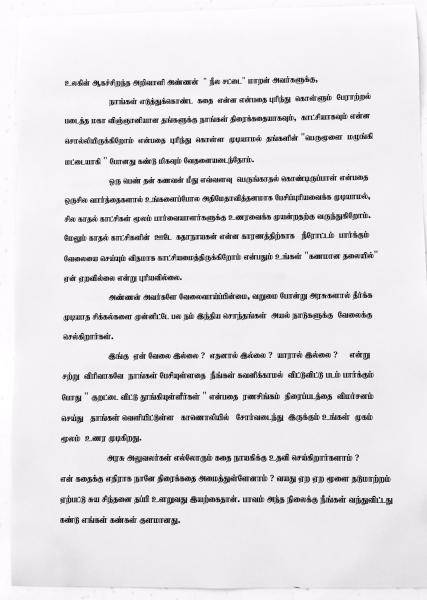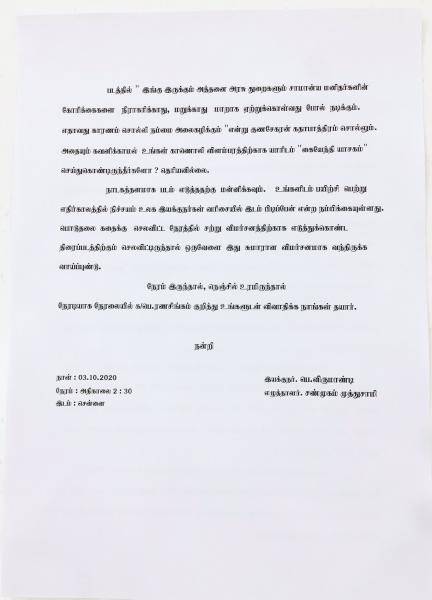 கவனம் பெறுவதற்காக வரம்பு மீறி பேசிய "Blue sattai" Maaran அவர்களே#KaPaeRanasingam குறித்த கருத்துகளை திரும்ப பெறாவிட்டால்,
தங்களுக்கு ஏற்பட உள்ள பக்கவிளைவுகளுக்கு நாங்கள் பொறுப்பல்ல ..!! pic.twitter.com/ahkFFUaCAT

— 🆂🅷🅰🅽🅼🆄🅶🅰🅼 🅼🆄🆃🅷🆄🆂🅰🅼🆈 (@shan_dir) October 2, 2020