Release Date :
23-09-2022
Movie Run Time :
2:15 Hrs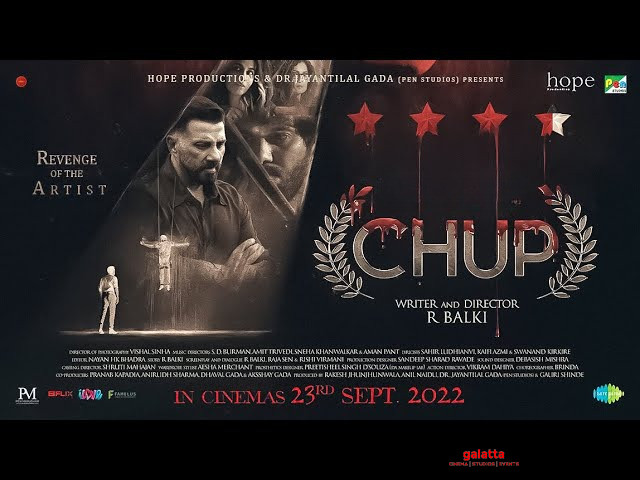 Chup Movie Cast & Crew
Production :
Hope Productions
I think what Balki (along with the serial killer) is saying is this: "Criticise all you like, but do it honestly, ethically, responsibly". This may be the closest this director has come to a "message movie".
Balki's Chup begins in classic serial killer-thriller fashion. On a rainy night, a gruesome murder is discovered. The victim is a film critic. There are knife slashes all over his body, and on his head, as is later discovered, there's a star – as in, a star rating. So we have a novel signature: a man (or woman) who targets film critics and carves star ratings on them. Sunny Deol plays Arvind, the cop on the case, and he cracks the script's cleverest aspect: the reason behind each of these bodies being mutilated the way they are. It's delightfully perverse. This alone would have made for a cracker of a cat-and-mouse thriller, but Balki (who co-wrote the screenplay with Rishi Virmani and former critic Raja Sen) has other ideas. He introduces a parallel track: the romance between Dulquer Salmaan's Danny and Shreya Dhanwanthary's Nila/Neela. "Nila" is Tamil for moon. "Neela" is the name of the heroine of Nayakan. Saranya Ponvannan, the heroine of Nayakan, plays this heroine's mother. Could there be a more "Balki" touch?
Film references abound in this gorgeously morbid love letter to cinema. It's "gorgeous" because Vishal Sinha's superb cinematography gives us both the rapturous colours of romance, thanks to Danny's flower shop, as well as the matter-of-fact tone of a procedural. And it's "morbid" (in a good way) because movie-love is taken to its extreme. When Danny gifts Nila a bouquet of paper flowers, it's a nod to Guru Dutt's Kaagaz Ke Phool, which means… paper flowers. Even the famous shaft lighting from that film is recreated, and it leads to the film's central conceit. Who's the real killer? The one who is actually doing the killings? Or the film critic, who mercilessly "kills" a film like Kaagaz Ke Phool with a bad review, and in the process, "kills" the filmmaker's career? But on the other hand, Amitabh Bachchan, in a cameo, says, "Critiquing is a must for society." He is kinda-sorta saying what Malcolm X said: "If you have no critics, you'll likely have no success."
The serial killer knows this. He or she is not against criticism, per se. They are only against those critics who fake reviews with false star ratings, or trash films in unkind language. I think what Balki (along with the serial killer) is saying is this: Criticise all you like, but do it honestly, ethically, responsibly. This may be the closest this director has come to a "message movie," and also the closest he's come to showcasing his all-out, arms-outstretched love for cinema. There is practically no background score except for the temple blocks sound that punctuated Jane kya tune kahi, from Pyaasa. The heroine is film-crazy, too. How does she know she's in love? When someone comes running towards her, in slow motion. Danny is a florist, and his tulips inspire her to hum that famous tulip-filled song from Silsila.  The film's most controversial statement is a poster in Nila's house that says "Woody Allen is innocent," which could be extrapolated to the art being separate from the artist. 
Dulquer is cast against type, and it works brilliantly. He's alternately melancholic, romantic, moody, awkward, weird – and all these emotions play off nicely against Shreya's girl-next-door charm. They seem mismatched in most ways, but their abundant love for cinema (which may be greater than their love for each other) brings them together. Against this pair, we have Sunny Deol. It's a great comeback, and he's super-effective as a cop who's about as romantic as a pack of cards. The one big name in the cast that did not work for me was Pooja Bhatt, who plays a criminal psychologist who specialises in psychopaths. With Sunny's character doing most of the crime-solving work, this role seems redundant. By the time she makes an appearance, we have almost all the information we need. Maybe the character should have been worked into the screenplay earlier.
Only in the last portions does the film falter. These are the "explanation" portions, something like the ending of Hitchcock's
Psycho
, and they seem rushed. Or put another way, perhaps these portions would not have seemed so rushed had we seen more of this side of the killer earlier. The decision to separate the investigation and the romance is a clever idea, but perhaps there's too much separation – a little more intertwining of these threads, a few more clues scattered earlier, may have made the two-track narrative more one-of-a-piece. I am not asking for that cat-and-mouse game – just a little more interplay between the cop and the killer. Anyway, I cannot say any more. And this final stretch apart,
Chup
is an entertaining, engaging and cautionary meta-tale about how words matter, and why criticism is not just about writing witty prose or awarding stars. It's a serious affair, as serious as cinema. You could say, it's a matter of… life and death.
About Author
Baradwaj Rangan
National Award-winning film critic Baradwaj Rangan, former deputy editor of The Hindu and senior editor of Film Companion, has carved a niche for himself over the years as a powerful voice in cinema, especially the Tamil film industry, with his reviews of films. While he was pursuing his chemical engineering degree, he was fascinated with the writing and analysis of world cinema by American critics. Baradwaj completed his Master's degree in Advertising and Public Relations through scholarship. His first review was for the Hindi film Dum, published on January 30, 2003, in the Madras Plus supplement of The Economic Times. He then started critiquing Tamil films in 2014 and did a review on the film Subramaniapuram, while also debuting as a writer in the unreleased rom-com Kadhal 2 Kalyanam. Furthermore, Baradwaj has authored two books - Conversations with Mani Ratnam, 2012, and A Journey Through Indian Cinema, 2014. In 2017, he joined Film Companion South and continued to show his prowess in critiquing for the next five years garnering a wide viewership and a fan following of his own before announcing to be a part of Galatta Media in March 2022.
User Review