PETTA Team's Special Birthday Wish For Rajinikanth!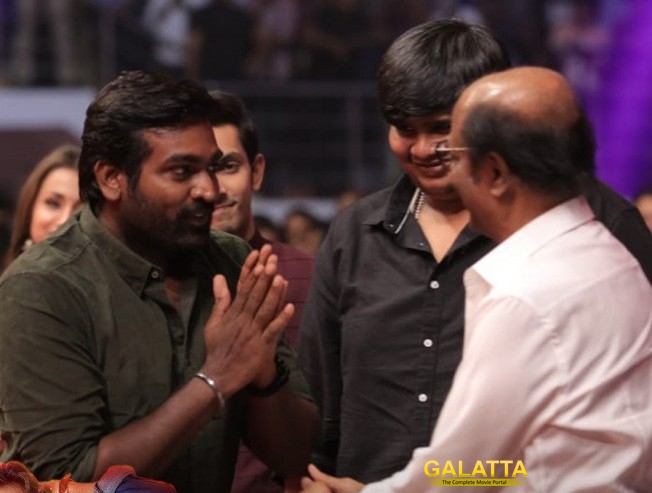 By

Lokesh RV

| Galatta |

December 12, 2018 22:06 PM IST
Superstar Rajinikanth celebrated his 68th birthday on Wednesday and fans were extra elated as Sun Pictures released the teaser of his upcoming movie Petta. The teaser was filled with Rajinikanth charismatic presence and became viral on social media.
Following the teaser, Sun Pictures has released the video of the team members Karthick Subbaraj, Vijay Sethupathi, Anirudh, Trisha, Simran, Bobby Simha, and Vivek wishing Rajinikanth on his birthday!
Check Out!
Vijay Setupathi
Actor @Vijaysethuoffl wishes Superstar @Rajinikanth on his Birthday !#PettaBirthdayTrEAtSER #HappyBirthdaySuperstar #HBDSuperStarRajinikanth pic.twitter.com/qfNNArVwzj

— Sun Pictures (@sunpictures) December 12, 2018
Karthik Subbaraj
#Petta Director and Superstar's biggest fan @Karthiksubbaraj convey his wishes for Superstar @Rajinikanth !#PettaBirthdayTrEAtSER #HappyBirthdaySuperstar#HBDSuperStarRajinikanth pic.twitter.com/1wXvcdIPMj

— Sun Pictures (@sunpictures) December 12, 2018
Anirudh
"Hope you live for another 1500 years" - @Anirudhofficial wishes Superstar @Rajinikanth !#PettaBirthdayTrEAtSER #HappyBirthdaySuperstar #HBDSuperStarRajinikanth pic.twitter.com/hMDVZ0V1Ew

— Sun Pictures (@sunpictures) December 12, 2018
Trisha
"You will continue to be the legend that you are" - @trishtrashers wishes Superstar @Rajinikanth !#PettaBirthdayTrEAtSER #HappyBirthdaySuperstar #HBDSuperStarRajinikanth pic.twitter.com/8ZkaNQ8CFw

— Sun Pictures (@sunpictures) December 12, 2018
Simran
"You are an inspiration to all of us" - @SimranbaggaOffc wishes superstar @rajinikanth#PettaBirthdayTrEAtSER #HappyBirthdaySuperstar #HBDSuperStarRajinikanth pic.twitter.com/eeyCjtNty6

— Sun Pictures (@sunpictures) December 12, 2018
Bobby Simha
"Idhu ungalukku 25 aavadhu pirandhanaal" - @actorsimha wishes superstar @rajinikanth

#PettaBirthdayTrEAtSER #HappyBirthdaySuperstar #HBDSuperStarRajinikanth pic.twitter.com/9UGYP6vIN8

— Sun Pictures (@sunpictures) December 12, 2018
Vivek
.@Lyricist_vivek conveys his birthday wishes for Superstar @Rajinikanth ! pic.twitter.com/Icby0vHjbb

— Sun Pictures (@sunpictures) December 12, 2018
TAGS: Rajinikanth , Vijay Sethupathi , Anirudh Ravichander , Trisha , Simran , Bobby Simhaa Rajinikanth wiki, Vijay Sethupathi wiki, Anirudh Ravichander wiki, Trisha wiki, Simran wiki, Bobby Simhaa wiki, Petta,