Galatta |

26/06/2020 03:44 PM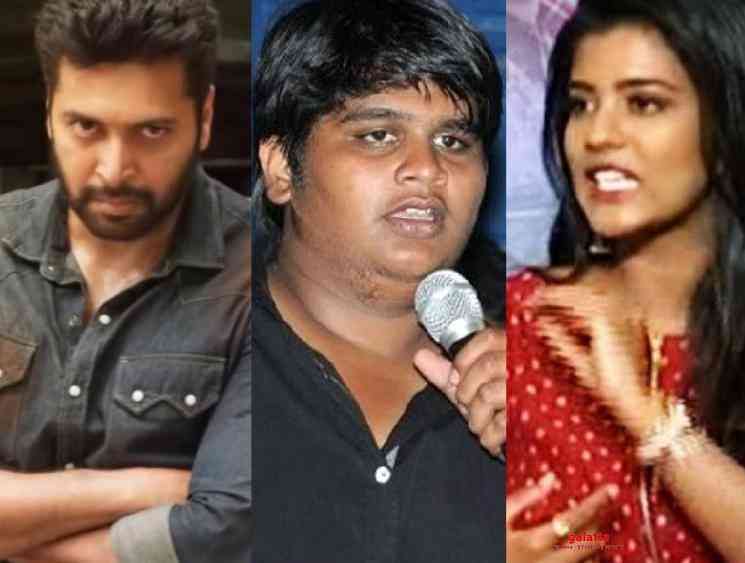 The entire state of Tamil Nadu was taken aback after hearing about the shocking custodial death of two men, a father and a son, at Sathankulam town in the district of Tuticorin. Jayaraj (59) and Bennix (31) were arrested by the Sathankulam police officials for the reason that they violated the lockdown rules and had their shop open for a little more time. Reportedly, both of them were assaulted and brutally attacked by the police officials at the station which unfortunately led to their death. According to reports, the police officials who lathi-charged and attacked Jayaraj and Bennix are identified as Sridhar, Balakrishnan, Raghu Ganesh, and a few others.
Jayaraj's wife Selvarani has filed a complaint with the Sathankulam Judicial Magistrate, seeking action against the police officials who assaulted her husband and son. This incident has created a massive outrage in the state and the people of Tamil Nadu have come together, demanding justice for the innocent civilians who lost their lives for no crime. The entire social media is abuzz about it and the netizens are expressing their anger over the police officers who were behind this inhumane act.
A certain section of people have opined that this should become a movement just like how the entire world stood together and voiced for George Floyd's death. Not just the general public, even celebrities and leading actors from the Tamil film industry have strongly condemned this inhumane act, demanding justice for Jayaraj and Bennix and their family. Here is the compilation of those tweets:
*tweets are not spell-checked
Jayam Ravi - #JusticeForJeyarajAndFenix No one is above the law, justice must be done for this inhuman act.
Karthik Subbaraj - What happened in Saththankulam is HORRIBLE!! Insult to Humanism... The accused officials needs to be Punished and Justice has to be given to those poor souls.... Some Humans are more dangerous than Viruses!! #JusticeForJeyarajAndFenix
Aishwarya Rajesh - Sathakulam incident is horrifying.. it's totally inhuman .. Really not acceptable.. Justice in delay is injustice #JusticeForJeyarajAndFenix
Shanthnu Bhagyaraj - இது நடக்குமா ? Total Injustice ... ஜார்ஜ் ஃபிலாய்டுக்கு நடந்தது அநீதி என்றால் .. தூத்துக்குடியில் இன்னிக்கு நம்ம ஆளு ஒருத்தருக்கு இதே நடந்துருக்கு, @CMOTamilNadu We need Justice #Thoothukudidistrictpolice
Hansika Motwani - Terrified to hear the brutality inflicted upon Jeyaraj and Fenix !Wat an insult these maniacs hv caused 2 our police department & country. The culprits cannot &should not get away. In front of the law every1 is the same justice must b done #JusticeForJeyarajAndFenix
Indhuja - This is beyond cruelty… Heart in pain literally ! Taking lives have become so easy ? That too brutally… Lives are definitely not for granted you bastards...! #JusticeForJeyarajAndFenix
Varalaxmi Sarathkumar - When it's wrong..ITS WRONG...no matter who it is..extremely shocked at the behavior #Sathankulampolice There's no solace for their family..#JusticeForJeyarajAndFenix we can't blame the entire police force..those 2 frustrated sadistic men have to be punished..RIP #Jeyaraj #fenix
Music Director D Imman - Terrified to hear the brutality inflicted upon Jeyaraj & Fenix. Totally inhuman and couldn't digest the torture they must've gone thru.Let's raise our voices for this ruthless act India! Jeyaraj and Fenix are the George Floyd of India. #JusticeForJeyarajAndFenix
Gautham Karthik - HORRIFIED to hear of the brutality inflicted upon Jeyaraj & Fenix in #Sathankulam May they R.I.P. This is NOT the work of Good and Honest police men who uphold Justice, Law & Order. This is the work of a few sadistic and barbaric criminals in uniform! #JusticeForJeyarajAndFenix
Khushbu Sundar - Will we and can we see law taking its course and punishing the guilty without any further delay in #Jeyaraj and #Fenix case? The culprits cannot and should not get away. A family has lost their most loved ones. Justice delayed is justice denied. #JusticeForJeyarajAndFenix
Janani Iyer - Pity for the guilty is treason to the innocent! #JusticeForJeyarajAndFenix
Athulya Ravi - Totally inhuman #JusticeForJeyarajAndFenix Brutality faced by jeyaraj and Fenix lower middle class who lives in saathaankulam bec of police. No one should have this much power over other lives!now it's time to show our outrage against this culprits. they need to be punished
Jiiva - Very very bad! bad to the core! #justiceforfatherandson Raashi Khanna - The brutality of these barbaric and sadistic men in uniform sends shivers down the spine.. No one should be above the law and justice must be served! They should be severely punished!! #JusticeForJeyarajAndFenix
Gouri Kishan - All this for a petty crime of keeping their shops open beyond the permissible time? #PoliceReform - a need of the hour. #JusticeForJeyarajAndFenix #CustodialDeath #PoliceBrutality #Tuticorin
Krishna - What happened is inhuman, insensitive, inconsiderate n intolerable and the punishment should be severe and not some shady and stupid suspension or transfer......impartial justice should be served and that immediately #JusticeForJeyarajAndFenix
Mahima Nambiar - Justice needs to be served! This is brutal !! #JusticeForJeyarajAndFenix
Director Rathna Kumar - This is total Injustice. Killing innocents in the name of interrogation is unbearable. If justice is not served right this time people will lose total faith on Judicial system. Atleast now don't try to twist the case or distract with other issues #JusticeForJeyarajAndFenix