Monica O My Darling Movie Review
(2022)
Vasan Bala's 'Monica, O My Darling', on Netflix, with Rajkummar Rao and a top cast, is a very enjoyable 'retro' murder-mystery, propelled by a super-retro score
Release Date :
11-11-2022
Movie Run Time :
2:25 Hrs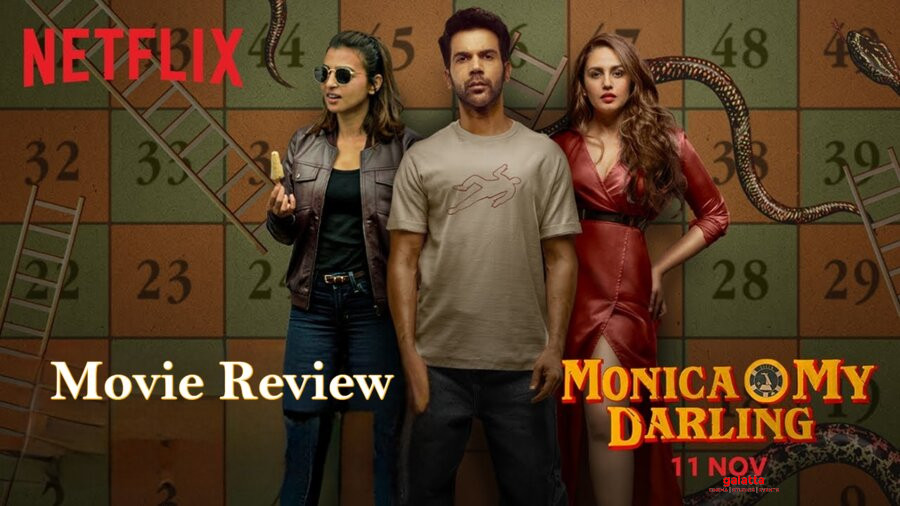 Monica O My Darling Movie Cast & Crew
Production :
Matchbox Shots
You could see this stylish, irreverent, noir-like film as the bastard child of Thiagarajan Kumararaja and Harmesh Malhotra, who made 'Nagina'. Snakes play an important role here…
The colour red is everywhere in Vasan Bala's Monica, O My Darling. It's in the neon lights in a factory. It's in the paint, in the colour of a scooter. It's in the super-sultry Huma Qureshi's seductive costumes. (She's the Monica of the title.) It's in the blood in this story littered with murdered people. And it's in the anger, where people "see red" – like this person in the opening scene. This opening bit is about a love story gone wrong, and the result is red. A few months later, a robotics specialist named Jayant (Rajkummar Rao) is named the "future" of a tech-company called Unicorn. Jayant was born poor, and he rose to the top on the basis of his genius. This does not sit well with nepo-kid Nishikant (Sikandar Kher), who's the boss' son and has been passed over. Apparently, Unicorn is totally unlike Bollywood. Talented ppoutsiders are taken in and provided the facilities to make it all the way to the top. Now, Karan Johar is seeing red.
Monica is a blackmail-and-murder saga based on a Japanese film, Brutus' Heart. But the source material apart, this is very much the baby of this director. When I reviewed Vasan Bala's Mard Ko Dard Nahin Hota, I wrote, "The promise [the director makes to you] isn't of sense, or even a story. It's of a vibe. If you're of a certain vintage, you don't watch this film. You feel it." You can say the same thing about Monica. In terms of plot, you feel the noose tightening around Jayant, Nishikant, and Arvind, played by Bagavathi Perumal. They are all connected to Monica in a way. But in terms of vibe, you feel you are in a retro movie, the kind where you get really bad news seconds after getting a good-luck charm.
The other kind of retro comes from the movies. The title comes from the phrase in RD Burman's Piya tu ab to aa ja. But you could also see this stylish, irreverent, noir-lite film as the bastard child of Thiagarajan Kumararaja and Harmesh Malhotra, who made Sridevi dance like a snake in one of her biggest hits, Nagina. Snakes play an important role in this movie, and Nagina gives Monica its second phrase taken from a song: "main nagin, tu sapera," from "Main teri dushman". This second phrase is used by… No, I'll leave that for you to discover. But the point is that someone says it. And when people talk like this in a movie, you know it's not "serious". And that brings me to the only complaint I had with Monica, which is a complaint I had with Mard Ko Dard Nahin Hota, too: "I would have liked the stakes to have been higher for [the protagonist], but I didn't mind, as it fits in with the film's core values."
Like Thiagarajan Kumararaja, Vasan Bala may be creating his own cinematic universe. Supri, the Radhika Madan character from Mard Ko Dard Nahin Hota, plays a small part here. In terms of the cast, Rajkummar Rao, Huma Qureshi – almost everyone is aces. But the scene stealers are Radhika Apte, displaying a nutso playfulness I have not seen from her before, and Akansha Ranjan Kapoor, who plays Jayant's silly-mannered fiancée. The scene where she asks Jayant "Do I look sad?" had me in splits. There's a scene that plays against a TV programme about the types of cobras in Maharashtra. That had me in splits, too. As did the line, "Somvar pe main sab pe yakeen karti hoon." Yogesh Chandekar is the writer, and he appears to have Indianised Brutus' Heart exactly in the spirit Vasan Bala wanted.
But the biggest reason I enjoyed this playful, vengeful, madcap, noir-lite movie is the score by Achint Thakkar. Remember the (retro) song, "Bom bom bom bom… Bombay meri hai." There's a number here with that exact feel. In other words, this film's music has been created with highly specific cues, and because this music is used in the most unexpected places, it adds to the humour. And to the sadness, if you will. At one point, a couple is having a comical argument over the phone, but elsewhere, someone is dying to the strains of something right out of Jim Reeves. Vasan Bala has made his second straight Haldiram masala-mix movie (don't miss the robot that resembles a reptile), but as much as I loved Monica, O My Darling, I don't know if this flavour will work for a third time. But yes, for Tamil-film lovers, this is a noir-update of a Ramanarayanan movie, and if that doesn't make you want to watch it, I don't know what will.
About Author
Baradwaj Rangan
National Award-winning film critic Baradwaj Rangan, former deputy editor of The Hindu and senior editor of Film Companion, has carved a niche for himself over the years as a powerful voice in cinema, especially the Tamil film industry, with his reviews of films. While he was pursuing his chemical engineering degree, he was fascinated with the writing and analysis of world cinema by American critics. Baradwaj completed his Master's degree in Advertising and Public Relations through scholarship. His first review was for the Hindi film Dum, published on January 30, 2003, in the Madras Plus supplement of The Economic Times. He then started critiquing Tamil films in 2014 and did a review on the film Subramaniapuram, while also debuting as a writer in the unreleased rom-com Kadhal 2 Kalyanam. Furthermore, Baradwaj has authored two books - Conversations with Mani Ratnam, 2012, and A Journey Through Indian Cinema, 2014. In 2017, he joined Film Companion South and continued to show his prowess in critiquing for the next five years garnering a wide viewership and a fan following of his own before announcing to be a part of Galatta Media in March 2022.
User Review
Monica O My Darling Movie News