Kadaisi Vivasayi Movie Review
(2022)
Kaakka Muttai fame Manikandan's Kadaisi Vivasayi Movie Review
https://www.galatta.com/assets/review/kadaisi-vivasayi-movie-review-og.jpg
11-02-2022
M.Manikandan
Release Date :
11-02-2022
Movie Run Time :
2:24 Hrs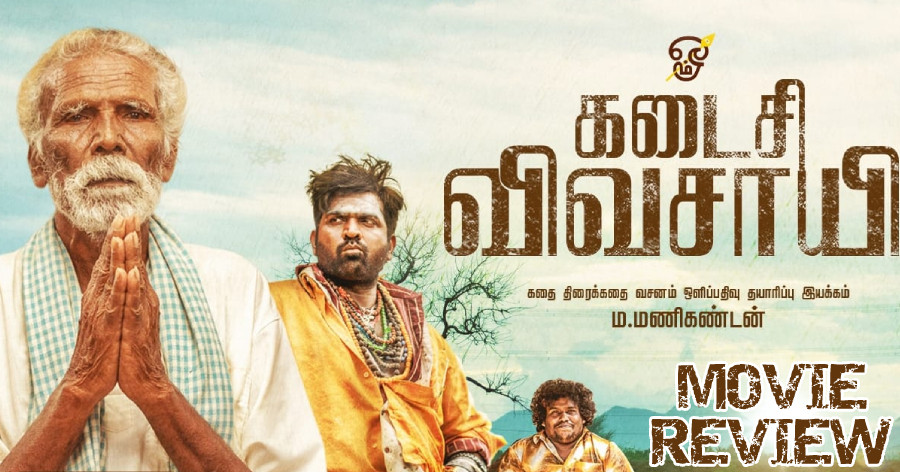 Kadaisi Vivasayi Movie Cast & Crew
Production :
Vijay Sethupathi Productions,Tribal Arts
Director M Manikandan, who has made quality films like Kaakka Muttai, Kuttramae Thandanai, and Aandavan Kattalai, is back with his next film, Kadaisi Vivasayi, which has been in production for a long time. Kadaisi Vivasayi stars Nallandi in the lead role, with Vijay Sethupathi and Yogi Babu playing cameo roles. The film has music composed by Santhosh Narayanan and BAFTA award-winning composer, Richard Harvey. 
 
STORY: 
Mayandi (Nallandi), being the only farmer, practising the profession in the village, is requested by his villagers to cultivate grains on his farming land, as an offering to their deity. Mayandi agrees to it and begins the process. However, things don't turn out smooth. Mayandi is falsely accused of a crime and the police file a case against him, which makes his farming process difficult. What was the fate of the last surviving farmer forms the rest of the plot. 
 
SCREENPLAY, DIALOGUES & DIRECTION: 
Kadaisi Vivasayi is a noble effort from Manikandan, the filmmaker, and he makes sure that the film stays as real as possible. The title card plays out with the establishment of the village and its landscape, which is beautifully backed by a devotional Murugan song and there you know, Kadaisi Vivasayi is a film that has been made without any dilution or compromise. The writing is neat and the moments are organically conceived. Tamil cinema and Tamil filmmakers have beaten to death the premise dealing with problems of the farmers, but in Kadaisi Vivasayi, we never see even a single melodramatic scene to force-fit the emotions.
Even in places where Mayandi is in real trouble, he never pleads for help as he knows that he hasn't committed any crime and stays true to his conscience. When the film had the potential to end on a tragic note, Manikandan decides to end the film with a heart-warming scene and these are some of the places where you notice that his intention is not to make you feel pity for the farmers but to embrace them with love. The film also touches upon spirituality and devotion and the scenes related to that are executed in an impactful manner, especially the scene where Vijay Sethupathi meets a saint, watch out for it. Kadaisi Vivasayi has inner meanings and deeply thought-out ideas, which will serve to be interesting takeaways for the audience.
Yes, Kadaisi Vivasayi has elements and treatment of an art-house cinema, but at the same time, Manikandan includes plenty of humor so that it appeals to a larger section of the audience. One of the issues that the film has is its pacing, which is slow. The film takes its own sweet time to get into the story and the unfolding of the drama also happens slow. Adapt to the mood of the film with some patience and you are going to see a beautiful piece of cinema. 
CAST: 
Late Nallandi has delivered a genuinely poignant performance that makes us feel empathetic towards his character. Being a real-life farmer himself, one can say that he has indeed lived the role of Mayandi. His innocence will surely be adored by the audience. Despite being an extended cameo, Vijay Sethupathi leaves his mark with a solid act that touches your heart. There is nothing much to tell about Yogi Babu's performance or character as his screen time is very less. One of the most interesting casting choices of Kadaisi Vivasayi would be Raichal Rabecca, who plays the Judge, and she puts up a mature performance that holds our attention.
The rest of the actors in the film are real-life villagers who have no experience in acting. Yet, they play their respective parts neatly and Manikandan extracts neat work from them. Despite the majority being untrained actors, there is never a tinge of artificiality in terms of the performances. 
TECHNICAL: 
Manikandan's cinematography is one of the main pillars of Kadaisi Vivasayi. The visuals capture the landscape and scenic beauty of the village effectively, transporting us to that place. With neat lighting and aesthetically composed shots, Kadaisi Vivasayi stands tall. Santhosh Narayanan and Richard Harvey add more liveliness to the movie with their emotional score, which works at places and goes for a miss in the rest. Ajith Kumar's cuts have a certain sense of calmness and smoothness, which helps us connect with the film. 
SO? 
To sum it up, we can say Manikandan, the filmmaker has emerged victorious with a film that comes straight out of his heart!    
Verdict With grounded writing and moving performances, Kadaisi Vivasayi is a beautifully made film that definitely deserves a watch!
Galatta Rating: (
3.25

/5.0 )
User Review
Kadaisi Vivasayi Movie News
Latest Tamil Movie

Reviews