Enna Solla Pogirai Movie Review
(2022)
Ashwin Kumar's Enna Solla Pogirai Movie Review - film co-starring Teju Ashwini and Avantika Mishra
https://www.galatta.com/assets/review/enna-solla-pogirai-movie-review-og.jpg
13-01-2022
A Hariharan
Release Date :
13-01-2022
Movie Run Time :
2:26 Hrs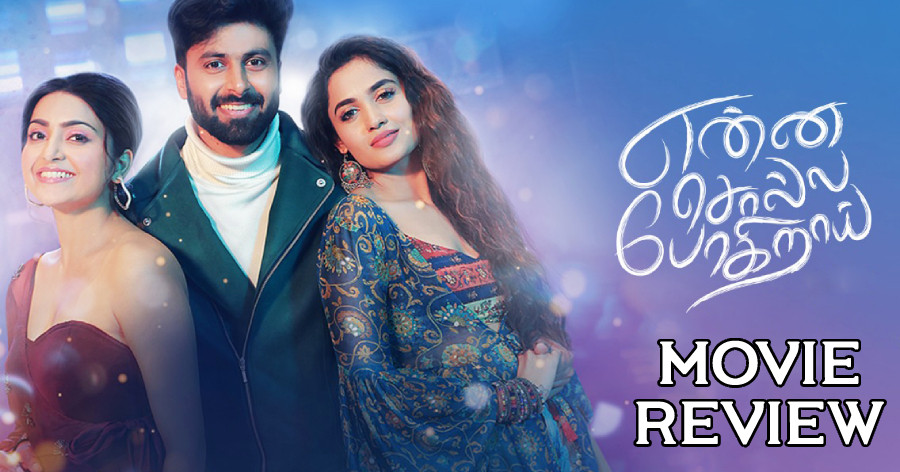 Enna Solla Pogirai Movie Cast & Crew
Production :
Trident Arts
Ashwin Kumar who earned wide popularity and breakthrough with the hit television show Cook with Comali makes his debut as a lead actor with Enna Solla Pogirai which has hit the screens today. Directed by debutant Hariharan, the film has Teju Ashwini and Avantika Mishra playing the female leads. 
STORY: 
RJ Vikram (Ashwin Kumar) is engaged to Anjali (Avantika Mishra), a writer, with a firm belief that she would settle in life only with a guy who has been in a serious relationship in the past. Though Vikram hasn't been on one, he lies to Anjali and introduces Preethi (Teju Ashwini) as his ex-lover, in order to get married. However, Vikram helplessly falls in love with Preethi, making the situation complicated. What was the final result of this triangular love story is what Enna Solla Pogirai is all about. 
 
SCREENPLAY, DIALOGUES & DIRECTION: 
Enna Solla Pogirai has a fair share of feel-good and breezy moments that keep you in smiles in its first half.  Though the film takes quite some time to settle down, the initial half turns passable because of its light hearted treatment and likeable moments. Post interval is where the concerns begin to fall in place. The slow pace is definitely felt in the second half and there aren't any solid moments to keep you hooked. Enna Solla Pogirai is a formulaic triangular love story that offers an experience which we are already used to. The screenplay bores you and falls flat right after the midpoint and the pace never raises back.
Over a point, it turns out to be a yawn. The film is heavily dialogue-driven and since the lines are cliched, it doesn't engage you much. The characters keep talking, talking, and talking and there isn't anything visually happening. One of the main issues of Enna Solla Pogirai is the lack of freshness or novelty in terms of the premise or its characters. The film travels through a tried and tested romantic formula route and never makes you surprised. Predictability is a byproduct of the above line. In films of this genre, the impact of emotions play an important role, but in the case of ESP, the emotions don't really connect well.
The comedies are mostly out of place and they could've been completely avoided. Pugazh's comedy track is totally off from the film's main premise, adding no value. 
CAST: 
Ashwin Kumar makes a fairly neat impression as Vikram and he looks charmingly smart and handsome. His photogenic face adds good value. With regards to his performance, he ticks quite a number of boxes, showing good promise. Teju Ashwini is impressive among the two female leads and she holds our attention with her expressive eyes. Avantika Mishra is decent. Quite a few counters of Pugazh bring genuine laughs but lacks the magic he had with Ashwin in his television show.  
TECHNICAL: 
Vivek - Mervin's songs and background score add vital strength to the movie, acting as one of the fewer positives in the film.  Richard M Nathan's frame compositions are neat. A wiser usage of scissors in the edit table could have made the film look tight and to the point. 
SO? 
Enna Solla Pogirai has a passable first half, but a completely disappointing second half, following a templated pattern.
Verdict Enna Solla Pogirai is an underwhelming film lacking freshness and engagement!
Galatta Rating: (
2.25

/5.0 )
User Review
Enna Solla Pogirai Movie News
Latest Tamil Movie

Reviews