Sila Nerangalil Sila Manidhargal Movie Review
(2022)
Sila Nerangalil Sila Manidhargal Tamil Movie Review
https://www.galatta.com/assets/review/sila-nerangalil-sila-manidhargal-movie-review-og.jpg
28-01-2022
Vishal Venkat
Release Date :
28-01-2022
Movie Run Time :
2:20 Hrs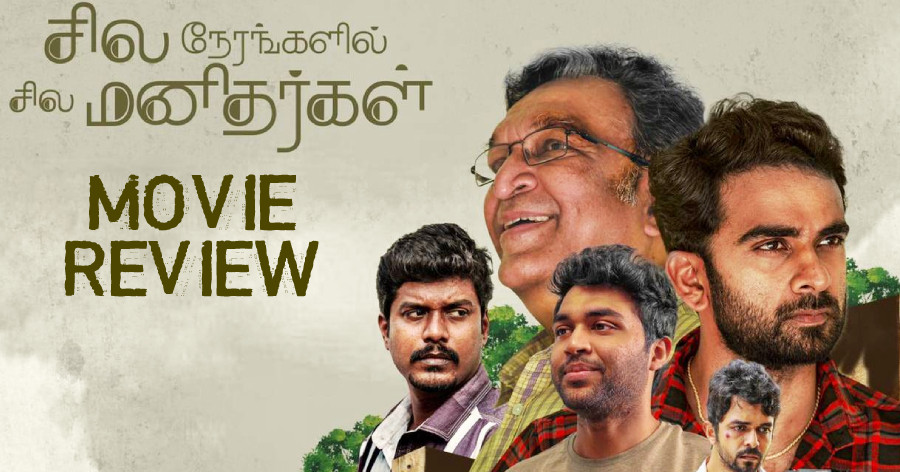 Sila Nerangalil Sila Manidhargal Movie Cast & Crew
Production :
AR Entertainment
Sila Nerangalil Sila Manidhargal is the latest hyperlink film in Tamil cinema following the likes of Vaanam and Maanagaram and the film is directed by newcomer Vishal Venkat. Ashok Selvan, Nassar, Manikandan, Abi Hassan, Riythvika, Praveen Raja, Reyaa, Rishikanth and others play the main roles in the film, which is out in theatres today. 
STORY: 
A tragic road accident connects four youngsters from different walks of life. Vijay (Ashok Selvan), a youth with anger management issues, Pradheesh (Abi Hassan), a budding actor whose audio launch speech turns controversial, Praveen (Praveen Raja), a rich IT professional, and Rajasekhar (Manikandan), a housekeeping supervisor at a hotel, are the four men whose lives get impacted due to the accident. How did the lives of the four men connect and what was their fate is what Sila Nerangalil Sila Manidhargal about. 
SCREENPLAY, DIALOGUES, & DIRECTION: 
Sila Nerangalil Sila Manidhargal has its heart at the right place. The intentions are pure and neat and, debut director Vishal Venkat shows promise. The film does take its own sweet time to establish its characters and the setting and as a result, you don't feel engaged for a major chunk in the first half. To give us an in-depth picture of the characters, director Vishal presents us with repetitive scenes making the moments uninteresting. For example, though we've understood that Ashok Selvan's character Vijay is an angry man, we constantly see scenes featuring him shouting and getting agitated. The screenplay is quite inconsistent in the first half, with a few scenes serving a purpose, while a few others don't.
Fortunately, the film picks up by the pre-interval time and there is no looking back after that. Once the film gets into its main conflict, the drama is interestingly built and the entire second half holds our attention. The final act, especially, is beautifully done giving a fitting closure to the movie. The film has the potential to connect well with a lot of people as it effectively reflects the society that we live in. The emotional moments hit the right chords making us empathize with the characters.
The sequences where Manikandan and Ashok Selvan realize their mistake and regret for it are neatly staged with effective execution. Apart from delivering a credible performance, Manikandan also scores as a dialogue writer with SNSM as his lines are to the point. 
Though the film has a shaky start, it picks up from the midpoint, keeping you engaged thereon. If the makers had worked a little more on the initial sequences, Sila Nerangalil Sila Manidhargal would have been even more complete. 
CAST: 
Ashok Selvan delivers a solid performance and he manages to bring out the emotions neatly with his act. Manikandan is definitely a talent that Tamil cinema shouldn't miss out on at any cost as he is constantly churning out brilliant performances with every film. Manikandan's performance is earnest and he clearly seems to understand the mood of a scene and delivers it accordingly. Nassar, the legend, leaves an impact with his natural performance and his presence has added more value to the movie.
Praveen Raja and Abi Hassan are quite good in their respective roles, while Riythvika and Reyaa play their parts neatly. Anju Kurian does not have much to do with the proceedings. Rishikanth, as Ashok Selvan's friend, is highly impressive and he is also an actor to watch out for! 
TECHNICAL:
Radhan's songs don't really strike a chord, but he does a fine job with the background music, which helps in elevating the emotional scenes. Meyyendiran's cinematography is neat, providing a different tone for each character to depict their livelihood. Prasanna GK's editing definitely needs a mention as this is a film that could have easily run into the 'complex to understand' zone. With smooth transitions that aid Vishal's storytelling, Prasanna makes Sila Nerangalil Sila Manidhargal easily understandable.
SO?
Post a shaky start, Sila Nerangalil Sila Manidhargal holds our attention with its emotional moments!
Verdict A solid emotional drama that touches your heart at the end! 
Galatta Rating: (
3

/5.0 )
User Review
Sila Nerangalil Sila Manidhargal Movie News
Latest Tamil Movie

Reviews