Vanitha Vijayakumar - Peter Paul Wedding : Vanitha's daughter opens up!
Galatta |

29/06/2020 04:13 PM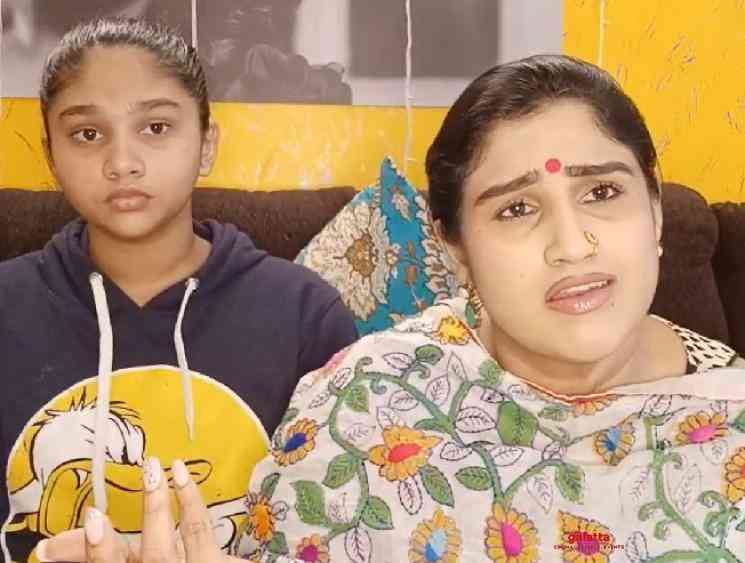 Actress Vanitha Vijayakumar recently got married to the love of her life, Peter Paul and the news created a huge buzz on social media. The wedding pictures are all over the internet. While Vanitha's well-wishers were happy for her new phase of life, a certain section of people did have different opinions. Having said that, Vanitha's elder daughter, Jovika Vijayakumar took to her Instagram page to share an emotional note about the wedding. She sounded very happy for her mother and said that love is contagious. Jovika wrote, "I'm happy for you and proud of you!! And I'm extremely happy and in awe of welcoming Papa into our little group of joy, adventure, excitement and truthfulness that we call family!! It finally feels complete and I never knew we were missing a piece to our puzzle... thank you for finding it from the hidden corner of amazing!!😉
And I really hope that one day I will have friends like yours!! I have known and loved them for 10 years and truly from the bottom of my heart let me tell you they are our family so whenever anyone asks me "tell me about your family" they're names will be the one's after yours!! Many people may say many things but remember! It's OUR life and were gonna live it OUR way!! Love is contagious and OUR world is filled it! Let's be infected by it and never be sick of it!! Here's to more joy and happiness!! -Jovika Vijaykumar.". This post has gone viral on social media and has got a mixed reaction from her followers.
However, the newly married couple have now faced a new problem in the form of Peter Paul's first wife, Elizabeth, who has filed a Police complaint, demanding a justice for her and her children. Elizabeth has claimed that she and Peter Paul are not legally separated yet and has called Vanitha Vijayakumar's wedding to be illegal. Vanitha, however in her official statement, has revealed that she and Peter Paul would approach the issue legally through the court. More developments are expected to be known in the coming days.
Talking about Peter Paul, he is a VFX Supervisor and Director who runs a post-production studio in Chennai. He will also be turning into a filmmaker very soon. Vanitha met Peter Paul during the end of last year when the latter approached her to play the antagonist in his debut directorial movie. The meeting transformed into a friendship and during the course of these months, they got close and understood the love for each other. For now, check out Jovika Vijayakumar's official Instagram post below: