Rhapsody' 19 to happen in a grand manner today | Balaji Mohan
The Thenmozi Memorial Trust which has been working for the treatment and care for Cancer patients has been conducting an annual fundraiser event for the underprivileged cancer patients, on the second Saturday of the month of May, every year.
Titled as 'Rhapsody', this 'Celebration for a Cause' will include a grand entertainment and arts in the form of Music, Singing, Dance, Mimicry, Standup Comedy and other live performances. The organizing committee of this cultural extravaganza constitutes of a group of like-minded volunteers who share a passion for making a difference and contributing for a special cause.
The Rhapsody'19 scheduled on May 11, 2019, at Sri Mutha Venkata Subba Rao Auditorium of Lady Andal School Chennai will feature various cultural events performed by corporate as well as television artists and celebrities in the city for a target audience of 1500. All the proceeds from the ticket sales would be used for the benefit of underprivileged cancer patients through various activities.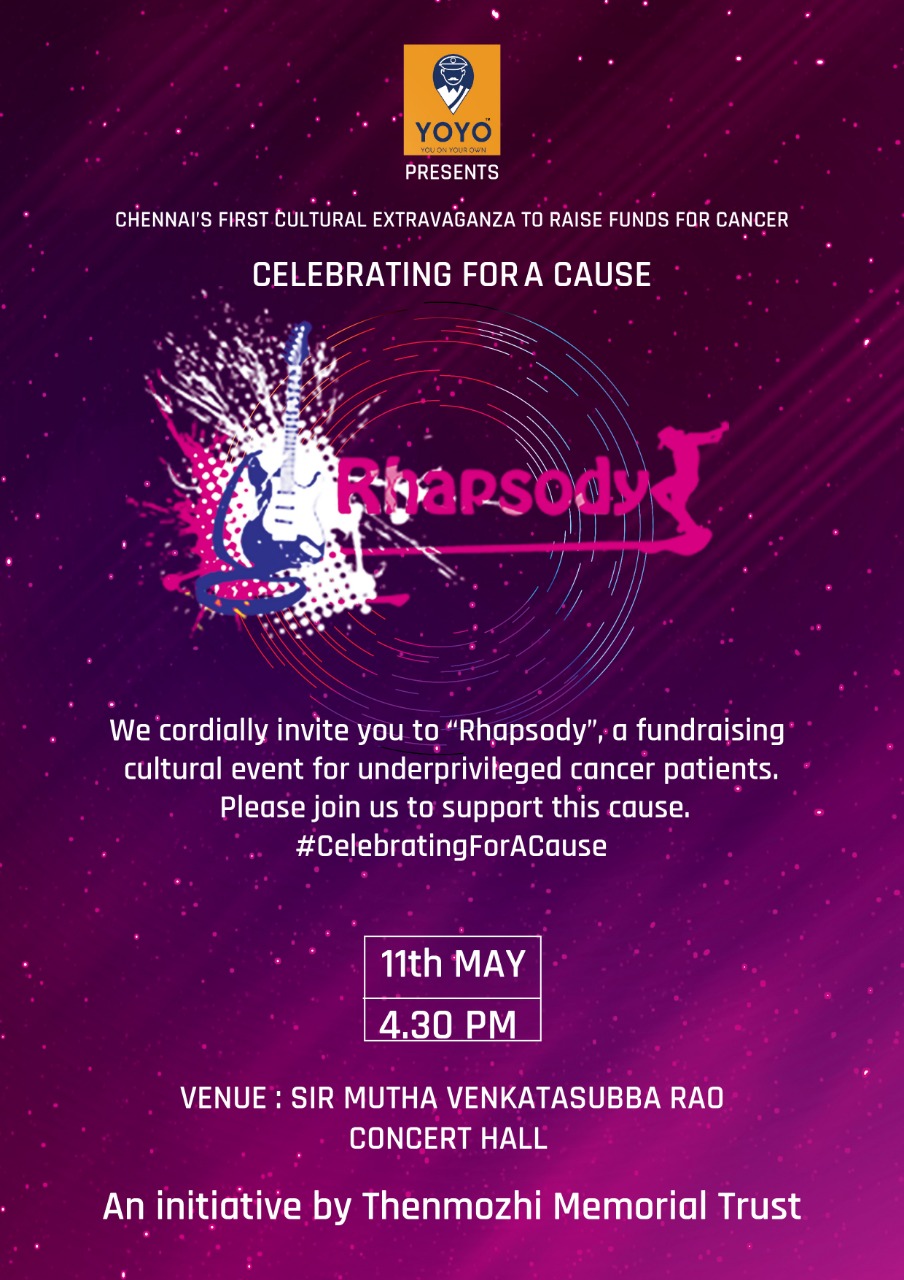 Here is the list of events that will be part of Rhapsody'19:
Inauguration by Director Balaji Mohan - Brand Ambassador - Rhapsody
• Standup comedy by Jagan Krishnan of Evam Standup Tamasha
• Musical band by Crystalz team with Airtel Super Singer fame Soundarya Bala Nandakumar, Aravind Srinivas, Shenbagaraj and Malavika Sundar
• Mimicry by Vijay TV Fame Kalakapovadhu yaaru Naveen Muralidhar
• Dance by corporate teams Humanoids and Agni
• Fashion Show ( A ramp walk involving the cancer survivors and a celebrity show stopper )
Many celebrities and television artists are set to make their presence for the event. There are many surprise elements also to be part of the show.