Important announcement on Sathyabama's LEGEND 2020 National Short-film festival
Galatta |

25/07/2020 04:12 PM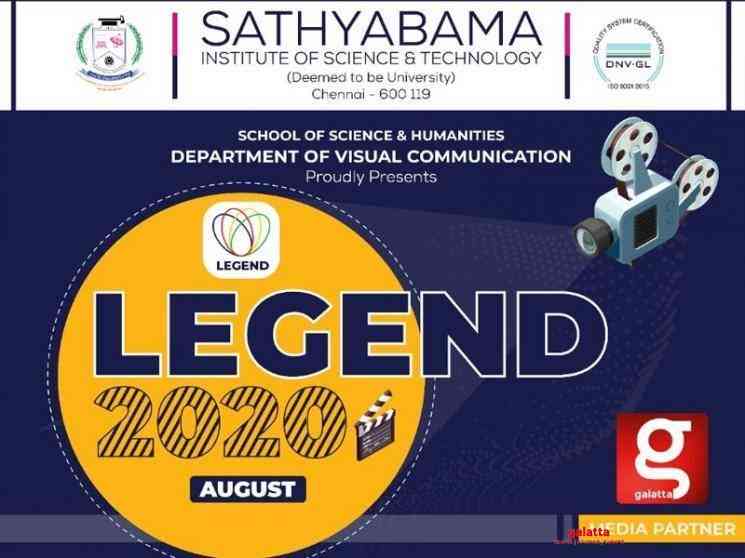 Apart from academic excellence, Sathyabama University is also known for coming up with interesting and innovative events to help further the knowledge of its students. Just like every other year, the Visual Communication department of Sathyabama University will be conducting a shortfilm festival called LEGEND. It is a National level short film festival that will take place in the month of August. Legend 2020 will have leading film personalities conducting sessions on various topics, to help the participants gain more knowledge on filmmaking and the various advancements in the field. The reputed Sathyabama University has now issued a set of rules to be followed for the participants. Check it out: 
 
1. All the entries must reach us on or before 10th august 2020. 
2. Submit your entries through "wetransfer or google drive" to Viscom.sathyabamacontest@gmail.com 
3. Duration of the film should not exceed more than 15 minutes (including credits) 
4. Submission should be applicant's own creation. The applicant Must make sure that the work submitted must be his/her own Creation and it does not include any infringement of the Third party's intellectual property rights. 
5. Passed out students are not allowed to participate and submit Entries in legend short film festival. 
6. Any vulgarity and obscenity in the film will lead to disqualification. 
7. Other than Tamil and English, for other language films subtitle Is mandatory. 
8. Judges decision is final. 
9. A scanned copy of the id card must be uploaded. 
 
Here is the entry form for all students who wish to take part in the film festival -  
https://docs.google.com/forms/d/e/1FAIpQLSfQgtQvQOj62rKtvoAT9hJIVBKpbAfkhebVrVKt0w07RyiEYA/viewform 
 
Sathyabama Institute of Science and Technology is one of South India's premier Academic and Research Institution that offers multi-disciplinary academic programmes in various fields of Engineering, Science, Technology, Law, Nursing, Pharmacy, Dental and Management.  It is established under Sec.3 of UGC Act, 1956 and is been Accredited with 'A' Grade by the National Accreditation and Assessment Council. Sathyabama has emerged as a leading institution and achieved excellence in higher education to the international standards through 23 Undergraduate Programmes, 37 Post-graduation programmes, Research, Technology Incubation, Product innovation in Science and Technology. The institution's journey has been phenomenal under the able leadership of Dr.Mariazeena Johnson, Chancellor. We wish Mariazeena and the institute all the very best for their initiatives.