Saree clad mannequin dispenses sanitiser for customers in Madurai Textile shop!
Galatta |
Jul 24, 2020, 04:07 pm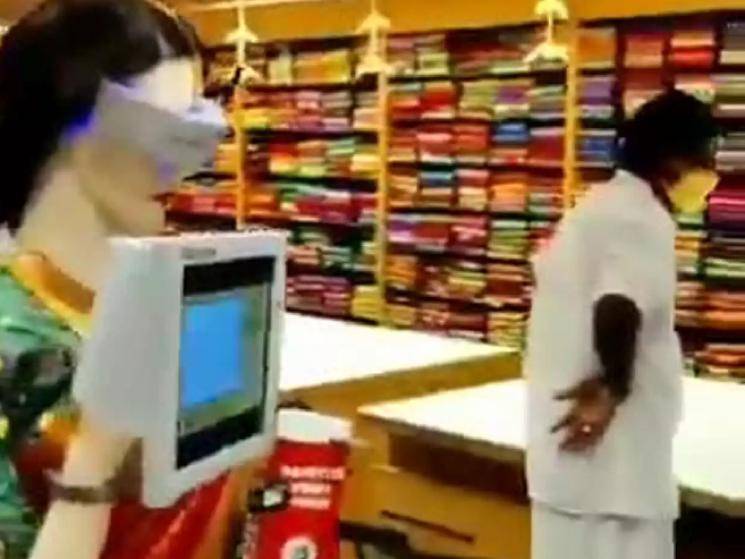 There is a very famous quote which says, "necessity is the mother of invention" but it has also given rise to another proverb - "adversity must be the father of re-invention!" The COVID-19 Novel Corona Virus Paa ndemic has definitely caused difficult times for everybody and this has given rise to a lot of modifications and adjustments that people have been making to handle their day-to-day lives! Now that the lockdown has been lifted and a bit of normalcy is slowly returning, businesses have been reopening. However, the COVID pandemic has not completely subsided and a lot of precautionary measures have to be taken to continue businesses and now one new innovative measure has been brought to light through a video that is going viral online!
A Madurai-based textile company has been using an automated mannequin to identify customers and provide them with sanitisers! The best part is that the mannequin has been given a desi twist by being draped in a saree! This brings in a contactless measure for the sanitiser dispensing, which would otherwise have to be done manually by workers! Earlier, the Kerala Startup Mission (KSUM) had launched robots to help provide face masks and also information about the COVID spread. The mannequin uses a sensor to track the location of customers within the store and spray sanitiser on their hands. The mannequin also uses a screen to display information on social distancing and the need to follow the safety guidelines manadated by the government, while in public places!
Though the name of the store which has been using this mannequin has not been identified as yet, netizens are throwing in their own suggestions as to which store it could be! Ever since the video went viral, people from different parts of the country have been praising the innovativeness of the people behind this idea. Netizens are also calling for all stores across the country to implement this idea and thereby reduce the exposure of one of their own employees! The idea to drape the mannequin in a saree has also become very popular and some netizens have been claiming that this in itself would definitely attract customers to get their hands sanitised!
Check out the video here:
Technology put to right use at one of the textile showrooms in TN. An automated mannequins draped in saree detects customers around and walks to them to provide sanitisers. Post Corona is sure to see intensified technological evolutions. pic.twitter.com/r2QQg1wpsY

— Sudha Ramen IFS 🇮🇳 (@SudhaRamenIFS) July 20, 2020