Seven special trains in Tamil Nadu cancelled till July 15: Southern Railway
By

Vivek Raj

| Galatta |

Jun 27, 2020, 08:05 pm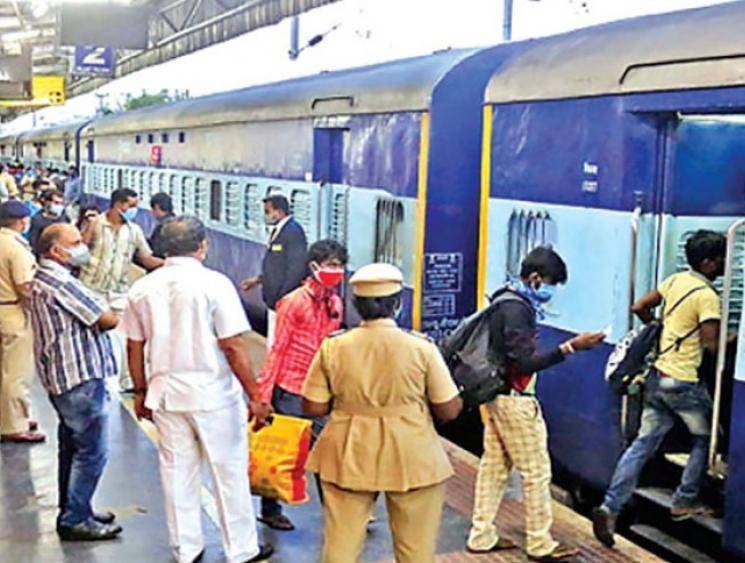 Southern Railway announced on Saturday that seven special train services in Tamil Nadu will be cancelled from June 29 to July 15 in tune with the request of the state government. The Railway Board has also stated that the amount for the tickets will be refunded to those who had made reservations. The list for the special trains cancelled in Tamil Nadu between June 29 to July 15 is below: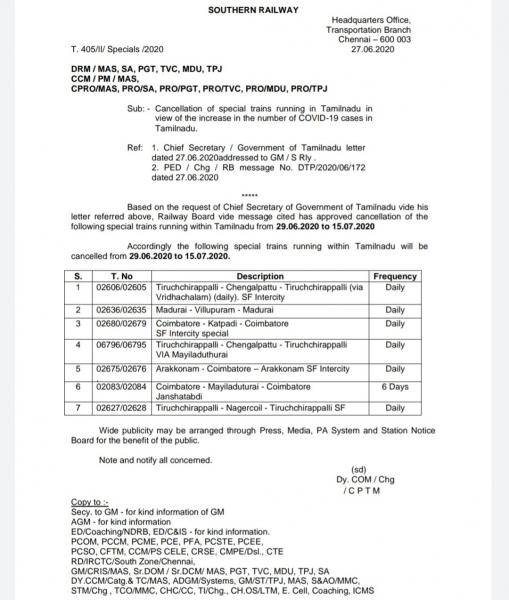 The decision to stop the running of the special trains in these routes comes as a result of the growing number of coronavirus cases across Tamil Nadu. The state saw 3,713 new positive COVID-19 infection cases recorded on June 27 taking the total number of cases to 78,335. The shoot up in the number of cases today is by far the highest count for a single day recorded in the state to date.
Southern Railways' Chennai division had meanwhile a couple of days back introduced an advanced technique, the Automated Ticket Checking and Managing Access (ATMA), to facilitate contactless access to passengers, in order to prevent the spread of the novel coronavirus. The new system installed at the Puratchi Thalaivar Dr. MGR Chennai Central Railway Station facilitates a contactless verification of tickets, body temperatures, and face masks of passengers entering and exiting the station premises.
A press release from the Southern Railways states that the ATMA system includes a web camera binded to the enquiry desk at the railway station entry points. Officials will check on the monitor for the image that gets displayed when passengers show their ticket along with proof of identity, which will be captured by the camera. The passenger will be permitted for entry into the station premises for further screening upon the verification of the ticket.
A thermal scanner with a camera is also included in the ATMA system, which will capture and display the body temperature of the passenger on the monitor. Only after the monitor shows a green signal will a passenger be allowed to board the train for his/her destination. In the event of the passenger's body temperature found to be too high, a red signal will be shown on the monitor and needful action will be taken.
Southern Railway in their press release further added that the installation of a voice response system is also in the works and that it will be added soon. With this advanced technique, the screening of more than one passenger at a time is now made possible, in turn saving time while also avoiding the formation of crowds at the entrance. The press note also added that the new system will be extended in phases to all major stations of the Chennai division, among which include Arakkonam, Katpadi junction, etc.