A Galatta Exclusive: I had to overcome difficulties to gain this fame: Manjima Mohan
By

Ashwin Prabhu

| Galatta |

06:10 PM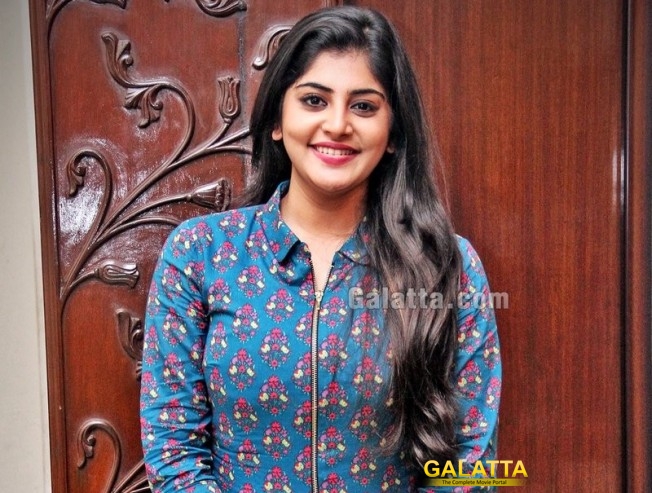 As actress Manjima Mohan gears up for the release of Sathriyan, she speaks to Galatta in a frank and candid manner. Right from workouts to diet, learning Tamil and the way she feels about her co-actors, Majima talks them all. Here's a text interview for your reading pleasure.
How did you feel working on Sathriyan after AYM?

The transition wasn't so easy because my character, the way the director portrayed in AYM was quite different. In Sathriyan, as soon as the first look posters came out, people spoke about how different I look. Playing the role of a Trichy girl did require the makeover and I did it to justify the role in the movie. It also happens to be my second film and I am pretty excited about it.

Are you comfortable speaking Tamil in the movie?

Compared to my previous experience, I had to work a lot because there were some dialogs that were at least two pages long. The problem is not just the language but I had to talk like a girl from South Tamil Nadu and it required a lot of homework before I could deliver my best.

How is Sathriyan's Niranjana compared to AYM's Leela?

Leela would just love to live life, she is silent and wouldn't talk much. But, Niranjana is a very bold girl who knows what she wants and doesn't hesitate to put forth her views to the hero or anyone for that matter.

How did you say yes to work in Sathriyan?

Director Prabhakaran met me and narrated the script even while I was still working with Gautham Vasudev Menon. I had a view to go for a complete makeover, a script that would show me in a new light and Sathriyan offered it and more. I did watch Sundarapandian as well and loved the movie.

What's your take on STR?

STR is very committed to the work and was always punctual to the sets. I am not sure but he managed to do action sequences and other demanding things that require lots of physical effort.

How do you handle criticism on fitness?

At first, it was very annoying and I knew that it is important to stay fit, look good for the film industry. But, once again it is tough to make everyone look the same. At some point, it gets pretty tiring if we keep on thinking about diet and other stuff all the time. Now, I kind of settled down with it.

Are you in a relationship now?

I think such questions are very personal and I don't think I can just answer it even if I am committed to someone right now. I am very much single now but I am not sure if I am going to answer it openly in the future when I actually get into a relationship.

Have you got any proposals?

It might sound really surprising but I have not got any proposals till now. Some people say I look unfriendly and very difficult to approach. I am kind of reserved until I know the person and maybe that is why no one decided to propose me yet.

Who's your favorite among cine artists?

I am really impressed by how Nayanthara, Samantha and Trisha started off to reach such heights today. They had to work really hard and lots to become such important personalities in the film industry. I like them all a lot for their dedication and success.

How is Manjima when she is not in the sets?

(Chuckles) I think I can be really boring out of the screen because I get lazy at times or I could get really annoying at some point. I usually love extremes the most. You can find me listening to songs and reading books mostly, but I also workout and go swimming these days a lot.

Sathriyan – Your take on the film's genre?

Sathriyan is not an action only entertainer as most assumed through the posters and trailer but it is actually filled with emotions, love and relationship. People of all groups would surely enjoy the movie and it's not just for the youngsters.

The way the director has portrayed the film is to share romantic moments without actual romance, duets or love scenes. Rather, subtle emotions make the film shine and make the characters more relatable which I enjoyed a lot.