Release Date :
15-11-2019
Movie Run Time :
2:38 Hrs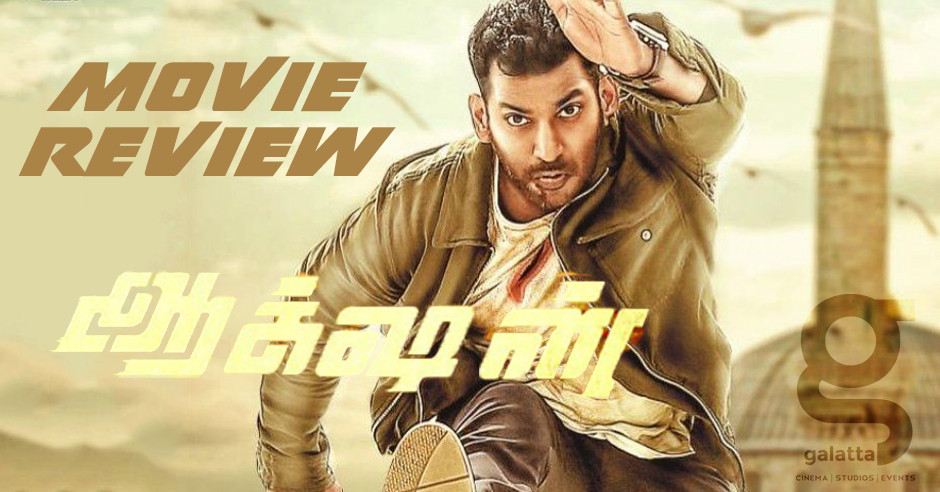 Action Movie Cast & Crew
Production :
Trident Arts
Vishal has got a new release in K-town - Action, which is directed by Sundar C, who's known for his commercial masala entertainers. Yes, this action drama has hit the screens today, in a huge number of screens and is also the first major Tamil film to release after the Deepavali wave (Bigil and Kaithi). Colonel Subhash (Vishal) sets out on his mission, in search of the people who are behind a monstrous bomb blast event that happened in Chennai. A mission that starts from Chennai, travels to London, Istanbul and then to Lahore. What leads Subhash there and how does he catch hold of the criminal, forms the rest of the plot.

Vishal looks completely justifying in his role and as far as his physique is concerned, there are no complaints. As always, he scores well with his stylish stunt moves, that are high octane. With action being Vishal's forte, he makes no mistake with that. Tamannaah gets to travel along with Vishal in the second half but doesn't leave a lasting impression. Aishwarya Lekshmi looks beautiful on screen and her pairing with Vishal looks fresh. However, the fate of her character was already expected and it ends up being as predictable. Kabir Duhan Singh and Akanksha Singh as the antagonists are weak and templated. Yogi Babu helps with a few comic reliefs in the limited screen time he gets. Sha Ra's body language and mannerism are irritating and he evokes no laughter. Keeping Vishal and Aishwarya Lekshmi aside, the performance of all the other actors are worrying and weak. 

When you see a commercial masala film, you should go easy on logic in the screenplay, agreed! However, Action takes over advantage of the same and goes logicless mostly. The stunts choreography is way over the top and filled with too much exaggeration. The believability goes completely missing. Something constantly keeps happening in the second half but you have no idea why that is happening. There's no proper detailing or explanation behind that action and there's absolutely no logic. There is no establishment or reasoning so as to how the protagonist finds the answer to a particular question. The writing is very weak and comfortably designed to make the protagonist win at every juncture. At times, one would feel that an adventure game is playing on screen, because the characters jump from building to building, floor to floor and so on. The highly hyped 'Pathan look' doesn't offer excitement because there is no twist or suspense in that particular sequence. 

To be honest, Action does have an interesting plot and gives ample scope for high moments. The film will engage you if you don't mind the cinematic liberties and illogical scenes. A section of the mainstream audience can find the film interesting, probably as a popcorn-friendly film. Dudley's cinematography establishes grandeur and delivers a stylish output. However, the visuals look bleached at places. Hiphop Tamizha's background score is decent and lends some good support, while the songs are a letdown. More finesse in the editing could have made the film much better. The way the scenes are knit together on the edit table, lacks perfection. Director Sundar C can be appreciated for executing a film of this scale. It is no mean task to do that and his experience comes in handy. However, lots more work in the writing, could have made a commendable difference. 
Verdict An over-the-top masala action drama that is mindless and illogical!
Galatta Rating: (
2

/5.0 )
User Review
Latest Tamil Movie

Reviews