Release Date :
04-11-2021
Movie Run Time :
2:44 Hrs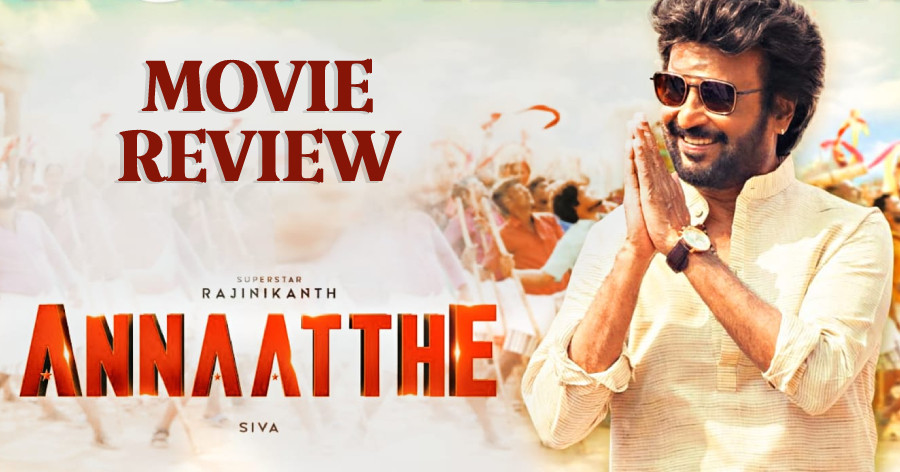 Annaatthe Movie Cast & Crew
Production :
Sun pictures
Amidst huge expectations and hype, Superstar Rajinikanth's Annaatthe has released in theatres and the film is expected to attract the family audiences in large numbers. Annaatthe is a film that has excited the film buffs sheerly for its star cast that includes the likes of Khushbu Sundar, Meena, Nayanthara, Keerthy Suresh, Prakash Raj, Jagapathi Babu, Soori, Sathish, and others. How has the film fared? Read on to know!
STORY:
If you have seen the trailer of Annaatthe, you pretty much know the crux of the film. For Kaalaiyan (Rajinikanth), his dear sister Thanga Meenatchi (Keerthy Suresh) means everything to him and when her life turns upside down after her wedding, how does Kaalaiyan react to it? Kaalaiyan decides to avenge the people who were responsible for making his sister's life miserable. What was her problem and how did Kaalaiyan save her is what Annaatthe is all about.
 
SCREENPLAY, DIALOGUES, & DIRECTION: 
In a line, Annaatthe is a film that revolves around the emotional bond between a brother and a sister, a premise that we are very much familiar with. Director Siva doesn't try anything out of the box with Annaatthe and he sticks to his basics. It is a templated mass masala commercial entertainer that banks heavily on the stardom of Superstar Rajinikanth. The screenplay moves in a predictable fashion and that acts as a speed breaker for the film. Only a handful of scenes (like the first meeting between Rajinikanth and Abhimanyu Singh) stand out, earning the claps from the audience. The pre-interval fight scene is another one that looked good. Other than that, unfortunately, Annaatthe does not have anything that garners your attention.
While Siva has retained the emotional meters of Viswasam in Annaatthe, he has also not changed anything much, with regards to the sketching of villains. Both Jagapathi Babu and Abhimanyu Singh don't come as terrorizing villains and their characterisations look absolutely weak. While the first half is treated in a light hearted manner with fun and romance, the second half relies on the action part. Unfortunately, both the halves don't really keep you engrossed. The treatment of Annaatthe is also a bit worrying as the film is too melodramatic.
Siva's earlier outing, Viswasam had a strong female lead and that made the film stand out from the usual commercial films, but in Annaatthe, all the characters are one dimensional, lacking depth. It would have been really good if Siva and team had concentrated more on the writing part, along with effective packaging. 
CAST: 
Superstar Rajinikanth is in great form and he is completely enjoyable as Kaalaiyan. The legendary actor looks refreshingly energetic and his performance will be a delight for the fans. His electrifying screen presence saves Annaatthe to an extent. It would have been more effective if director Siva had extracted more from Rajinikanth in the emotional scenes as his performance in the sentiment portions look artificial. Keerthy Suresh is the next actor after Rajinikanth who gets more prominence in the film and the talented actress has delivered a fairly decent performance. Nayanthara does her part well in a role that travels along with the protagonist.
It is good to see Khushbu and Meena back in action with Superstar Rajinikanth and but, both of them don't really have anything to do. Khushbu, Meena, and Prakash Raj have been wasted in roles that have no substance. Jagapathi Babu and Abhimanyu Singh are templated villains who don't offer a tough fight. Soori, Sathish, Sathyan, try to offer a few laughs, but the efforts go in vain.  
TECHNICAL: 
D Imman's background score is one of the major boosts of the film as his re-recording uplifts the mass factor to greater levels, keeping the audience in a pumped-up mood. At the same time, some of the tunes sound loud and jarring. Among the songs, 'Vaa Saamy' and 'Annaatthe Annaatthe' are enjoyed by the fans in the theatres, alongside, 'Marudhaani' which looks visually colourful. Vetri's cinematography is commendable as the shots look neatly composed and well-lit. Several angles supplement Rajinikanth's style and mass factors. Ruben's edit looks fine. 
SO?
Weakly sketched villains and heavy melodrama make Annaatthe an average watch!
Verdict Director Siva's Annaatthe is a misfire, sans Superstar Rajinikanth, who shines with his stylish screen presence! 
Galatta Rating: (
2.25

/5.0 )
User Review
Latest Tamil Movie

Reviews