LATEST: Lakshmy Ramakrishnan demands money - Vanitha Vijayakumar's strong reaction!
Galatta |

29/07/2020 04:30 PM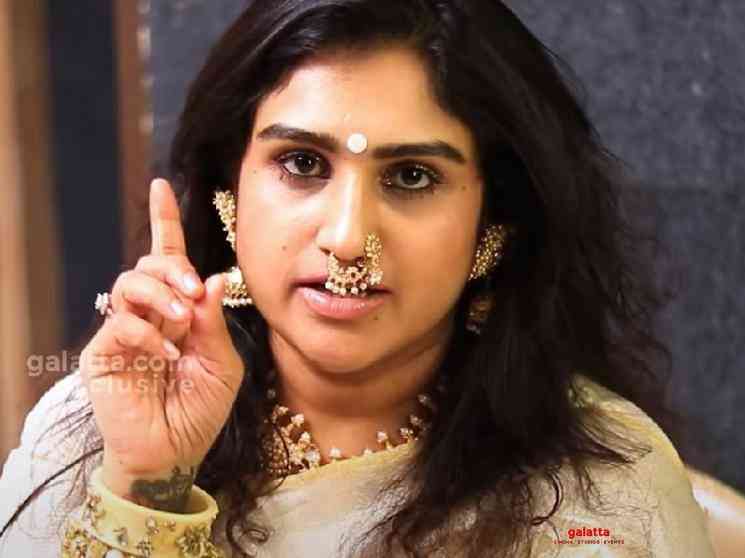 As we all know, Vanitha Vijayakumar's personal life has been quite controversial for the past few days and the entire social media is abuzz about it. Very recently, Vanitha had an heated argument with Lakshmy Ramakrishnan and it became a hot topic among the people. Following the controversial fight, Lakshmy Ramakrishnan sent a legal notice to Vanitha in the context of verbal abuse. Lakshmy condemned Vanitha's behaviour and her usage of abusive language and also got pissed for unnecessarily dragging her husband Ramakrishnan into the topic. Lakshmy Ramakrishnan shared this news yesterday (July 28) with her followers and people were waiting to know how Vanitha responds.
Vanitha has now reacted to Lakshmy's legal notice and has also shared a screenshot of the copy on her Twitter page. Vanitha revealed that Lakshmy Ramakrishnan is demanding a sum of Rs 1.25 crores as compensation. To support her words, Vanitha shared the screenshot of the legal copy which states, "pay a sum of Rs. 1,25,00,000/- (Rupees One Crore and Twenty Five Lakhs Only) as compensation towards damages for the Defamation caused by you, within a period of 7 days from the receipt of this Legal Demand Notice failing which our Clients have placed instructions with us to commence appropriate legal proceedings against the First of you under Criminal and Civil Laws before the competent Courts making you liable for the risks and costs." (You can see the full screenshot image in the tweet embedded below the article).
Vanitha, who got pissed with Lakshmy's actions and demands, said that her lawyer would send a reply notice and handle the case legally. She tweeted, "See the good hearted social activist threatening me thru her lawyer demanding 1 crore 25 lacs for trying to act as if helping a family and interfering unnecessarily in my personal and acting as a fake judge when she has no authority to do it..sucks the blood of innocent victims. My lawyer is sending her a legal notice on the same...this is not a court document it's only a sophisticated ransom note they lawyers".
This tweet has gone viral and has created a buzz among the netizens and few people have been shocked as well. Going by Vanitha's tweets, it looks like she is in no mood to pay any compensation and let us wait for a few more days to know how the case unfolds. Check out Vanitha Vijayakumar's tweet regarding Lakshmy Ramakrishnan's legal notice below: *tweet not spell-checked
See the good hearted social activist threatening me thru her lawyer demanding 1 crore 25 lacs for trying to act as if helping a family and interfering unnecessarily in my personal and acting as a fake judge when she has no authority to do it..sucks the blood of innocent victims pic.twitter.com/V8YKP7D2tB

— Vanitha Vijaykumar (@vanithavijayku1) July 29, 2020