Sivakumar's Kamba Ramayanam couplets on Moser Baer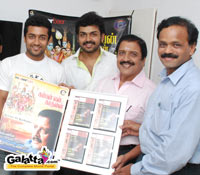 By
Padma Iyer [ April 15, 2009 ]
Sivakumar's Kamba Ramayanam couplets on Moser Baer
The epic Ramayan has been rendered in all Indian languages. After Tulsidas' Ramcharit Manas, the most popular and revered version of this epic poem by Valmiki is Kamba Ramayanam, the masterpiece of Tamil poet Kambar, written more than a thousand years ago.† Several commentaries and interpretations have been written about it since it was first written. Its mellifluous verses and remarkable creativity have ensured a place in every Tamil text book and in the hearts of†Tamil speaking people.
Veteran actor Sivakumar, who has acted in more than 250 films and carved a niche for himself as one of the finest Tamil actors, has written a book titled 'Kamban En Kadhalan' (Kamban, My Love) which is doing record sales.†He recently participated in a grand event at Tiruppur Thindal Vellalar College to give a speech on his writings and the book.†The auditorium had more than 5000 persons present, including several scholars, industrialists, students and academicians from various educational institutions.
Sivakumar†chose 100 couplets from the epic Kamba Ramayanam and recited†them in a narrative style for over two hours, without a pause or referring to†notes, not even taking water during this long session. He narrated the entire Ramayan in this duration through these couplets from Kamba Ramayanam, which astonished the entire audience and brought†widespread applause for the creativity, commitment, perseverance, preparation and understanding of the subject displayed by Sivakumar. No one has†been able to present Ramayan in such a concise manner with accuracy and authenticity with real life examples.
This speech†was recorded and telecast on a leading TV channel on 14th April 2009. Moser Baer Entertainment felt that such an historical feat needs to be preserved on video so that many more people can enjoy and relish the experience. When Sivakumar was approached, he consented to release the Home Video. The DVDs of this historic event will be soon available in all leading stores under the Moser Baer label. Priced at Rs. 99, this is a very small price to pay for such a great spiritual experience.
The DVDs were officially released by Sivakumar's sons Suriya and Karthi in Chennai recently.