Amisha 'SEXY' sans Patel!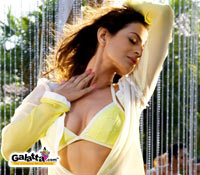 By
Padma Iyer [ July 07, 2008 ]
Amisha 'SEXY' sans Patel!
Amisha Patel donned the sex tag in Thoda Pyaar Thoda Magic. Bikini-clad, the actress burnt the screen in the song 'Lazy Lamhe', seducing co-star Saif Ali Khan. So is Amisha joining the evergrowing list of hot bods in Bollywood?
"It was the demand of the character, I am not joining any list," she says. But Amisha is happy and proud to be in the film which is portraying her in a new sexy and glamorous avatar.
And clothes are not the only things that Amisha has dropped. It is heard that Amisha has dropped her surname too. Hopefully, just 'Amisha' will bring her luck and bag her some roles in which she gets to act rather than revealing her skin.