By

Prasanna Singh

| Galatta |

12:00 AM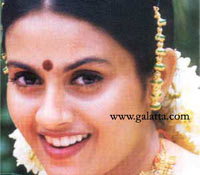 Suryakiran directs wife Kaveri's film
Remember the little kid in Mauna Geethangal cooing to his dad in the song 'Daddy, daddy!! Oh! My daddy'? Well, he has grown into a big-time director in Tollywood! He is also married to beautiful Kaveri, who worked in many successful films including Kasi (Vikram) and Samudram (Sarathkumar). Apart from setting the perfect example for the perfect couple, Suryakiran and Kaveri have also decided to become an example for adventurous filmmakers! They have decided to make a film in Tamil which will be remembered for years to come for its unique narration and filming style!
Athiyayam 6 (meaning six chapters) is a film produced by actress-turned-producer Kaveri, which will be directed by Suryakiran who has given numerous hits in Telugu. The title is self-explanatory – the story will be narrated in six chapters. This is unique, but the real uniqueness comes in the form of colours in the picture!!! Each chapter will be abundant in the colour that reflects its mood – if the chapter speaks about love, then blue, highly associated with tranquility, shall be the preponderant colour; if a chapter is about revenge, then red shall be the preponderant colour in that chapter!
Chithiraselvan has grasped the director's idea and employed it successfully in his cinematography. It is said that the results have come out real good. Newcomers Bala and Harinath are the two heroes.
A major portion of the film was shot in a beautifully-made wooden house in Visakhapatnam, which attracted many tourists!