Galatta
|
03:30 PM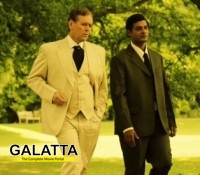 Ramanujan directed by Gnana Rajasekaran is a biopic on Indian mathematician Srinivasa Ramanujan. The film opened to rave reviews and is considered to be one of the best films of 2014.
Chennai based production house Camphor Cinemas has associated with Von Royon Entertainments to release the film in different languages.The recent news is that the film will be featured at the Toronto Film Festival, which is slated to begin on September 4.
CEO of Von Royon stated that that the film needs to be celebrated and is pretty confident that Ramanujan will be an inspiration to many people.