Release Date :
24-12-2021
Movie Run Time :
2:29 Hrs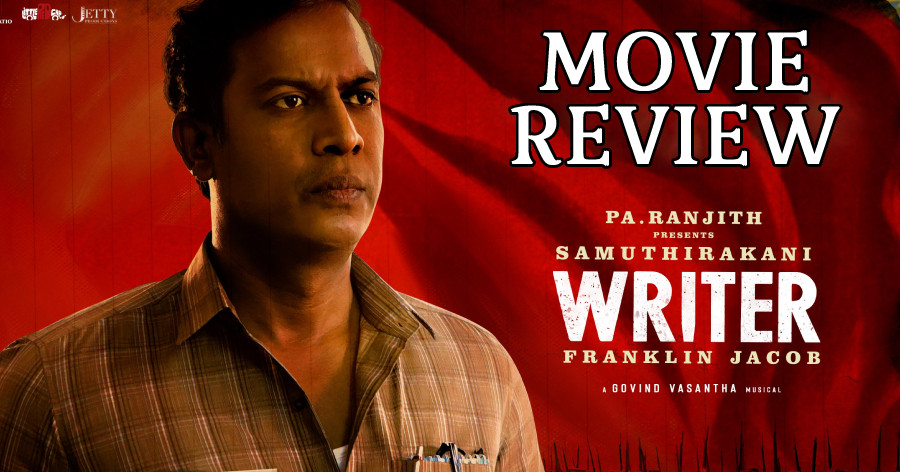 Writer Movie Cast & Crew
Production :
Neelam Productions
Pa Ranjith who has an eye for strong contents has bankrolled a new film titled Writer which stars Samuthirakani in the lead role. The film is directed by debutant Franklin Jacob and has music composed by Govind Vasantha. Does Writer address any important topic, leaving an impact? Read on! 
STORY:
Writer follows the story of Thangaraj (Samuthirakani), a police constable/writer who tries to save Devakumar (Hari Krishnan), an innocent youth, from being convicted for a crime that he did not commit. Did Thangaraj fight against his own Police force to save Devakumar and did the mission end successfully is what Writer is all about. 
SCREENPLAY, DIALOGUES & DIRECTION: 
With Writer, debut director Franklin Jacob explores a zone that was never tapped and he succeeds effectively in doing the same. The film showcases the hierarchical problems that happen in a Police Station among the officers and how the superior ones use their power to abuse someone. Writer also talks about the problems, pressure, and stress that the Police officials undergo and we have our protagonist who fights for a union for the police officers. One is not sure if there were any other Tamil films that touched this side of the police department. Kudos to Jacob Franklin and the team for the same. The writing is grounded and neat and director Jacob Franklin looks to be a filmmaker with a purpose.
Writer also raises the right kind of questions about many issues in society. Writer might have similarities with Visaaranai and Jai Bhim with regards to the idea about an oppressed being falsely framed for a crime, but the treatment in Writer is different. The approach is intense and the staging of scenes are also quite effective. While the first half of the film moves on an engaging note, certain issues pop up in the latter half. The flashback of Ineya seemed like a deviation and that could've been avoided. There are minor issues like these where the film doesn't hold you completely. The second half of Writer also has a few engagement issues.  
CAST: 
Samuthirakani is in terrific form in Writer and he arrests us with a stellar performance that leaves a solid impact. He showcases his anguish and helplessness through his eyes and body language and he has surely upped the game as an actor. Hari Krishnan as the innocent ambitious youngster shines well earning the empathy of the audience. Kavin Jay Babu who played the DC in the film deserves applause for his intense performance and interesting dialect.
GM Sundar and Subramaniam Shiva are impressive in their respective roles. Antony, who played the ex-convict delivers a delightfully enjoyable performance that helps with some good laughs. Ineya, in a short-lived role, leaves a mark. 
TECHNICAL:
Govind Vasantha's background music is commendable as it complements the intense mood of the film neatly. Pratheep Kaliraja's cinematography is to the point and there is no worry as such. The shot where Ineya confronts the DC with the horse deserves a mention. Though there are a few minor issues with regard to the edit, it doesn't fall as a major complaint. 
SO?
Writer is a solid drama that brings out an unexplored side of the Police department! 
Applauses to Pa Ranjith for constantly backing quality projects and Writer is one more feather in his cap!
Verdict Samuthirakani shines in this gripping tale that leaves a good impact!  
Galatta Rating: (
3

/5.0 )
User Review
Latest Tamil Movie

Reviews