Blood Money Movie Review
(2021)
Priya Bhavani Shankar's Blood Money Tamil Movie Review
https://www.galatta.com/assets/review/blood-money-movie-review-og.jpg
24-12-2021
Sarjun KM
Release Date :
24-12-2021
Movie Run Time :
1:30 Hrs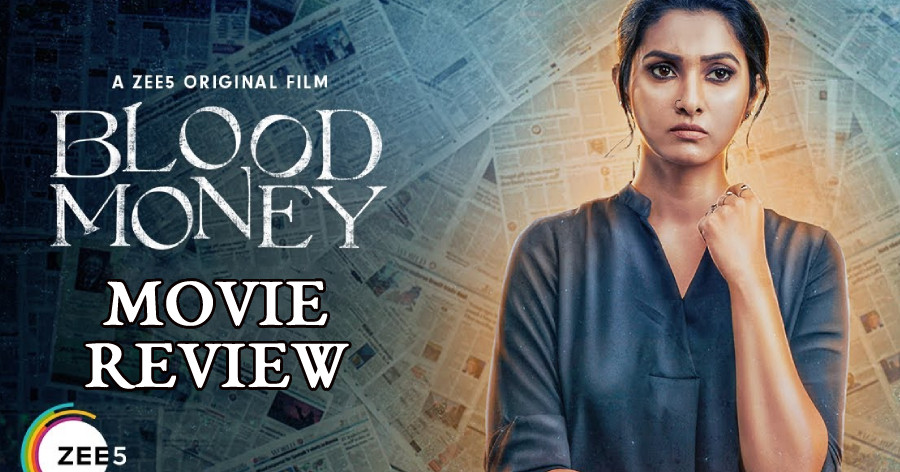 Blood Money Movie Cast & Crew
Production :
Emperor Entertainment
Director Sarjun who has made movies like Echarikkai, Airaa, and Thunintha Pin (Navarasa) is back with his next outing, Blood Money. The film stars Priya Bhavani Shankar as the lead, alongside Kishore, Metro Shirish, Subbu Panchu, and others in crucial roles. Blood Money is an OTT film that has been released on the ZEE5 streaming platform. Here is our take on the movie. 
STORY: 
Two Tamil men are to be hanged in Kuwait for killing a woman at their workplace. One among the two, Kaliyappan (Kishore) has an 8-year-old daughter who has not seen her father even once in person, and she is hopeful of meeting him one day.  Rachel Victor (Priya Bhavani Shankar), a journalist working for a news channel in Chennai, decides to take up this issue and stop the hanging, or at least postpone it. Were the two men to be hanged really commit any crime?  Can a journalist in Chennai stop the hanging of two men in Kuwait? Did Rachel succeed in her mission?. The film answers these questions!  
SCREENPLAY, DIALOGUES & DIRECTION: 
The film is written by Sankar Doss, who has penned a fairly promising content. The idea of the film is good and has the potential to be converted into celluloid. However, has the translation been effective enough? Well, it might be a no. The screenplay and execution of Blood Money is a letdown. Blood Money is a race against time thriller, but there are no major thrills or tension to keep you hooked to the edge of your seat. Had Blood Money had one solid sequence to keep you thrilled or make you bite your nails, that would have amplified the movie-watching experience.
Blood Money moves at a leisurely pace and there are no major twists or barriers for the protagonist to succeed. The pathway to the destination seems easy and it would have been exciting if the journey had been challenging enough. More drama in the screenplay would have ticked the engagement factor making the film look more gripping. The emotional chords don't hit you at the right levels and when that goes for a miss, it becomes an issue.  
CAST: 
Priya Bhavani Shankar, in a role that anchors the film, plays her part in a dignified manner showing a good level of maturity as a performer. She showcases her emotions in a subtle yet impressive manner. Shirish, in a limited role, plays his part well and lends ample support to the narrative. Kishore gets an emotionally-charged character and being a proven performer, this character is a cakewalk for him. The other members of the cast are okay. 
TECHNICAL: 
Satish Raghunathan's musical score adds a good level of assistance to the film. The cinematography is neatly done, with regards to the office portions and daylight sequences, but on an overall note, it lacks completeness. Prasanna GK's edit fits the bill perfectly helping the smooth flow of the film. 
SO? 
The film has a promising idea, which would have been effective if the screenplay had been compelling.
Verdict A middling drama, Blood Money needed more thrills and twists to be a taut thriller!
Galatta Rating: (
2.5

/5.0 )
User Review
Latest Tamil Movie

Reviews