Anti Indian Movie Review
(2021)
Blue Sattai Maran's Anti Indian Movie Review
https://www.galatta.com/assets/review/anti-indian-movie-review-og.jpg
10-12-2021
C.Elamaran
Release Date :
10-12-2021
Movie Run Time :
2:03 Hrs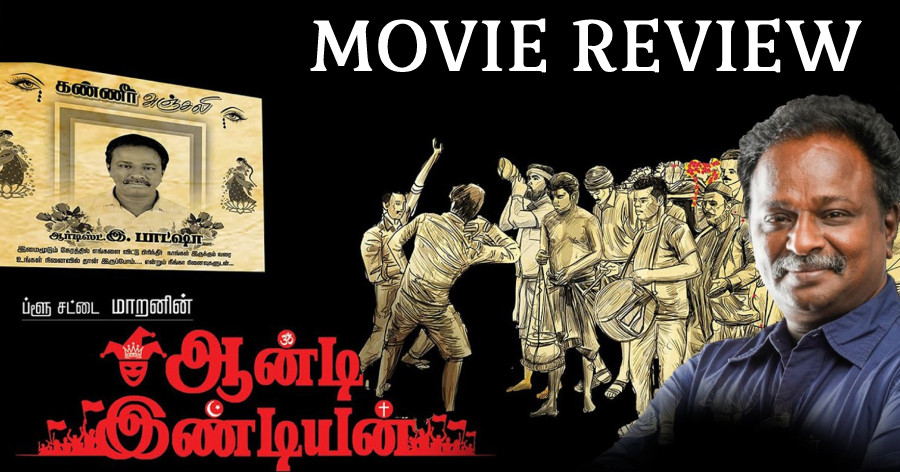 Anti Indian Movie Cast & Crew
Production :
Moon Talkies
Popular YouTube film reviewer, Blue Sattai Maran, who is known for his controversial movie reviews, has turned into a filmmaker with Anti Indian which has hit the screens today. Maran has written and directed the film and he has also scored the music.  Has Maran passed the litmus test? Check out! 
 
STORY:
Anti Indian follows the story of Baasha (Blue Sattai Maran), a wall painter, whose mortal remains is not allowed to be cremated due to various reasons. The situation becomes the talk of the town and the politicians and our system make good use of the situation to their advantage. What was the fate of Baasha's mortal remains forms the rest of the plot of Anti Indian. 

SCREENPLAY, DIALOGUES, & DIRECTION: 
Blue Sattai Maran shows good promise as a writer as the film has an interesting content that manages to hold our attention for a reasonable duration. He weaves his ideologies neatly into the screenplay, thereby writing some thought provoking dialogues. The occasional commentary on contemporary politics is sure to make a connection with the masses. The lines about today's media and religious politics hit the right chord. The writing is fresh, the premise is interesting, the conflict offers enough scope for drama, and everything with regards to the writing part is fairly decent. Anti Indian has an engaging first half with some good drama.  
On the flip side, Anti Indian has a faltering second half that doesn't have cohesiveness. There is one good scene, followed by an uninteresting scene and a needless gana song, and sequences like these make the second half quite problematic. The film would've stayed crispier if Maran had cut short the gana songs sequences as it goes a little too overboard. Also, the final chaos looked force-fitted and didn't completely blend along with the movie. The criticisms/dig on certain religions might not land well with the people and it is going to be a debatable topic. Maran could have lent more focus on the direction aspect of the movie as that is where the film majorly falls flat. The film needed an effective execution with an engaging screenplay in the second half and that would have made Anti Indian more complete. 
 
CAST: 
Anti Indian does not have a lead character as such. Aadukalam Naren as a police officer leaves his stamp neatly. Radha Ravi appears in a role that is a cakewalk for him. 'Super Deluxe' Ramana, 'Vazhakku En' Muthuraman, and Velu Prabhakaran do their part well. Due credits to Jayaraj and Karna Raja who played 'Ezhumalai' and his leader respectively  - both of them deliver impressive performances. The other actors don't really leave a mark. 
TECHNICAL: 
Maran's background score is functional, managing to lend support to the scenes. Visually, Anti Indian is inconsistent and one is not sure if that is due to the limited resources and low budget. The lighting lacks depth and more work could've gone inside that. The film seems to have been made on a shoestring budget and the visuals are suggestive of that. The edit looks neat in a few places and lacks smoothness in a few places.
SO?
With an entertaining first half and an inconsistent second half, Anti Indian is a mixed bag!
Verdict Anti Indian definitely has flaws, but can be watched for its interesting content and bold dialogues. 
Galatta Rating: (
2.5

/5.0 )
User Review
Latest Tamil Movie

Reviews