Release Date :
23-12-2021
Movie Run Time :
2:09 Hrs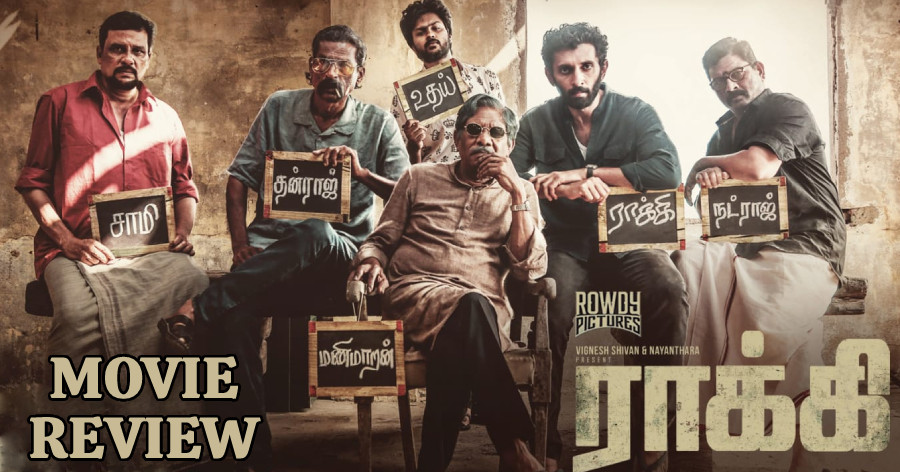 Rocky Movie Cast & Crew
Production :
Rowdy Pictures ,RA Studios
Vasanth Ravi who made a big impact in his debut in Tamil cinema with Ram's Taramani, is back with his second outing, Rocky which features him and veteran director Bharathiraja in the lead roles. Directed by debutant Arun Matheswaran, Rocky is produced by CR Manoj Kumar and presented by Nayanthara and Vignesh Shivan. 
STORY:
Rocky (Vasanth Ravi), a gangster who is out of prison after 17 long years, sets out in search of his lost sister Amudha (Raveena Ravi). On the other hand, there is Manimaran (Bharathiraja), an ageing don who was once the boss of Rocky, wanting to avenge him. Did Rocky find his sister and what is the reason behind the conflict between Rocky and Manimaran is what the film is all about. 
SCREENPLAY, DIALOGUES, & DIRECTION: 
Rocky is a film that has been made for the love of cinema and the visual grammar of the film is very much evident of it. Debut director Arun Matheswaran seems to be a talent with a sound voice and he makes a promising debut with Rocky. One can confidently say that the young filmmaker is here to stay. His conviction to make a film without any commercial compromises, that too, in a debut film, needs to be appreciated. Arun Matheswaran is a wonderful filmmaker who uses the beauty of film crafts to tell his story. On the surface level, Rocky can be seen as a usual revenge drama where the ego clashes lead to miserable consequences, but the way the film has been presented is what makes it unique.
Rocky is a gritty action drama that takes the fullest freedom of the 'A' certificate and uses it to its strengths. The film has quite a few interesting underlined messages and philosophies which make sense and these moments would be a treat for film lovers. Rocky is an art-house film that demands a certain level of patience. If you adapt to the world of Rocky and move along its leisurely pace, you are in for an exciting ride. But, if you don't connect with the mood of the film, then Rocky might not be your cup of tea. The blood is on your face and the violence isn't diluted at any cost and depending upon your taste in films, Rocky might or might not appeal to you.
However, one has to admit that Rocky is a daring attempt in Tamil cinema that needs to be noted. The makers need to be credited for executing a long single-take shot featuring Vasanth Ravi and Raveena Ravi seamlessly without any hassle. The film also has solid stretches that keep you glued to the screens, especially the climax, which is a stunner. Rocky effectively showcases the plight of the female characters in the film, who get dominated and traumatized by the men in their world.
CAST: 
Vasanth Ravi delivers a fantastic performance as Rocky. He carries the intense mood of the film through his eyes and his determination to play Rocky is highly appreciable. Bharathiraja comes in with a handy performance that adds vitality to the character that he plays. Having used to see Bharathiraja in light-hearted and subtle roles, this one is a shocker. The other members of the gangster world are aptly cast making the film look solid, in terms of performances. Raveena Ravi, in a short role, is effective.
TECHNICAL: 
Shreyaas Krishna's cinematography is one of the major USPs of the film. The shots have been composed in an unconventional manner and the lighting is also tremendous. Shreyaas' work is sure to earn him laurels unanimously. Darbuka Siva's music is commendable, giving solid support to the movie. Nagooran's edit has a certain level of uniqueness, making the film look fresh visually. Due credits to stunt choreographer Dinesh Subbarayan for the raw and gritty action moves.
SO? 
Rocky is a one-of-a-kind art-house film with a unique voice that needs to be heard! 
Kudos and appreciations to Vignesh Shivan and Nayanthara for coming forward to present a small yet beautiful film like Rocky, making it reach a wider range of audience. 
Verdict Rocky is a daring film in Tamil cinema that excels brilliantly with its unique presentation! Go for it!
Galatta Rating: (
3.25

/5.0 )
User Review
Latest Tamil Movie

Reviews