Release Date :
05-02-2021
Movie Run Time :
2:01 Hrs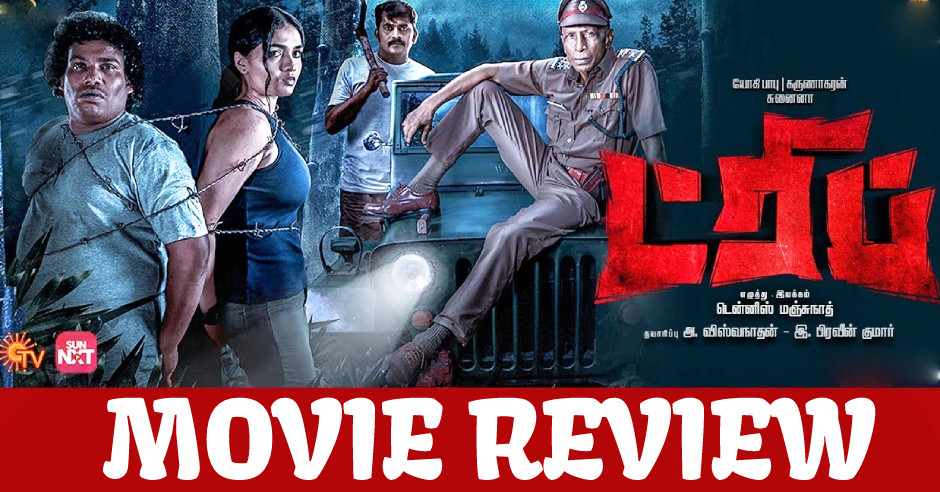 Trip Movie Cast & Crew
Production :
Sai Film Studios
The movie Trip gets underway as a group of friends decide to take a jolly trip into a dense forest region for fun! Just as they enter the forest, they come across two people - Azhagan (Yogi Babu) and Amuthan (Karunakaran) and mistake them to be psycho killers. The gang of friends once again come across Azhagan and Amuthan in mysterious circumstances in the middle of the night and when one of the friends - Lidi (Sunaina) gets taken away by the suspicious duo, the friends confirm Amuthan and Azhagan to be killers, trying to take them all down, one-by-one! However, Azhagan is a carpenter and Amuthan is a painter, who have come to the forest to renovate the house of a former Forest Officer and are totally innocent.
As the series of misunderstandings continue, the gang of friends are actually getting killed, one by one! After spending some time with Amuthan and Azhagan, Lidi finally understands them to be innocent but is shocked when her friends Vikram (Praveen Kumar) and Jeni (Nancy Jennifer) finally confront her in the duo's absence and try to convince her that the two are killers and that they were the ones who killed 2 of their friends. Amidst all this confusion, Amuthan and Azhagan return with an unconscious girl they came across, thinking her to be Lidi's friend. However, the girl - Samrin (Athulya Chandra), is not Lidi's friend but when she regains consciousness, warns all the folks that they are going to die! Who is Samrin? Who is killing the gang of friends? Why does Samrin warn that everybody is going to die? Are Amuthan and Azhagan actually killers or innocent? Watch Trip for the answers!

The very setting of the movie begins like all Hollywood thrillers having college students taking off into a mysterious forest, only to be killed one-by-one, by some psycho killer. Well, this Trip also begins that way but very soon moves differently and with fully loaded comedy, gives the viewers a lighter vein, despite some serious scenes. The on-screen visuals and the BGM keep the viewers in a serious and tense mindset but the banter between Yogi Babu and Karunakaran, keeps things rolling on a funny note! The repartees between the two stars is enjoyable to the most extent! Sunaina has gotten very good screen presence and a lot of scope to showcase different emotions.
Among the friends, Praveen Kumar as Vikram, Nancy Jennifer as Jeni and Kalloori Vinoth as James, have a lot of scope. The rest of the gang - VJ Siddhu (as David), VJ Rakesh (as Siva), Lakshmi Priya (as Meera) amd Rajesh (as Rizwan), also make their presence felt! Mottai Rajendiran makes a brief appearance as Anjaa Puli. The first half of the movie rolls by at a decent pace and the intermission is upon us, in no time.

However, the big unravel after the intermission seems to be a big letdown and considering that this is what the whole of the first half built up to, comes as a dampener. A lot of technical terms are involved and this sets the premise for the rest of the movie. The entire second half seems to be very hurriedly made as the writing and making seem rushed. The director seems to be a bit confused between cannibals and zombies or has there been a mutation that has combined the two. The cliched and long-drawn-out second half meanders along with some highly predictable scenes and an effort at providing some extra screen space and importance to Sunaina and Vikram.
Some freshness in the writing and moving away from predictability could have helped infuse some more life into the second half. The unperturbed reactions given by Yogi Babu in some scenes where there's utter death and gore around him, leave us confused. Some abruptly left scenes, like where did Anjaa Puli go, seem to make one think that there are some scenes which got lost in translation or editing! After a solid first half, the second half pulls the movie down. Thankfully, there is just one song in the movie, which is peppy and gets over at the very beginning of the movie.

The setting of the forest provides for some lush visuals which make for pleasant viewing! Udhayashankar G's cinematography is good and adds to the viewing experience. Siddhu Kumar's music elevates the visuals and keeps the mood tense, building anticipation for the viewers. Deepak S Dwaraknath's editing could have added more to the movie in the second half, had there been a bit more trimming. AP Mohammed's make-up is a big plus for Trip.
Director Dennis Manjunath looks to have been influenced by a number of Hollywood thrillers but seems to have tried to incorporate one too many themes into Trip and is let down by some unremarkable scenes. Produced by A Viswanathan and E Praveen Kumar for Sai Film Studios, Trip makes for a decent viewing if you could go inside the theatre with zero expectations. 
Verdict: An average thriller with a decent first half and a not-so second half!
Galatta Rating: (
2

/5.0 )
User Review